February 4, 2018
0

found this helpful
All depends if you want to move or not. Is the monthly rent reasonable, do you have to pay utilities, if not then buy yourself an electric heater with the $50 off of your rent and you will have warmth in your apartment.
February 4, 2018
0

found this helpful
Do you know when the gas line can be turned back on? Or who handles that.
In the mean time can you use an electric portable heater?
February 5, 2018
0

found this helpful
Yes, they said it could take up to a month to fix, but when we called the gas company they said they couldn't start till the landlord did something on his end. When we asked him about it, he said he didn't know what they were talking about. We bought a decent heater but our electric is going to sky rocket
February 4, 2018
0

found this helpful
You should have it in writing from them that they are handling the issue promptly. In the meantime, do get a portable heater with the $50.
February 5, 2018
0

found this helpful
You can get one of these for about 36.00 at Walmart. They circulate oil so they are very efficient and can easily roll around the house.
But yes, get some assurance that your gas will be turned on soon. You can even call the gas company and find out for your apt. I hope you get heat back soon.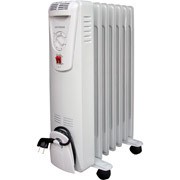 February 5, 2018
0

found this helpful
I don't know which state you live in, but in Kansas, a landlord is required to provide heat for all tenants (I know because I'm a landlord). I would remind him ASAP that he has a responsibility to provide heat for your apartment, which means getting the gas line fixed as quickly as possible (put it in writing!). I would also remind him that if you incur any extra charges (having to use an electric heater) to heat your apartment, he will be responsible for those extra charges.
And most importantly of all: document EVERYTHING -- every conversation, every electric bill, receipt(s) for electric heater -- EVERY detail related to this. If any problems arise, you will need all of that documentation in hand. Taking him to small claims court may ultimately be your course of action, but hopefully he'll get things fixed without you having to do that. Some landlords need to be reminded that tenants have rights too. Good luck!
February 5, 2018
0

found this helpful
In NY a landlord must keep the apartment at 68 during the day and 62 at night if the temperature drops below 55 from October to May. $50 is not going to cut it. Hopefully you have old electric bills to show how much you usually spend. He will have to pay the difference
February 6, 2018
0

found this helpful
Did you have renter's insurance? If so, contact them right away. They will probably put you up in a hotel until the repairs are done. Your landlord has insurance too, that should cover this but sometimes you need your own person at bat.
If you don't have renter's insurance, contact your county or state housing department for assistance. Good luck and stay warm!