Lemon Vanilla Layer Cake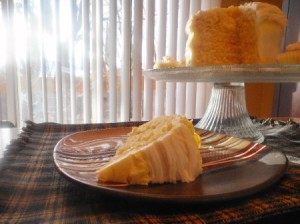 A light, simple cake to usher in spring on the last of these cloudy, winter days. Enjoy!

Total Time: 3 to 4 hours
Source: Adapted from "Citrus Yellow Cake" recipe in Better Homes and Gardens: New Cook Book (1970)
Ingredients:
2/3 cup butter
zest of two lemons
1 tsp vanilla
1 1/2 cup sugar
3 eggs
2 1/2 cup all-purpose flour
2 1/2 tsp baking powder
3/4 tsp salt
Frosting
2 lb powdered sugar
2 Tbsp lemon juice
3/4 cup milk
Steps:
Grease and flour two cake pans. Use a paper napkin or towel section to scoop out a little shortening and spread it around the pans. Make sure to coat the bottom, edges, and sides evenly.

Place a couple tablespoons of flour into each pan. Rotate and tap the pans over the sink to coat evenly, and then throw away excess flour. For this recipe, I used two mini cake pans, a 6-ct muffin tin, and a mini muffin tin. Preheat oven to 375 degrees F.

Combine butter and lemon zest. Mix well. Beat until butter is smooth and creamy. Gradually add sugar, about ½ cup at a time, and cream mixture until light and fluffy. Mix in the vanilla extract.

Add 3 eggs, one at a time. Break each egg into a separate dish before adding to the mixture so you can fish out spots or bits of shell as needed. Beat well after each addition. The texture should look grainy, but fluffy, as seen in the picture.

Sift together the flour, baking powder, and salt into a separate bowl. Always scrape excess flour off the top of the measuring cup when baking cake. Don't simply shake it off. Cake needs precise measurements. Use cake flour when possible, but a good brand of unbleached all-purpose will suffice.

Don't neglect to sift the flour and baking powder. You will end up with lumps at the bottom of the sifter.

Whisk the dry ingredients together.

Add dry ingredients to liquid mixture alternately with lemon juice and milk. Beat the mixture smooth after each edition.

Fill the cake pans or muffin tins 2/3 of the way full. If the pan is small and deep, fill ½ full. This prevents gooey centers and browning from excess time in the oven. Bake at 375 degree F oven for 25-30 minutes, more or less depending on pan type and size.
Light Lemon Frosting: Cream ½ cup softened butter thoroughly. Add 1 tsp vanilla and 1 tsp lemon extract to the butter.

Beat in 1 cup of powdered sugar to start. Alternate 2 tablespoons milk or cream for every cup of powdered sugar until you has reached the desired taste and consistency. Make sure to beat thoroughly, but avoid using an electric mixer until the powdered sugar is fully incorporated into the mixture.

Wait a few minutes before removing from the pans, then cool on a wire rack. Wait until cakes have cooled completely to frost.
To frost a layer cake, first trim the edges of each round. (It's typical for edges to come out a little darker). Also flatten out the tops with your knife. Gently brush off excess crumbs.

Next, divide each round into two even halves. Wrap a thread around the center, then cross over the two ends with your fingers and gently pull. Don't worry if the sections aren't quite perfect halves. The goal is to avoid the jagged edges and uneven centers you can get from using a knife.

Before you do anything else, stack the layers together to see if you need to trim uneven sides. Once this is finished, unstack the layers. Place the first layer onto a cake round and gently brush off crumbs. Take a dollop of frosting and spread evenly to the edges using a knife. (It's probably safe to use a little less frosting than is shown in the picture.) Stack the next layer on top and repeat.

Spread a dollop of frosting on the top of the cake. Go evenly toward the edges, but don't worry about crumbs getting mixed into the frosting. This is the start of your crumb coat, which is supposed to be a complete mess! Portion out little blobs of frosting to make a ring around the top edge of the cake. Spread this ring down and over the edges, working one section at a time. By now, your cake might lean precariously to one side. Just push the flat side of the knife against the leaning edge to straighten the layers. Make sure to coat all sides with frosting and check periodically for slanting sides. Once finished, immediately transfer the cake to the refrigerator for ten minutes to let the layers set.
The next layer of frosting will go on clean. To frost, repeat the steps you took to create the crumb layer. Once all sides and edges are covered, smooth over with a cake spatula. Decorate the cake as desired, then transfer to the refrigerator for ten more minutes.
Have fun and bon appetite!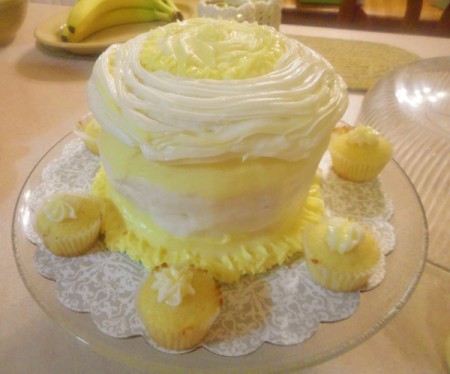 Add your voice! Click below to comment. ThriftyFun is powered by your wisdom!
Add your voice! Click below to comment. ThriftyFun is powered by your wisdom!
Published by ThriftyFun.
© 1997-2022 by Cumuli, Inc. All Rights Reserved.
https://www.thriftyfun.com/Lemon-Vanilla-Layer-Cake.html