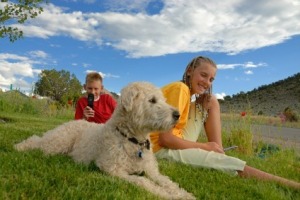 Paying for a yearly license for your pets may seem like an expense you can afford to skip, but here are some things that may make you change your mind.
A license tells everyone that your pet has a home. Should your pet become lost, that license will help get him found and returned.
A license helps the local shelters and police reunite lost pets with their owners! Wearing a license may be the easiest way for your pet to be returned if he gets lost; a tag is immediately visible and easily read. Your pet can be traced back to you quickly.
A license proves that your pet has been vaccinated against rabies. In some areas where rabies is a serious problem, stray pets without proof of vaccination may be destroyed.
A license may give your lost pet extra holding time if he is picked up by a high-volume kill shelter.
A license shows that you are a responsible pet owner. Your pets are vaccinated, you are a law abiding person, and you care about your pets and your community.
Your license fees help pets and animal lovers in your community. They may go towards paying an animal control officer's salary, which in turn can save helpless animals from being abused. The fees may help fund spay/neuter programs to reduce overpopulation. The license fees may make community education programs possible. If your town has a public animal shelter (instead of a privately owned shelter), licensing fees may help keep it running and finding homes for stray or surrendered pets.
Last but not least, paying for that license on time will save you trouble and money if your pets should get picked up without a license. After a certain date, your fees will increase. In my town, the deadline is the end of March, but your town may have different rules. Refusing to have your pets licensed can result in a ticket from local law enforcement, if you are in a multi-pet family, the penalties can get pretty high!
Read More

Comments
Dog licenses can come loose and get lost, if your dog is as active as ours, as evidenced by the few I have come across at our favorite dog park. Make copies of your dog's license and the paperwork that came with it.
Read More...