Light Spots on Hibiscus Leaves?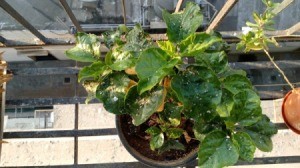 Both of these plants hibiscus grew beautiful flowers, but now seem to have some disease both on leaves and stem. Their location was changed to another part of the house, then they were brought to the original location, which has more sunlight and where they bloomed many a time, this happened. Is there a way to treat them?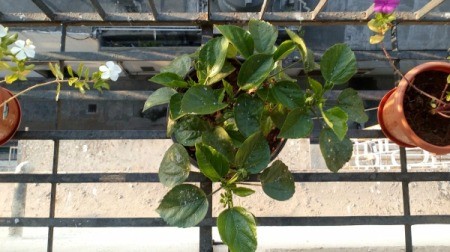 Add your voice! Click below to answer. ThriftyFun is powered by your wisdom!
March 18, 2016
0

found this helpful
It's a little difficult to tell froom that picture but it looks like it may be whitefly, not uncommon for Hibiscus to get. Don't worry. While your Hibiscus MAY be angry and upset at this, you can save her. But you must act fast. First, start by taking Palmolive soap (MUST BE PALMOLIVE) and get one of those 1 liter spray bottles. Put in about half a tablespoon of the soap in the bottle and then fill it with water. Fill it slowly so as not to get massive foam forming iin the bottle. Make sore to shake it well so that the soap dilutes in the water. Now Spray your plant like crazy with this mixture EVERY DAY, preferably NOT when it is exposed to sun as water beads magnify sun and will burn the leaves, rendering your plant MORE unhappy. The oils in the soap are good for the leaves and your plant will ove you for it. The soap of course will dry out the eggs (most likely the white dots) and burn them as much as possible. When you can, try to wipe the leaves down CAREFULLY, and don't tear the leaves as you do so.
For how long do you spray? Well that depends on your hibiscus and how fast it helps. I would say a better part of 3 months, at least 2 EVEN if the leaves appear clean after. Also SPRAY the earth with this mix. I also recommend you water her first BEFORE spraying the earth, simply because you don't want to wash away the soapy coating that lays on the earth. For the first 3 weeks, spray her every day. After that a rate of 3 days YES and 1 day no. Soap is a little tiring for the plant too after a while and she does prefer water than soap. The oils in Palmolive will keep the leaves from drying out.
As for rubbing down the leaves, DON'T START right away! Try this after a week or so when the soap has had time to have an effect. And again, don't be afraid to over spray. Oh and, make sure to spray both on top and UNDER the leaves! White flies don't discriminate where they rest.
Add your voice! Click below to answer. ThriftyFun is powered by your wisdom!
Published by ThriftyFun.
© 1997-2020 by Cumuli, Inc. All Rights Reserved.
https://www.thriftyfun.com/Light-Spots-on-Hibiscus-Leaves.html