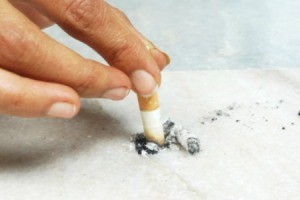 I live in my grandparents' old house, that has has been smoked in since the 60s and my grandmother is a heavy smoker. I clean a lot and try to get the tar removed from everything, since everything is heavily cleaned and ceilings painted what is the likeliness of being ill from the air in this house?
By David
Answers
March 18, 2013
0

found this helpful
The chances of becoming ill should be slim to none since you've cleaned heavily-however, that can depend on what you used to clean, the quality of paint you used to repaint, and if you wore protective gear during the clean-up (mask, hair-face-arm covering).
Cleaning mould, 'smoker's walls', etc, with bleach can produce gases that can aggravate allergies or asthma, and sometimes the aggravation doesn't show up right away. Vinegar (usually mixed 1-1 with water) is an excellent and safe cleaner for all cleaning including preparing walls for new paint, for future reference:)
A top quality paint (and primer like Kilz or similar) will also help especially if you used a satin labelled for use against mildew and mould. These paints are usually labelled for use in high humidity conditions like a bath, kitchen, and utility room but I've always used them in all the rooms I'm repainting. Works a treat!
March 18, 2013
0

found this helpful
I agree with the first poster. TSP or Trisodiumphosphate is a great cleaner too. You can get it in powder or liquid form. Kilz is another great tip, and I love the paint Rustolium. It's thick, spendy, but you will not have to paint again for a very long time.
My mom was a heavy smoker, but even paneling can be cleaned well. You can also hide little bowls of Baking Soda on high shelves and behind photos or plants to absorb the odors for a while, then it should all be clean. Good luck.
March 19, 2013
0

found this helpful
We moved into a house like that. Servicemaster came and fogged the house. It had to be shut up for two hours, then opened up and aired out. It took out the smoke smell and it's guaranteed forever. If it starts to smell again they'll come back and do it all over.
March 19, 2013
0

found this helpful
If your grandmother is still smoking in the house, you will be subject to second hand smoke, which is a health risk. If the house has been cleaned, and no one is smoking in it now, I do not believe that there is a health risk. Others have some ideas for really above average cleaning, if you feel the need.
Read More

Answers