Make Your Own Air Fresheners
Solutions
Share on ThriftyFunThis guide contains the following solutions. Have something to add? Please share your solution!
I made a colorful deodorizing air-wick from A Mitchum Deodorant stick case.
Step One: Take top off and clean out casing.
I use a rag and a pair of jar gripper scissors, rocked the top back an forth until it loosened.
Step Two: Clean out and screwed down the elevator.
I used a rag and got out most of the residue that was left.
Step Three: Loading the casing with what ever scent you
want. To try it out first I soaked a small piece of cloth in pine oil. It lasted several weeks in the bathroom gradually the smell was for smaller and smaller areas. Right now I ground up some real smelly soap dropped it into the case. Use whatever you like.
Step Four: Put the the applicator lid back on the casing.
Keep the cap in case you want to give or sell these air-wicks. (you never Know)
Step Five: Decorating the whole air-wick.
I as usual favor magazine pictures glued to cover the whole air-wick. I cut out a sunset from an old Country magazine complete with little poem which fits on the one side. The poem is called Country Sunset.
I actually left a cone of this sunset picture above the applicator because the whole thing resembles an expensive candle.
I took small pieces of old Christmas wrap out of the closet, dark blue and red foil and experimented to see if I could make a realistic flame. The red was too red! I used the dark blue and colored a piece off aluminum foil with orange stapled it below what flame was exposed.
I am quite proud of the whole thing. I might even start making these things for gifts. I have to experiment with other scents to see what is most pleasing and lasts the longest.
And that is Mr. Thrifty's Tip for today.
The only immediate cost was a little bit of solid stick paper glue. Maybe a nickel's worth. Everything else probably would have been just thrown away trash in most homes.
BE FRUGAL! SAVE MONEY! REUSE!
By Mr. Thrifty from Shermansdale, PA
September 19, 2011
0

found this helpful
Make homemade air fresheners to help mask or neutralize household odors. This page contains homemade air fresheners.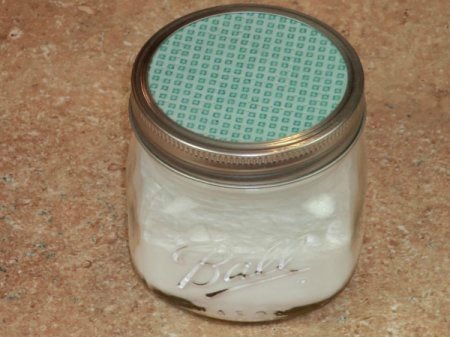 Questions
Ask a QuestionHere are the questions asked by community members. Read on to see the answers provided by the ThriftyFun community or ask a new question.
How do I keep the house smelling fresh without store bought air freshener?
By Anastasia from Berkeley, CA
Answers
August 11, 2010
0

found this helpful
Best Answer
Personally, I don't think "air fresheners" help make a house smell "fresh". If your house is clean, you take out the garbage often, open the windows frequently, and cook and bake things that have nice smells, like apple pie and cinnamon buns and roast chicken, I prefer that smell. I use exhaust fans in the bathroom. Spider plants also help to clean the air. Just my opinion.
August 12, 2010
0

found this helpful
Best Answer
You can mix 8-10 drops of your choice of essential oil, such as lavender, orange, etc. in a spray bottle filled with water, shaker well before each use, and spritz as needed.
Answer

this Question

...
Archives
ThriftyFun is one of the longest running frugal living communities on the Internet. These are archives of older discussions.
August 5, 2010
0

found this helpful
I had bought a type of room freshener and found I can make them for much less than the $10.00 that I paid! I went to garden shop and bought 'SoilMoist', which are granules which retain moisture when planting.

I used empty candle jars which had tight fitting covers. Put a couple of tablespoons of SoilMoist in jar (you can always add more) and add water. The granules swell about 4 times their size. Add several drops of essential oil, stir with something you don't mind its absorbing the scent, and cover with the jar cover for several hours. Open and enjoy the fragrance spreading through out the room.

I use lavender for my bedroom to relax me. When the granules dry out, add water and essential oil, cover, then enjoy! This can be done frequently as needed.

By Joandogs
Answers:
Make Your Own Air Fresheners
The length of time the fragrance lasts will depend upon how much you use, and the size of the container it is in. I started with about a teaspoon of fragrance. Sometimes I added more, other times [because fragrance was stronger] I didn't have to add any more. (05/19/2009)

By JoanDogs

Make Your Own Air Fresheners
I think this is a nice idea, and I might be overly concerned, but what does concern me is that "Soil Moist" is made of acrylic polymer and meant for use with "water" with this product and to be placed under the soil near plant roots. I can't help but wonder about potential dangers of mixing with essential oils and breathing it in might be. :-( Acrylic polymer is used for industrial applications such as paint which, because mixed with other chemical compounds, is considered a hazardous material. (05/19/2009)

By Deeli
May 18, 2009
0

found this helpful
Does anyone know how to make homemade air fresheners with things you have around the house?
Thanks.
Jan from Atlanta, GA
Answers:
Make Your Own Air Fresheners
I put one part Downy and one part water in a spray bottle and I love the smell plus it cuts static on the carpet and I spray it on fabrics, I keep this mixture also in a margarine bowl on top of the dryer and keep a rag in it and every time I dry I squeeze out the rag and then throw it in with the clothes to be dried. I also use shampoo as a detergent instead or regular laundry detergent. it is kinder to the skin. (03/14/2009)

By Robyn Fed
Make Your Own Air Fresheners
When the weather is warm and you can open the windows, tie fabric softener sheets to your mini blind cord. The breeze blows across the sheet and freshens the room. I also use softener sheets tied to the pull cords in my closets. If you don't have mini blinds or pull cords just lay them in the window sill with something heavy holding them down so they don't blow away and in the closet just place them on the shelf with the clothes.

I also put a sheet in my air conditioner filter. (05/17/2009)

February 17, 2009
0

found this helpful
Gel Air Freshener
2 Cups water
4 packets unflavored gelatin
essential or fragrance oil
food coloring
Bring 1 cup of water almost to a boil. Stir in gelatin, stir until dissolved. Remove from heat, mix in food coloring, 10 drops of oil, and the other cup of water. Mix well. Pour into jars and let set.
I used some old candle jars that have lids, that way I can put the lid on if wanted. The ones I made where cinnamon and spice. I put fresh cranberries, whole cloves and a stick of cinnamon in them for decoration. I had to pour in about half of the gelatin, put the things in it then lidded them. I put them in the refrigerator for a while to set quicker. After they set I pushed some of the things around the set gelatin, then poured the rest of the Gelatin on top. They look really cool!
By Kathy
Aromatic Room Fresheners
I make aromatic room fresheners for Christmas presents. These are very easy and can be personalized by using different scents. Here is one I use as a good smelling antiseptic spray to use around the house. I spray it on doorknobs and light switches to kill germs.

To a 2 oz bottle with a spritzer top add 1 tablespoon of alcohol (I use vodka)

Add 10 drops of eucalyptus oil, 10 drops of lavender oil, 5 drops of rosemary oil, and 5 drops of tea tree oil. Fill the rest of the bottle with water. Shake and spray.

FromThe Antibiotic Alternative by Cindy L.A. Jones, PhD

By Liz
Aromatic Room Fresheners
I love to put an air freshener in almost every room in my house but have found that it becomes costly. I experimented one day and came up with this:

I buy cheap (dollar store) small clay pots and I dip them in lemon juice or cheap dollar oils. Wait until it dries a bit, put a little moss in it and place it in the room. The scent stays for a very long time and has a lovely scent. My rooms are always fresh with the scent and have received many compliments from people as they can't figure out where it is coming from.

Very inexpensive but effective.

By Carolyn from E Northport NY
Making The House Smell Good
To make my house smell good in a hurry and to save money I simply add a few drops of vanilla extract to a small pan full of water. I also add whole cloves and cinnamon and let simmer on lowest heat for an hour on the stove. (11/20/2004)

By Tammy R.
Vanilla Essence
I make my own air freshener with vanilla essence, rose oil and water, and the smell lasts. The vanilla essence helps for a smoke smell, try it, it works. (07/19/2007)

By Franci
Related Content