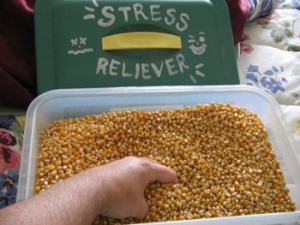 I have a simple stress reliever tip (and picture) to share. I was in a class once and learned this from the teacher. Take a good-sized tupperware storage box (Just big enough, yet small enough to store somewhere, you'll know what I mean in a sec.) Fill it nearly to the top with any one of the following items:
Real beach sand - (or you can get bags of sand at Home Depot or other similar store)
Unpopped popcorn kernels
Any small dried beans, etc.
Now, you can decorate the lid of the box any way you wish. The trick is when you get stressed, go somewhere alone and just run your hands through the stuff, play in it, believe me, it's soothing. Sand works wonders, even unpopped popcorn kernels (in mine) work great, you just sift through it, play in it, it's relaxing! Happy de-stressing! (Just don't mistake YOUR popcorn kernels with regular popcorn kernels - eww.)
By Stacey from Orem, UT
Comments
May 15, 2006
0

found this helpful
Top Comment
Occupational Therapists use this all the time with kids! It is a good sensory experience--I (personally) like using rice best with the kids. I usually make batches of different colors, then mix them for a sensory experience that not only feels good but looks pretty.
For your older toddlers and preschoolers: try "hiding" small toys in the rice and let them find them--first with looking, then with their eyes shut.
They can also "drive" small cars/trucks in the box.
May 15, 2006
0

found this helpful
I love this idea. I love different textures which is probably why I love working with beads so much. Thanks for the wonderful idea. I wonder if I could stash that under my desk at work. LOL
Oh yeah - if you like textures you might want to check into Tangle Toys. I got mine at Wal-mart for like $1.50 or so. It is great when I get stressed. I have a friend who keeps a Slinky on her desk. Just a couple more ideas for you.
Tonya
May 16, 2006
0

found this helpful
This is a great, frugal idea! Also, what about putting these items in the fridge for awhile before; I bet that would be extra soothing, especially with summer coming up.