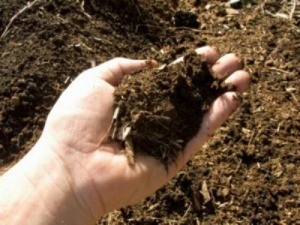 What do you get when you use a five gallon bucket as a tea pot, a burlap sack as a tea bag, two shovels of compost as tea leaves, and molasses as a sweetener? The answer is compost tea. Some gardeners use it to give their plants a nutritional boost. Others spray is on foliage to help fight disease. Here's how to make it.
A Theory Steeped in Controversy
There's no doubt that compost contains beneficial organisms and nutrients that are good for your soil, but some controversy exists on whether or not compost tea is as effective as some people have claimed. Scientists have shown that spraying plants with compost tea can help prevent or reduce certain disease problems like black spot and powdery mildew. In theory, when sprayed on plants, the bacteria contained in the tea are supposed to inhibit harmful fungi from growing. Unfortunately, the little scientific research that exists to support this has all been done under controlled conditions in a sterile laboratory environment: conditions that don't exist in backyard gardens. But even if the jury is out on it's effectiveness at controlling disease, there's little doubt that a shot of compost tea can provide a nice little nutrient boost to garden plants.
Two Brewing Methods
Everyone agrees that making compost tea contains the four basic components: a pail to brew it in, compost, water, and some type of straining device to separate the tea from the solids. The actual brewing of the tea is where people fall into two different camps-those in the aerobic camp, and those (like me) in the anaerobic camp.
The Aerobic Method: This method involves adding a sugar source (to promote bacteria growth) and the use of an air pump or blower to inject oxygen into the tea while it's brewing for 1-3 days. Proponents in this camp claim that compost tea prepared this way contains more beneficial aerobic microorganisms and compounds than tea prepared using the more simple anaerobic method. The air pump also speeds up the brewing process. Most of the compost tea "kits" sold commercially are made for aerobic brewing.
The Anaerobic Method: This method consists of adding finished compost to water (either with or without the addition of sugar, etc.) and stirring the mix several times a day for 1 to 14 days. The idea is to loosen the microbes in the compost and soil particles so they are transferred into the water. After the tea is done brewing, the liquid is strained off and used on garden plants.
Throw Your Plants a Tea Party
Recipe #1
(The simplest "anaerobic" compost tea)
This method is super simple, but because it lacks oxygen you will be left with a tea that contains very few, if any, microorganisms (they need oxygen to live). The tea will still contain valuable nutrients for your plants.
Fill a burlap sack with 2 shovelfuls of finished compost (pillowcases, nylon stockings, and cheesecloth work fine, too).
Place the sack in a 5-gallon bucket and cover it with water.
Let steep for 3 or more days.
Use liquid (diluted with water to a weak tea color) to water plants. You can return the trapped solids to the compost pile.
Recipe #2 ( A simple and slightly "aerobic" compost tea)
No pump is needed for this aerobic method, because by stirring the tea several times a day, enough air is added to aid in some microbial growth. This process is slower and usually takes at least a week or longer.
Scoop 2-3 shovelfuls of finished compost into a 5-gallon bucket and cover it with water. If you're using chlorinated water from your tap, let it stand 24 hours before using it to remove the chlorine (it will kill the beneficial microorganisms).
Add 2 Tbsp. fish emulsion or seaweed emulsion, 2 Tbsp. of molasses, 3 Tbsp. of lemon juice. All of these ingredients act as food for the bacteria and fungi. Examples of other food you can add include rotten fruit, seaweed emulsion, alfalfa meal, corn meal, apple cider vinegar, or citric acid.
Stir your brew several times daily and let steep for at least 6-7 days. Do this outside in an area that is protected from both the weather and animals, but is convenient enough so that you can stir it frequently (like a patio or deck). Remember, if the tea doesn't get enough oxygen the microorganisms will die, so don't cover it and keep stirring.
When your tea is done it will smell "yeasty" and will probably have some bubbles on the top. Once you've determined that it's done dilute it to 1 part tea/10 parts water and use it immediately around the garden (before the microorganisms die off). You can fill up a watering can and use it to feed plants, and spray it directly on plant leaves for foliar feeding.