Using Compost In The Garden
Solutions
Share on ThriftyFunThis guide contains the following solutions. Have something to add? Please share your solution!
It is spring and I have been busy repotting and potting plants for the front of the house and the patio. I never buy the store-bought, chemically tainted top soil! I compost all year long. If you have not done this before, it is so easy and saves you money. I compost coffee grounds, all my veggie skins, egg shells, fruit skins, leaves, and trimmings from the yard. Do try not to compost the weeds from your yard. I even found out I can compost my paper bags. This encourages me to grow more. I don't grow many veggies, but do plant lots of flowers. My compost is readily available and does not cost me a penny.
If you have questions, you can learn how by going to this website:
By Bobbie G from Rockwall, TX
Check your compost bin for sprouts of "mystery plants". One of the most frequent in my bin, and also popping up in the garden where I have spread compost around my roses, etc. is tomatoes. I now have 3 tomato plants which have produced yummy tomatoes - 2 small grape and cherry types and 1 medium size. Since I have never planted grape tomatoes, it must have come from my purchases at the grocery store. My plants produced last summer, survived the winter (in AZ) and are now flowering again after being covered on a very cold night. Easy to transplant these little delights. Good luck.
Source: My own gardening experience in my 2 homes, one in AZ mountains at 7200 ft. and the other in the desert at 2200 ft.
By Sandra from Tucson and Pinetop, AZ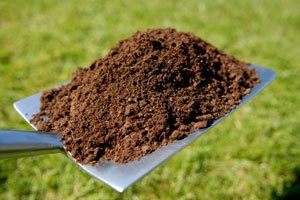 The recipe for making compost is simple. Start with some greens, add in as many browns, toss in a handful of dirt, and moisten with water. Stir occasionally and let cook for a few months to a few years, depending on the temperature of the pile. So, how do you know when your compost is finished? And what, exactly, should you do with it when it's done? Read on to find out.
Recognizing the Finished Product
It's easy to tell when your compost is finished. Look for these 3 signs.
It's cool to the touch. The presence of earthworms and insects indicate the pile has started to cool down. Once completely finished, your compost will be roughly equal to the outside air temperature.
It's dark brown and crumbly. Finished compost appears uniformly dark brown, and has a soft crumbly texture. With the exception of woody materials, like branches and twigs (which can be screened out and added back into the pile), none of the original organic materials should be recognizable.
It smells sweet and earthy. Give your compost the sniff test. Finished compost has a pleasant, earthy odor. If it smells like ammonia or decay, the microbes are still at work and you compost needs more time.
The Infamous "Jar" Test
The "Jar" test is useful if you have any remaining doubts about whether or not your compost is finished. Scoop some compost into a jar and add some water until it's moist. (Empty plastic containers with lids or freezer bags work just as well.) Seal the jar tightly and leave it alone for a week. After a week, open the jar and check for odors (brace yourself!). Does it smell sweet and earthy or sour and stinky? If your compost needs more time, you'll know.
Serving Up Finished Compost in the Garden
Screen It
It's helpful to sift finished compost using a _ to 1/8 inch screen before using it. This separates out any coarse, woody debris that may not yet be fully decomposed, which could steal valuable nitrogen and oxygen from your plants when added to your soil. One way to do this is to build a simple wooden frame covered in screen. Construct it to fit over the top of your wheelbarrow or garden cart to catch the debris as you shovel it out of your pile. You could also construct a second compost enclosure near your active pile, for the sole purpose of holding finished compost.
Condition Your Soil
Compost will improve the structure and texture of any soil, and releases valuable organic nutrients slowly over time. Add it to sandy soils to increase the soil's ability to retain moisture and nutrients. Add it to clay soils to improve drainage and air penetration. No matter what type of soil you have, compost will improve the disease resistance of your plants. That's because some of the organisms that break down organic material into compost produce natural antibiotics that discourage the growth of soil-borne fungal diseases. Finished compost also has an almost neutral pH, so adding it to soil can help balance pH problems. To condition your soil with compost, spread 2-4 inches over the soil and turn it in with a shovel to a depth of 6 inches.
Mulch With It
Nature is the ultimate composter. One only has to look under a tree or walk through a forest to see composting in action. Year after year, layers of vegetative debris accumulate on the ground, protecting roots, suppressing weeds and regulating the moisture and temperature levels of the soil. To use compost as mulch, top dress garden plants and shrubs by spreading 2-3 inches of compost around the base.
Make Potting Soil
Compost makes an excellent potting soil that can be used for growing plants, transplanting, and starting seeds. To make potting soil with your compost, mix finely screened compost with 1 part coarse sand, 1 part peat moss, and 1 part perlite.
Rejuvenate Your Lawn
Another area to use compost is on your lawn. It releases nutrients that stimulate root growth, prevent erosion, and attract worms, beneficial insects and microorganisms to the soil. After aerating your lawn in the spring or fall, apply 1/8 to 1/4 inch fine compost and a rake it in.
Have a Tea Party
A great way to provide liquid fertilizer for plants is to brew compost tea. Fill a burlap sack or an old pillowcase with finished compost and tie the end closed. Place in a tub, or 5-gallon bucket filled with water and let it soak for a few days. Use the nutrient-rich "tea" on houseplants, seedlings, or in the garden. Store it for up to 3 months in a covered container.
Let Mother Nature help you with your spring planting! If you add compost to your garden beds every year like I do, you may (or may not) know that usually the bags recommend that you let the compost "mellow" before you plant into it. So, put your compost down as soon as you pull your summer veggies out (November or December in mild areas) and let the winter rains (well, you do hope for rain) soak it and mellow it.
Come spring planting time, it will be all ready to plant into. I don't bother to till it into the beds, just layer on top. When I dig the holes for planting, that mixes it pretty well. If you have weed issues, put layers of newspaper or brown paper bags down on top of the bed before you put your compost on - the paper will help block those weed seeds or any emerged weeds, and it too will break down to add organics to your soil.
Source: 40+ years of gardening.
By MooseMom from Elk Grove, CA
Questions
Ask a QuestionHere are the questions asked by community members. Read on to see the answers provided by the ThriftyFun community or ask a new question.
April 20, 2014
0

found this helpful
I have compost that looks like wood chips from the city and it has dried out. Can I use this for mulch on my veggies that I just planted?
By RMR from Tallahassee, FL
Answers
May 2, 2014
0

found this helpful
Most cities sell their wood chips as mulch, not compost. It can be used, however, decaying wood chips steal nitrogen from the soil (for the decaying process). Most plants rely on that nitrogen to grow properly. If you use it, just be careful to spread it on top and not mix it in the soil while the plants are growing.
Answer

this Question

...
Can I reuse compost that has had tomatoes which were affected by blight? I usually reuse the compost from the greenhouse to grow the following year's new potatoes in bags.
By Ronnie from Essex, England
Answers
October 29, 2010
0

found this helpful
Tomato blight needs living plant tissue to survive, which means it won't survive in a compost heap. It is fine to use the compost.
Answer

this Question

...
Related Content