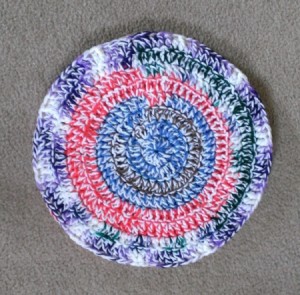 This is a project for making crocheted scrap yarn mats for your furrever friend. I am now making these to donate to our local no-kill shelter. Their thrift store is selling them to buy food and such, so I thought I would share this and a challenge.
Total Time: 1.5 - 2.0 hours
Yield: 1
Source: I have been making circles for years, just thought of my Cornelius and how much he loved his.
Supplies:
size N hook
275 ft scrap yarn
scissors
hot glue gun
darning needle
Be careful not to use wool as the first time you wash it, it will felt and be ruined. Also don't use good yarn. This will be like the "velveteen rabbit"...only real once it's very used.
Steps:
With your double strand of yarn, chain 3 and make 11 double crochets in first chain for 12. Join and chain 3. I leave a 12" tail when I begin to sew the two centers together. Make 2 double crochets in each of the 12 doubles from first row for 24. Join and chain 3.

Each row for a standard circle is 12, 24, 36...so you just have to add 12 to each row. I begin each new row with the single doubles and then count "1, 2, 3/4" so that the extra double is in the end of each count instead of the first. It's just easier to count that way, at least for me.

For all the rows to row 8, which gives you a 16" mat, increase by 12. You can work in the ties as you go or leave till the end.

Make two. Leave a 20" tail to use for sewing them together.

With the tails inside and your first tail, thread your darning needle and running stitch the two centers together. Work in your tail and hot glue all the tails, just a dab in the knot. This will keep little kitties from working out the tails.

Using your last tail, make a running stitch around the edge and work in the last tail "very well".

NOTES: There are several ways you can come up with this same project using other methods.
1. Use a smaller hook and make more rows.
2. Make it half-doubles and make more rows.
3. Work in the tails and don't use the glue.
4. Make the top crocheted and the bottom fabric, using a sharper darning needle.
5. Make these with scrap yarn, but just two different colors. In other words, less knots to glue and tails to work in.

Here's the challenge: Make one for a friend, relative, or even better, your local shelter. Share this on pinterest and facebook so others can do the same. The local shelters need help more now than in any time in history. Funds are low, needs are high and resources are stretched to the limit. We may not be able to do much, but in memory of my Cornelius and all the cats you may have loved and lost...we can all do something.