April 8, 2009
1

found this helpful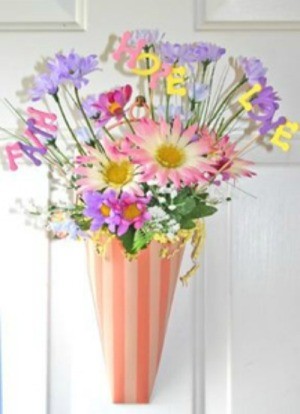 Use these plant pokes to dress up and personalize your arrangements or potted plants.
Approximate Time: 10 minutes
Supplies:
foam letters
wooden shish kabob skewers
hot glue
beads, ribbon (optional)
Instructions:
Spell out a word, connecting the letters at various angles (to resemble handwriting) with hot glue. Attach word to skewer with hot glue.
Optional, randomly attach tiny beads to the letters and/or tie very narrow ribbons to the skewers.
Poke the skewers in the correct order into the floral arrangement at different heights.
Message Ideas:
"Faith Hope and Love" for a spring door decoration to encourage someone.
"He is Risen" for a small pot of grocery store mums for Easter giving.
"Missing You" for a spring grave floral arrangement.
"Sweet Feet" for bouquet for a little dancer.
Possibilities are endless. You can eliminate cards and use these unique personal messages which will last long after the flowers fade.
By Cindy from Waynesburg, PA
Comments
April 8, 2009
1

found this helpful
I have done similar things for a funeral - Brought a rosemary plant & had a ribbon that said "Rosemary is for Remembrance...."
April 10, 2009
1

found this helpful
I absolutely love this idea! its cheap AND cute!