I finally found out how to make fake cakes but I can't find out how to make the "fruit topping" that looks like the fruit is in juice that I have seen on fake pies and cakes. Also, I need help with making fake crumbs that go on the side of fake carrot cakes or fake angel food cakes. If anyone could please let me know how to make these or knows a useful website for the supplies, I would greatly appreciate it.
Have a great day!
MommyMitchell from Delaware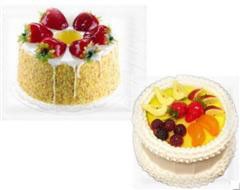 Answers:
Making Fake Cakes
Could you use sawdust as crumbs? (03/26/2007)
Making Fake Cakes
The fruit can be made with polymer clay (sculpy) and the sauce is a resin or gloss for the baked clay. Your local craft store should have some. There are lots of great sites on how to work with PC out there. (03/28/2007)

By Natalie
Making Fake Cakes
Use Marzipan, most of the time you can find them already shaped as colorful fruit. Hey, by the way, want to share your fake cake recipe? I'm trying to figure a way to make small faux candy squares decorated with frosting, etc. I have a small table with a coffee pot, faux coffee in a cup and would like to have a few faux desserts sitting with it. I tried finding how this is done without much success. Thanks.
kswaingerard AT unmc.edu (09/10/2007)
By KARY
Making Fake Cakes
I would love to know what the cookies and sauces are made from. Got the Styrofoam and icing, but I need something for the crust and filling. Any help will be appreciated. (09/13/2007)

By ladyleolion