Send a fall message to your friends and family! These cards are so fast, easy, and thrifty! I did these four before breakfast (but after coffee) recently. I found some craft paint and a few fall themed stamps at a craft recycling store. I always keep some offwhite 5 X 7 plain cardstock and envelopes handy. These are often available at half-price at the craft stores.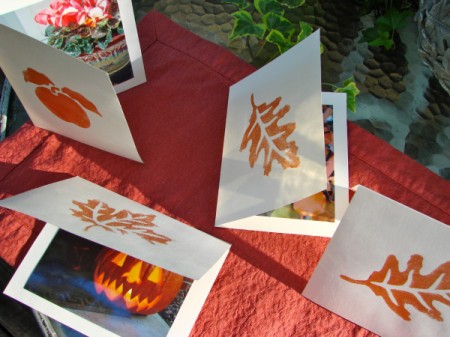 I poured a little of the paint in a paper plate and experimented with how to ink the stamps on some plain paper before applying them to the cards. A sponge paint brush or just a small sponge works best to brush the paint on, using as little as possible so the paint doesn't glop or smear.

Press down on the card with the stamp, and you have a beautiful fall card. I like to add my own photo prints to the inside of the cards for extra color. Beautiful handmade cards for about a $0.20 investment each.