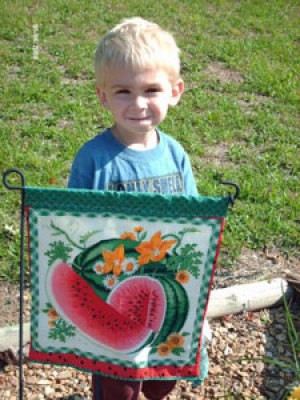 Create your own inexpensive outdoor mini garden flags by using fabric pillow panels.
Approximate Time: 30 minutes or Less
Supplies:
2 fabric pillow panels
scissors
sewing machine with decorative stitch
Instructions:
Fabric pillow panels are sold by the yard which will give you 4 panels and usually a matching themed boarder which will make 2 mini garden flags.
Directions:
Simply cut out your squares and sew them with right sides together, turn inside out and then add a casing to the top from the boarder that was around your fabric yardage.
Leave enough of an opening at the casing's top to slide through your metal garden ground pole.
Stitch around the outside 3 edges of your completed flag using a decorative stitch to give both added beauty and stability.
This method will give you 2 mini flags with your picture theme on both sides for viewing. If you have matching solid color fabric, just cut squares to the same size as your panel and sew together the same way and this will give 4 mini flags with the backs in solid color to use in areas where you do not mind the back of the flag being visual.
Fabric pillow panels are sold in any fabric department and are sold by the yard for $4.00 or even less. They come in all seasonal themes as well as other themes like animals, etc. They are light weight 100% cotton which wash up wonderfully. Simple and fast to create. Create your own one-of-a-kind mini flag for yourself or as gifts and enjoy the compliments you will receive.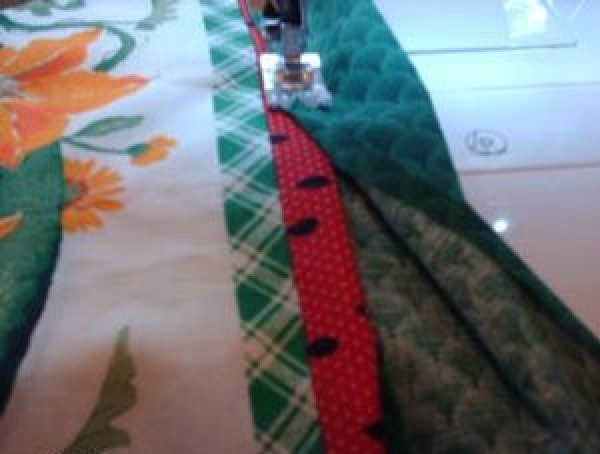 The 2 panels are sewn together then turned inside out, the border being turned over under the selvage edges and lapped over the top of the open end panel and sewn across the panel horizontally, using a decorative stitch and leaving a 1 inch opening in the casing to slide it through the metal garden poles top. Use whatever decorative stitch your machine offers. If you do not have a decorative stitch on your machine, a single stitch will work just fine.
This watermelon theme was perfect for summer and only cost me $1.00 per yard on sale. Search for theme fabric pillow panels like 4th of July or birthday or your favorite animals like horses, etc. and have fun making them to enjoy!
By Julie from Greeneville,TN