I've been wanting garden stakes, but I wanted to make my own. So I finally came up with this idea. It's cheap and it works for me, just might work for you too.
Supplies:
magazines or catalogs
cardstock paper (I used used greeting cards)
packing tape or clear Contact paper
scissors
glue (I used Elmer's glue)
Popsicle sticks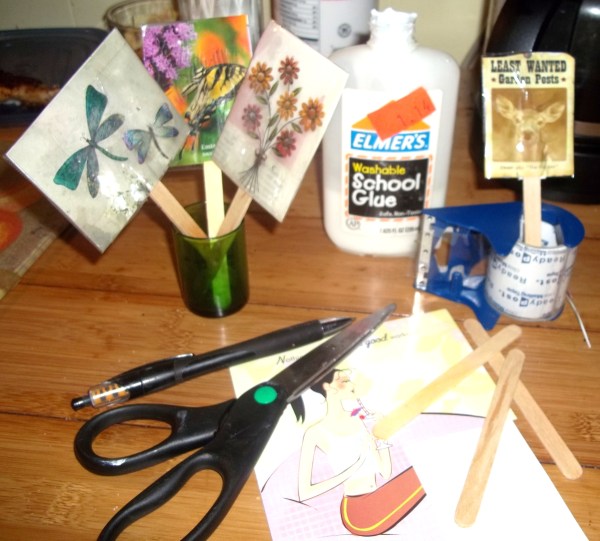 Directions:
Look through your magazines or catalogs, and cut out pictures of whatever you like (I cut small pictures of butterflies, flowers, birds, etc.)
Trace that picture onto the used greeting card, then cut it out. On the card stock you can write anything you want, like the name of your flower, date when planted, or just anything you want.
I used a Popsicle stick to add glue to the card stock cutout. Then glued my picture and the card stock together. Put the Popsicle stick in between both cutouts, only gluing in about 2 inches of the stick.
With packing tape I covered it all except the Popsicle stick (be sure you cover all the paper with tape to protect it from the elements).
I put mine in my garden, it rained the next day and my garden stakes held up from the hard rain we had. :) This frugal project is so easy even a child can do!

By Jacquelyne Jean J. from Salisbury, MD
Garden art can be beautiful and functional at the same time. Here is an easy and inexpensive project that allows you to add a personalized touch to your garden and potted plants. With supervision, this project is an easy one for kids, and best of all, no "crafty" skills are required.

Materials
bakeable clay (available at craft stores)
assorted cookie cutters
wooden dowels or wire hangers (to act as stakes)
wood glue
clear polyurethane sealant (if using the stakes outdoors)
newspaper
rolling pin (cover it with wax paper to prevent staining)
cookie sheet
Optional Items
embellishments of your choice (leaves, pinecones, shells, rubber stamps, etc.)
pencil or screwdriver for carving
stain, acrylic paint, or permanent markers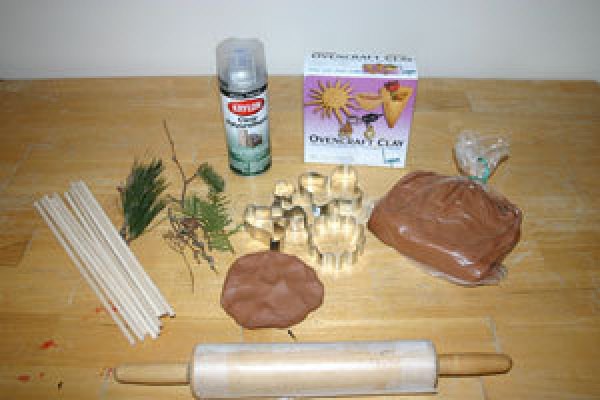 Instructions
Assemble your materials. Using unfinished wood, cardboard, or several layers of newspaper as a work surface, shape a handful of clay into a patty and using your rolling pin, roll it out like cookie dough until it's approximately 1/2 inch thick. Roll out only enough clay to cut out one or two cookies at a time. Keep the rest in a tightly sealed bag until you need it.
Before cutting out your clay cookies, compare the thickness of your dough to the thickness of the dowel you will be using. The dough should be thick enough so that when you go to insert the dowel into the middle of the clay, it doesn't break through. For example, I used 1/4 inch wooden dowels and rolled out my dough 1/2 inch thick. Adjust the thickness if necessary, then cut out assorted shapes using your cookie cutters.
After you cut out your clay cookies, make a hole in the bottom for your dowel. Make sure the hole is deep enough so that after baking, your dowel can be reinserted far enough into the cookie to support its weight. I made my dowel holes 1-1 1/2 inches deep.
Once you have all of your cookies cut out, it's time to carve or imprint designs into them (painting is done AFTER baking). It's a good idea to leave the dowels in the cookies at this point to prevent the holes from getting flattened. To decorate my cookies, I used a piece of a pine bough to make the fur on my squirrel. With some fancy scrapbook fasteners, I imprinted patterns on the wings of my butterflies and added copper florist wire for antennae. I used rubber stamps to imprint the word "grow" onto my fish. Remember, there are no rules, so just have fun with it!
Warning: Do not embed any embellishments into the clay, they will catch fire in the oven! Also, the copper antennae on my butterfly did fine, but be forewarned that some metal finishes turn color when heated.
Remove the dowels from your cookies and place them on a cookie sheet. At this point, follow the drying instructions that came with your clay. To prevent cracking, my clay needed to be completely dry before baking. Drying times vary. Mine took 48 hours at room temperature.
After drying your cookies, bake them according to the directions that came with your clay. My clay baked at 350 degrees F for 1 hour. After baking, your cookies can be painted with acrylic, enamel, tempera, or watercolors, or they can be stained or antiqued with the same products recommended for wood.
After the cookies cool down from baking, drop a few drops of wood glue into the dowel holes and insert the dowels. Let the glue dry for a few minutes before moving on to the next step.
Finally, if you're planning to use your plant stakes outdoors, apply several layers of a clear polyurethane sealant to them to protect them from moisture damage. Follow directions according to the label. You can find clear polyurethane at craft stores of wherever paints are sold.
Helpful Hints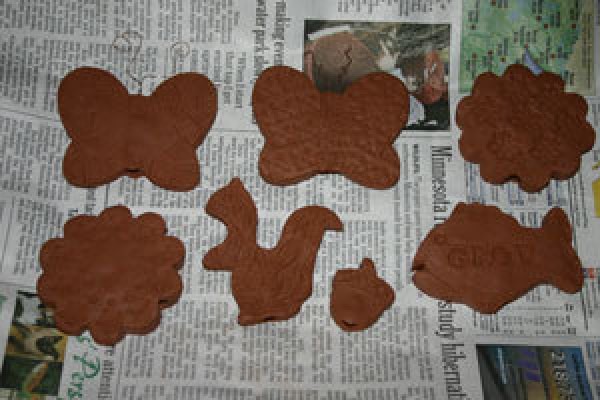 Clay:
I used Ovencraft Clay by Laguna that I bought at Michael's Craft Store. A 4 lb box (now that's a LOT of plant stakes!) cost $9.99 + tax (no coupon). Michael's carries other bakeable clays, and although some were cheaper, I happened to like the color of this one. If the idea of baking clay doesn't inspire you, clay that hardens by air drying may work for this project, too (I haven't tried it). Many stores that carry craft supplies carry some type of bakeable clay.
Baking: There may be a small amount of smoke and an intense odor as the clay bakes, so run the hood on your stove and crack the kitchen windows. Projects should ALWAYS be baked by adults.
Drying: How long it takes varies according to the thickness of your clay. Place your cookies on several layers of newspaper or on an oven rack to speed up drying.
Inserting the dowels: If dowel holes shrink slightly during the drying or baking process, widen them slightly using a screwdriver or sharp knife.