Save your plastic containers your plants come in and use them as molds to make beautiful hypertufa planters.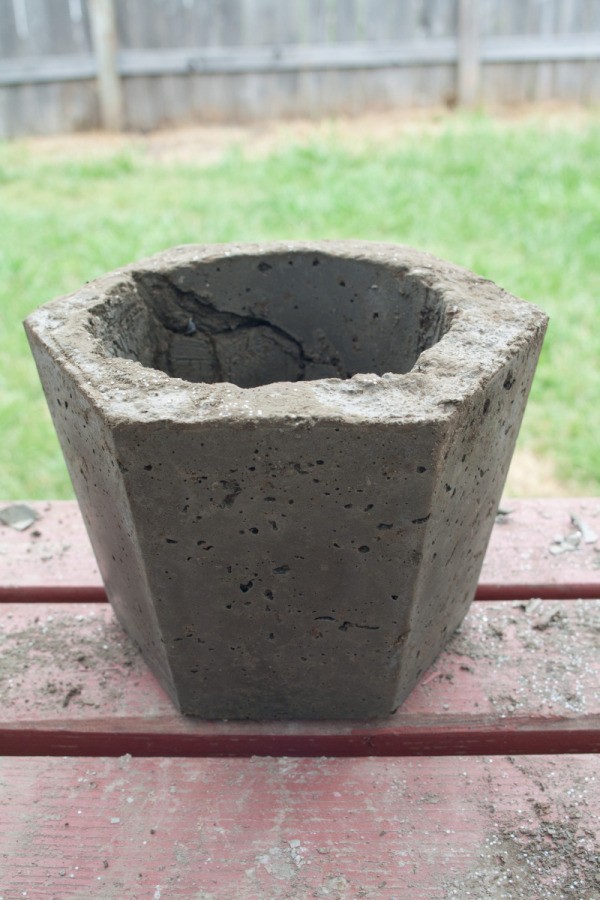 Every spring, we end up with many plastic pots that plants we purchased came in. We usually recycle them but this year, I saw an opportunity to make some new planters. A Meyer lemon we bought had come in a nice hex shaped plastic planter and I thought it would make a great hypertufa mold.
Materials
Portland cement (not quick set pre-mixed concrete)
peat moss
perilite
bucket
stirring stick
dust mask
garden gloves
plastic wrap
plastic planters
Mix the concrete in the bucket by combining 2 parts Portland cement with 3 parts each of the perilite and sphagnum peat moss. Then add water and stir until the consistency is such that when you squeeze it a very small amount of water seep out. It will look like this: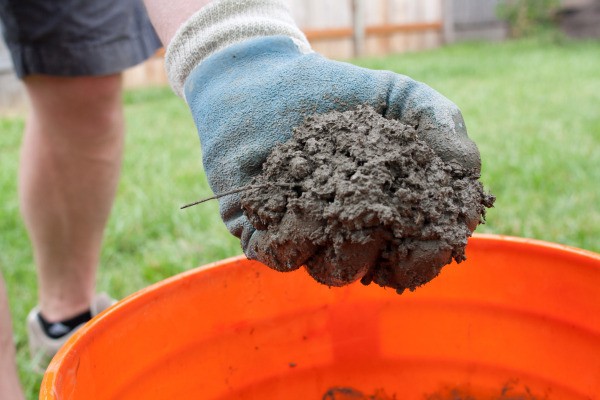 For more detailed concrete mixing instructions, see my previous post about making hypertufa pots:
http://www.thriftyfun.com/tf85126410.tip.html
Instructions:
Fill the larger container with concrete, leaving some space in the center for the smaller pot to be pressed into. Press the concrete into the corners and edges really well so outside of your planter will look nice.
Press the smaller plastic planter into the center of the larger one. Give it a good shake for 30 seconds to a minute to help settle the cement and smooth out eh sides a bit. Tapping it gently on a table or the ground will accomplish the same thing. This will also help smooth out the top edge
Cover the planter in plastic wrap and let it set-up for at least 24 hours before attempting to take it out of the mold. I left mine for 48 hours to ensure the concrete wouldn't crack.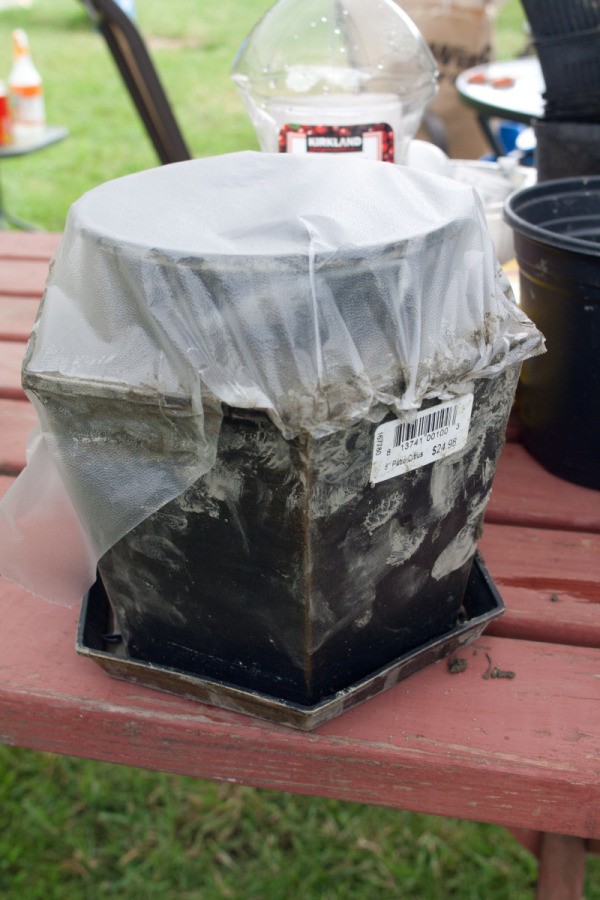 I had high hopes for being able to reuse this container to make more hex shaped planters but unfortunately I broke the plastic removing the mold. As you can see it came out very nicely and for now, is one of a kind!
By Jess from Hillsboro, OR
These easy to make, naturally porous hypertufa pots are a great addition to any garden.
Materials
Portland cement (not quick set pre-mixed concrete)
peat moss
perilite
bucket
stirring stick
dust mask
garden gloves
wire brush
various plastic containers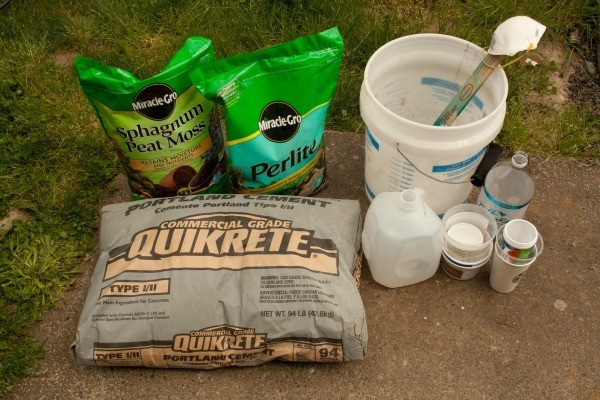 Instructions:
Put the dry ingredients together in the bucket. You may need to adjust the amounts to get the consistency right but the basic formula is 2 parts Portland cement, 3 parts peat moss, 3 parts perilite. Be sure to wear the dust mask when pouring or stirring the dry cement.

If the peat moss is not loose, you will need to break up any clumps before adding water

Mix the dry ingredients up throughly with the stir stick or your hand. Be sure to wear gloves as the cement is a skin irritant.
Add water and stir until the mixture is completely dampened. It will stir relatively easily when enough water has been added, but it shouldn't be "soupy". It should be about the consistency of instant oatmeal or cottage cheese. If you put too much water in, add a little more cement to thicken it up. Remember a little cement goes a long way.
Once you have paired off your containers to nest inside of each other, pour or scoop the concrete into the larger container. Fill the container about halfway.
Push the smaller container down into the concrete mixture. If the concrete doesn't come up as high as you would like, scoop some more mixture with the stir stick into the edges. Smooth it out with your finger after pressing the container back down.
Add some small rocks or something heavy to weigh down the smaller container into the concrete mixture.
Cover your pots with plastic wrap and set them aside to cure. Covering them will help slow the curing process. This is especially important for larger pots as they will crack if cured too quickly.
The initial curing process will take about 24 hours. After that time, check the consistency of the concrete. If it gives at all when you press on it or it scratches easily with your fingernail, then let it set up a few more hours.
Once the concrete is cured, removed the molds and smooth out any rough edges with the wire brush. I kind of liked some of the rough edges I ended up with so I only smoothed out a few parts.
Place them outside to finish curing. The final curing could take up to 3 weeks for larger planters. The finished pot will be lighter in both weight and color.
Lastly, you will need to get rid of the lime contained in the Portland cement. Too much lime is not good for your plants, so this is an important step. Fill the planters with water and let them drain daily for about a week to ten days. This will remove any high concentrations of lime. If you made these pots in the winter, you could simply set them outside until spring. The winter rains will naturally leach away the lime for you!

You will soon find that the possibilities for using this method are practically endless. Be creative, find ways to place multiple pots in one container, use unusual shapes and designs. You can use many different kind of things as molds for this type of planter. Cardboard boxes, styrofoam or even scrap wood work well also. If you use a metal container, be sure to apply a concrete release agent before pouring the concrete or else it will stick to the metal.