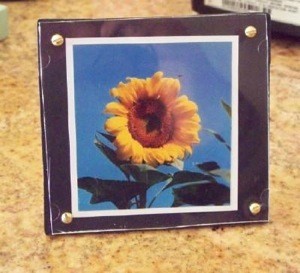 Instead of tossing old CD cases into the landfill, why not make some picture frames from them? Here is a way to do that.
Approximate Time: 1 hour
Supplies:
jewel case
corrugated cardboard
black card stock
photo(s)
box cutter knife
craft glue
drill with glass cutting bit
awl or ice pick
brass screws (6/32x1)
Instructions:
Disassemble one case, taking care not to break the plastic.

Cut a square out of one piece by scoring with a box cutter along the edges. (Take extreme care in this step. Do not force the knife, but rather go over and over until you have cut partially through the plastic. It can then be snapped on the scored lines.)
Drill four holes in the corners of the flat plastic sheet. To do this, I found a glass cutting drill to be the best way to prevent any cracking or splitting.

Glue a piece of black card stock to a square of corrugated cardboard cut to size.

Use an awl or ice pick to make four holes in the corners through the holes in the plastic.
Place picture on the black backing, place plastic on picture, and add brass screws in the four drilled holes.

Picture can now be hung on wall, or a stand can be made to have a free standing desk or counter picture.
By Lonnie from Chatsworth, CA
February 22, 2010
0

found this helpful
I took an old CD case and popped the two pieces apart, turned the clear side around and put it back together so now it would stand up in an A frame. Then I took a picture some stickers and some patterned paper and made a picture frame out of it.
Source: I read somewhere you could make a frame from a CD case so I tried it out. Not sure where but thanks if someone from here.

By Christina from Paducah, KY
Answers:
CD Jewel Case Picture Frame
What a great idea. I have so many of these. I'm not clear about what you mean when you say you took them apart and turned the clear side around. With mine, I can slip anything in without taking it apart. Am I missing something? (07/25/2009)

By chef4u
CD Jewel Case Picture Frame
I love it! (07/25/2009)

By IOWAGIRL
CD Jewel Case Picture Frame
That is brilliant! Thanks! (12/03/2009)

By kitkitschy