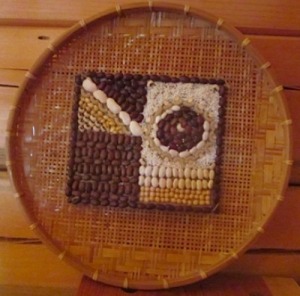 This was a kindergarten project that my son had this year. My older son remembered doing it a few years before and wanted to do another one. Before we knew it, the whole family was making one. It was very fun and I think they turned out nicely.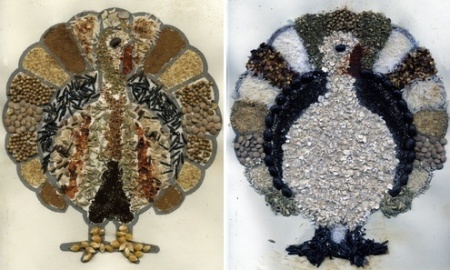 I ransacked my spice cabinet and pantry for any interestingly shaped or colored items. Then, we used white glue to stick them down. You could use it directly out of the bottle but I watered it down slightly and used paintbrushes to get it in just the right spots.Be careful, this is a messy one and the spices can get a little overpowering if the kids use too heavy a hand. When you are finished with one section, just tap off the excess. We started tapping directly into the garbage after awhile.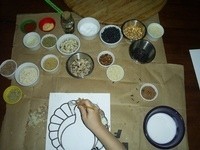 Here is a list of my favorite items to use. I only used food items but there is no reason you couldn't use glitter, pebbles, sticks or anything else.
wild rice
white rice (long or short grain)
lentils
navy beans
pastas
coffee, ground and beans
peppercorns
sea or coarse salt
popcorn
ground spices (cinnamon, cumin, mustard
red pepper flakes

whole spices (coriander, anise, cloves)
oatmeal
cereal (cheerios, rice krispies)
barley
Just be sure to use things that are dried and will not mold or are too heavy for the glue to hold.
Leave time for it to dry, overnight or a couple of days if it has a lot of glue.
This project could be adapted to several different projects but I think the pantry ingredients suit themselves especially well to Thanksgiving and autumn.
Have fun!
Jess in Oregon
Editor's Note: Print out a clip art or use a turkey coloring book page for this project. Clear lines and sections will work best.