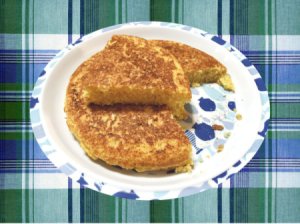 First let's get out of the way what traditional cornbread isn't. Delicious cornbread is simple cornbread. It is meant to accompany vegetables, not compete with them. Therefore, it should not have added ingredients such as cream style corn, peppers or other ingredients to make it reminiscent of another country's cuisine.
Nor should it it be made with meal or corn flour processed with lime, as this treatment is what gives corn tortillas their characteristic taste. I like tacos, but I don't want my cornbread to taste like them.
Cornbread should not be sweet, contrary to the millions of boxes of a popular corn bread mix sold annually. I assume the ridiculous amount of sugar in this product is to appeal to children.
Cornbread should not have a distinct 'eggy' taste. If eggs are used, only enough should be added to make a richer cornbread. You should not taste the eggs. Cornbread should taste like cornbread.
I'm off my soap box now.
I said cornbread should not be sweet, but I do add sugar. It improves the cornbread crust. When I buy 5 lbs. cornmeal mix, I dump it into a pail and add a half cup sugar and mix. This is so I don't have to add a tiny sprinkle of sugar each time I make cornbread.
Also, if you've had your cornmeal for a while, the leavening agents might not be as potent as when first purchased. When this happens, I add a tiny bit of baking soda to the batter, less than one sixteenth teaspoon.
A few foods that go well with cornbread: If you love the beans but not the artillery that comes with them, don't fret. Crumble cornbread into a soup bowl and pour a generous amount of bean soup over it. Delicious!
Collards, turnips and turnip greens.
Put a big slab of cornbread into a soup bowl and top with a cup of homemade beef stew with vegetables. Man food!
You may even enjoy a piece of hot cornbread topped with a pat of butter and a drizzle of Blue Label Karo Syrup or a good, mild molasses.
Pictured is my old standby, neufchatel cheese.
Who needs Maxims-de-Paris with their $800.00 a plate dinners when you have good ol homemade cornbread?