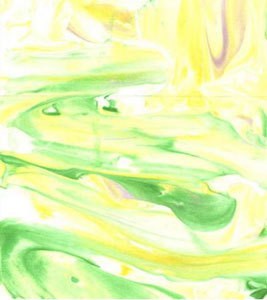 For paper-crafters who are interested in making their own tie dye paper. This fun and messy tie dye paper "recipe" leads to lots of fun with the kids and several sheets of pretty paper for scrapbooking and card making!
Approximate Time varies
Materials
food coloring (liquid) and/or stamp ink refills (i.e. Stampin' Up Ink Refills)
white card stock
shaving cream (unscented is best)
cookie sheet or other shallow pan
plastic spatula
paper towels and soapy water
Directions
Spread shaving cream in the bottom of the cookie sheet, making sure to cover the whole pan.
Choose the colors from the food coloring or dyes. Sprinkle drops of the colored dyes onto the shaving cream. (if using a normal sized cookie sheet, use maybe 15-20 drops of dye)
Using the spatula, swirl the shaving cream and dyes around to make some colorful swirls.
Take your white card stock and lay it face down in the colored shaving cream.
Carefully remove the card stock and, using the spatula, scrape the excess shaving cream off. Dispose of this excess shaving cream.
Set the tie dyed card stock aside to dry.
Repeat.
Notes:
This is relatively messy, so I recommend doing it outside or in the kitchen.
The first few sheets of card stock might not be great, but after the those few, the tie dye starts coming out a lot prettier.
Try different color combinations and keep in mind the colors that are created when you mix two different colors around in the shaving cream.
Have fun!
By Kirsten from Kingsville, TX
Comments
July 24, 2007
0

found this helpful
This sounds like loads of fun and I want to try it. I have been on a tiedying kick anyway. But am wondering where in the heck do you get card stock? I live in a small town with basically only a walmart so kindof limits things.
Does posterboard work?? Just cut it to fit maybe the envelopes?? Our walgreens has posterboard on sale right now i think for 10 cents maybe. Anyway, cheap. And dollar tree has it 3/1.00. can't wait to try it.
July 25, 2007
0

found this helpful
I bet Wal-Mart has cardstock, sometimes it is also knows as "cover stock". It usually is a 80 lb. stock or higher. It is basically just thick paper. You could also use watercolor paper or any thicker paper. If you have a FedEx/Kinko's or another copy store in your area, they would sell it by the sheet and also by the ream. The per sheet price would be OK, if you only want a few, but if you want a lot, look for a paper supplier or office supply store. Another place would be craft stores, scrapbook suppliers, etc.
Good luck, I haven't ever seen paper done quite like this. We used to do something when I was in school with ink and oil in the water that would turn out like this but I don't remember how to do it now.
Jess
By Kathy (Guest Post)
July 26, 2007
0

found this helpful
I've done this technique before. I learned it from Dee Gruenig of Posh. It is sooo simple and really pretty. Another really pretty technique is instead of immediately putting the paper in the shaving cream, let the shaving cream sit for an hour or so until it has more of a "foamy" look instead of "whipped cream" look. It gives a lacy print.
January 6, 2010
0

found this helpful
I am trying to make invites for my dads 70's themed 50th bday party and I can't seem to find any appropriate printer paper so this sounds like a way to make the kind of paper I want. Does anybody know if this does ok when you put it through a printer?