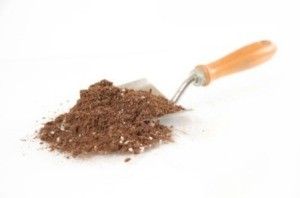 A good seed starting mix is a necessity if you want to produce healthy seedlings and transplants. To make your own soil mix, experiment using a combination of the ingredients listed here (suggested ratios given below) to get your seeds and seedlings off to the best possible start.
The Magic Ingredients
The following are the most common ingredients in both seed-starting mixtures. Experiment with different mixes until you find a recipe that you enjoy working with and gives you good results. When starting seeds, the structure and texture of the mix are more important than the exact proportions or even nutrient content. Just remember that as your seedlings grow they will need to be transplanted to a mix with ingredients that contribute to the nourishment of growing plants (e.g. mixes that contain screened compost or well-rotted manure).
Sphagnum Moss
This popular ingredient is made from a type of living moss that is collected from the surface of acid bogs. Once dried, it is usually sold in sheets, blocks or bales for horticultural use. 'Milled' sphagnum refers to sphagnum moss that has been finely chopped. Both milled and un-milled versions are light brown or tan in color and have a high capacity for retaining moisture.
Peat Moss
Although the names are often used interchangeably, milled sphagnum or sphagnum moss is not the same as peat moss or sphagnum peat, which are the dead, decomposed remains of bog-dwelling mosses and other plants. Peat moss (or, sphagnum peat) is dark brown in color. It is often used in soil mixtures because it holds moisture well. Peat moss can be very difficult to get wet, and once dry, tends to form an almost impenetrable crust that is very difficult to rewet. Harvesting peat moss and sphagnum peat requires the removal of deep layers of peat that have taken centuries to accumulate. Peat forms at a very slow rate (¼ inch per year), requires a substantial use of resources to extract, and is not sustainable when done on a large scale. Harvesting live sphagnum moss (the moss harvested from the surface of bogs) can be done sustainably if care is taken to leave enough moss remaining for regrowth. Coir and sustainably harvested redwood fiber are considered sustainable alternatives.
Vermiculite
This is a naturally occurring mineral that is lightweight and has a high capacity for moisture retention. It can be used alone or mixed with soil for germinating seeds. When vermiculite is used alone, seedlings should be given a weak solution of fertilizer when their first true leaves appear. For use with plants, be sure to steer clear of vermiculite sold in the building trade. It has a coarser texture and tends to be extremely alkaline in nature.
Perlite
Perlite is a volcanic glass that, like vermiculite, has been 'popped'. For horticultural use, perlite's is used as a soil amendment for its ability to promote good drainage (prevent soil compaction) in seed-starting mixes.
Sharp Sand
Another ingredient added to mixtures to promote drainage, sharp sand is coarse sand sold in the building trade. Don't substitute 'builders' sand or sand from your local swimming beach. Both are too fine in texture to help with drainage and have a tendency to form a cement-like crust when added to the soil.
Compost
If you decide to use compost in your soil mixture, make sure it's free of weed seeds and disease-causing organisms. Before combining it with other soil mix ingredients, use a garden sieve to separate out any coarse materials. Avoid using walnut leaves in your compost pile; they contain a chemical called juglone that is toxic to many plants, including tomatoes, peppers, rhododendrons, and azaleas.
Garden Soil and Starting Seeds
Plain garden soil usually isn't recommended for germinating seeds or growing seedlings in flats or containers. The theory is that garden soil is unsterilized soil and too heavy (compacts easily) for using in containers. I agree with this theory to a point. While it's true that unsterilized garden soil has a greater chance of harboring the fungi that cause damping-off (a disease that kills seedlings by rotting them at soil level) this is also the same soil used to germinate seeds sown directly in the garden.
It makes sense that for sanitation sake its best to use a fresh potting mix for each new crop of seedlings you start in containers. However, if you have worked hard to build up good quality garden soil (nutrient rich and not too heavy) I personally wouldn't hesitate to use it. You can sterilize it yourself by spreading damp soil on cookie sheets and heating it in the oven (160-170ºF) for 30 minutes.
5 Good Formulas for Starting Seeds
Equal parts vermiculite, perlite, and milled sphagnum.
One part screened finished compost; 1 part vermiculite or perlite.
One part screened, finished compost; 1 part good potting soil; and 1 part sharp sand, perlite, or vermiculite.
One part commercial potting soil or compost; 1 part sphagnum moss; and 1 part perlite or sharp sand.
For seedlings: One part compost; 2 parts good potting soil; and 1 part well-rotted, sifted manure.