My mom and I want to make a doll house, but we don't know how. It has to be easy and it can't be made out of wood because it's too expensive and hard for me! Can you help me?
By savannapodell from Bend, OR
Answers
December 17, 2013
0

found this helpful
My daughter loves Barbie and Monster High. Prior to the actual Monster High dollhouse sold in stores, my mother made my daughter one out of a book shelf.
She painted a book shelf black (you can paint it pink for Barbie) and used wrapping paper for wallpaper. She also made area rugs out of duct tape. She purchased used Barbie furniture from Goodwill and painted those as well. You can re-paint them or jazz them up with some stickers or sparkles.
I get some many complements on the handmade dollhouse! Good luck! Here is a picture!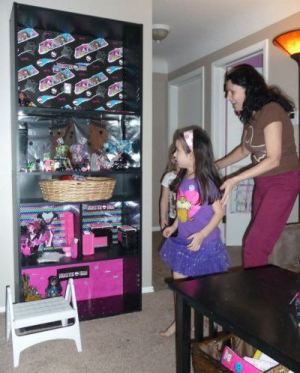 December 25, 2013
0

found this helpful
I saw someone use an old bookcase or cabinet. Paint the different rooms/shelves a different color or use leftover wallpaper. If possible have your child help with the input on decorating it. Place mats make great area rugs.
Answer

this Question

...
I am trying to make a barbie dollhouse and furniture for my granddaughter. Does anyone have instructions or photos? I am not having much luck with my efforts. I am using tips from ThriftyFun members using household products. Many thanks.
By helen from U.K
Answers
October 22, 2009
0

found this helpful
I ordered something that came packed with thick Styrofoam around it. I took my electric craving knife and cut it to make a couch, another piece became a chair, we used pop cycle sticks to make the bed flat then sewed some fabric into a pillow shape for the mattress we took scrapes of lace and made curtains. It depends on how big you make the doll house as to what you can do in the way of furniture I have a lot of ideas so if you need more feel free to email me and I can give you tons.
I was a single mom and had to do with very little so my daughter and I got very creative in things we did. Now I do them with my grand daughter just because she enjoys making things herself dcsprsmm AT yahoo.com
Answer

this Question

...
I am looking for new and creative ways to make a Barbie doll house. An idea I had was to make a tree house like the one in the movie Swiss family Robinson but scaled for Barbie dolls. Any ideas?
Adele from Yona, Guam

Answers:
Making a Barbie Doll House
My husband and I make Barbie doll houses and we learned it is called play scale or 2" scale. We build ours from 1/2" plywood. My husband makes the shingles, shutters, and window boxes from scrap pieces of wood. We buy the doors and windows online. (01/20/2008)

By Darlene
Making a Barbie Doll House
If you buy a grapevine wreath at the craft or dollar store, then soak it in the bathtub overnight it becomes pliable and you can then weave it through an open type structure you've already built. Or, in the spring you can go to the woods or your back yard and cut down some green vines, then weave them around your structure. They will harden as they dry out. With vines growing around your doll house it's sure to look like the Swiss family Robinson lives there! (01/20/2008)
By Cyinda
Making a Barbie Doll House
Not sure what all is available here:
http://www.ehow.com/Search.aspx?s=barbie+houseandOptions=

It might be worth a look at least. (01/21/2008)

Making a Barbie Doll House
I know it's far fetched but I have a friend who refuses to throw away toilet paper rolls but has nothing to do with them. I suggested she bring them over one day and we construct a barbie doll castle. (01/22/2008)

By Angelique