Turn two $4.00 bags of ready mix concrete into a lovely garden bench. This bench is about 36 inches long by 18 inches wide. I took some old 2x4's and made a form for the seat and two forms for the legs. I mixed the concrete and poured it into the forms. I let it set for 4 days and removed it from the mold.

Now I have a beautiful garden bench that only cost $8.00. They are at least $50.00 at your local home improvement center.

Nice! I need to make a couple of them. I would also like to make a little table and a couple of little benches to go with it. (09/30/2009)
This is a great idea. We have several of the legs and need the tops. Will put that on the spring project list! (10/01/2009)

Does anyone have any ideas on what to use for molds to make concrete benches, short of buying molds? I am using a hard plastic swimming pool of grands that has a split in the very top. I know I can use plastic pipes about 4 or 5 inches for the legs but am at a loss for the top of bench. It could be straight or curved.

Martha's Wisdom from Savannah, TN

Answers:
Making a Concrete Bench
The most common forms for concrete (foundations, flatwork, etc.) are made from wood. If you can run an inexpensive jigsaw and drill, you can cut the curve that you would prefer from plywood, and fasten it to a solid piece of plywood. Kind of like a reverse cookie cutter or a stencil. You may need several layers of plywood on the curved portion to get the thickness right. Fasten these layers with screws from the front. Then attach the solid back with screws put in from the back, so it's easily removable. If you pour your concrete into this flat relief setup, making certain to use some sort of steel reinforcing (such as remesh or rebar) inside, and let it set up, you should be able to flip it over, remove the backing, and pop out the finished piece. It may take a little experimentation or research to get the proper strength of concrete, and you may have to lubricate your mold to keep it from sticking.
On the subject of plywood, if you go to a construction site and ask nicely, often there are scraps (some quite large) that the crew would probably give you for free for small projects. Often such things and pieces of dimensional lumber are deemed worthless and tossed into a dumpster. One time a framing crew gave me a whole truckload of lumber that they couldn't use. We built a very nice chicken house (less the two greenhouse panels for heat and light) entirely for free: brick floor, lumber, siding, shingles, trim--all of it that was going to be thrown away. Keep in mind that a little extra time with a saw and a vivid imagination can help you turn "junk" into lots of cool stuff for your home, pets or garden--Have fun! (04/14/2007)

Making a Concrete Bench
I have used plastic garbage can lids as molds for assorted items in the yard. Once the concrete dries, it pops out real easy. (04/15/2007)
By Peggy
Making a Concrete Bench
For straight molds, use melamine covered pressboard. For full directions, pics, etc. search using a search engine like google for DIY concrete countertops ;o) The melamine gives you a smooth surface on the concrete and make the form release the concrete much easier.
http://www.diynetwork.com/diy/hk_cabinets_counters/article/0,2037,DIY_13942_2276353,00.html (04/18/2007)

By Robb
Making a Concrete Bench
You could use an old bathtub lined with garbage bags? I'm making stepping stones from pizza box molds. Once dry, they don't stick to the garbage bag at all! (04/20/2007)

By Lily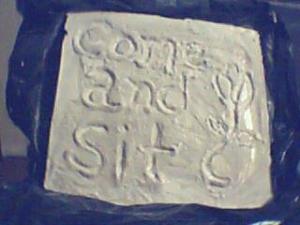 Making a Concrete Bench
Where can i find 3/8x21/2" philips carraige bolts (08/21/2008)

By Kenneth A. Fahrenfeld
Making a Concrete Bench
I made a bench made only from materials obtained from Lowe's and Home Depot. My bench is made from three 16 inch by 16 inch stepping stones (coolcrete) glued together with liquid nails and covered with ceramic tiles at the joints for rigidness. Legs are made by putting two wall blocks together and covering with ceramic tile. I have photos to send to anyone interested. (07/21/2009)

By jim jackson