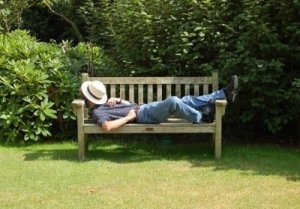 Beautiful gardens are filled with colorful plants, meandering paths, and places where you can stop and linger to enjoy the fruits of your labor - that is, providing you have a place to sit down. A well constructed garden bench is a great way to add both beauty and function to your backyard garden space.
Garden Bench Style
The style of bench you choose for your garden is a matter of personal taste. You might want to choose something that blends in seamlessly with your garden's existing style, or opt to create a visual focal point by choosing something that really stands out.
The material used to construct a garden bench often lends itself to the overall style. For example, wooden and wicker benches tend to blend in subtly with the environment, whereas wrought iron benches create a nostalgic, historical feel. Concrete and marble benches are elegant options for commemorative gardens or formal settings, because they are designed to stay in a fixed location. Vintage finds like old church pews are a great way to add an eclectic look to a garden.
Here are some examples of different building materials:
wood (bamboo, redwood, or rough-hewn logs)
rattan, cane, reed or synthetic weaves (wicker)
concrete, stone, or marble
metal (steel, wrought iron, or cast aluminum)
combinations (usually wood and metal or concrete and metal combined)
recycled plastic or other plastic composites
The Sensibilities of Construction
Whether you plan to buy a bench, or build one yourself, here are a few practical tips to consider in terms of construction and comfort of design:
Durability. The frame and construction of your bench should be sturdy and durable with no nails or screws protruding. If possible, opt for solid joinery (mortise-and-tendon with dowels) with fasteners designed to endure exposure to weather conditions.
Longevity. If buying or building a wooden bench, look for domestic woods that are long lasting, and rot-resistant like cypress, redwood, cedar, and white oak. Avoid over-harvested tropical woods like teak unless you can verify that the wood is plantation certified. Instead, choose from lesser known woods with similar characteristics like balau, eucalyptus, ipe, and kempas.
Untreated woods will weather to a beautiful silver gray and may need a light sanding every few years to smooth down rough surfaces caused by aging. Oil treated woods should be re-sealed every 2-3 years to prevent drying and cracking.
Benches made from recycled plastic composites hold up to outdoor conditions and are nearly maintenance free. You can increase the lifespan further by covering your bench with a tarp over winter to protect it from ultraviolet rays, debris, and tree sap.
Sit-ability. To be practical as well as pretty, a garden bench needs to feel comfortable when you sit on it. Even on hot sunny days, most types of wood maintain a fairly neutral temperature, whereas as a metal frame without cushions can feel scorching hot to your behind. On overcast days, you may find concrete and marble benches a little chilly to sit on.
Armrests are more comfortable when they are set at right angles and wide enough to hold a drinking glass. If you plan to sit for longer periods of time (say, to read a book), you'll want a bench with a sturdy backrest that comes up to at least shoulder height. Seats that tilt back slightly will drain water and dry more quickly after it rains.
It's also a good idea to measure your outdoor space before buying and bench. Think about how many people you want to sit on your bench at one time. A bench 5 to 6 feet long will usually seat two people comfortably. If you need a place to store some of your small garden tools or items from the deck, a bench with storage built in to the seat is an excellent way to add additional functionality.
Where to Park Your Bench
To choose a spot for your garden bench, set up a test run using a couple of lawn chairs. Take note of the view and how the position of the sun affects the area throughout the day. Places you might want to avoid include under roof overhangs (that drip rain) or near sprinklers, and areas entirely devoid of shade.
Once you find a suitable spot, place your bench on level ground with the legs of the bench directly on top of gravel, stones or pavers. This will help keep it level and prevent the legs from rotting. You may also want to lay down a layer of gravel or stone in front of the bench to help drain water and prevent mud puddles from forming. Perch a bench on a knoll with a view or tuck it away in a quiet niche on your property as a special haven for solitude and privacy.