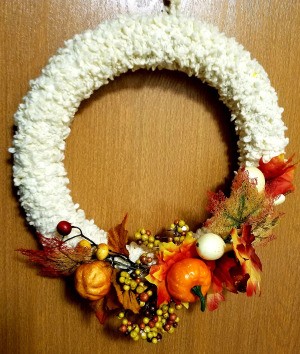 I have recently begun to feel a bit cluttered. I love my crafts, don't get me wrong, but I am out of room to store them until/when they are sold. So I have come up with crafts I can make and then "reinvent" for other things. It's been a challenge to figure out what has to be permanent and what can be wonderfully temporary, to be recreated into something else. This is not my first, but I think is my most challenging one.
I hope you like it.
Total Time: 4 hours
Yield: 1
Supplies:
30 or so greening pins
1 Styrofoam wreath form
3 oz crochet thread of your choice
size N hook
any faux fall decorations: leaves, pine cones, mini pumpkins, etc.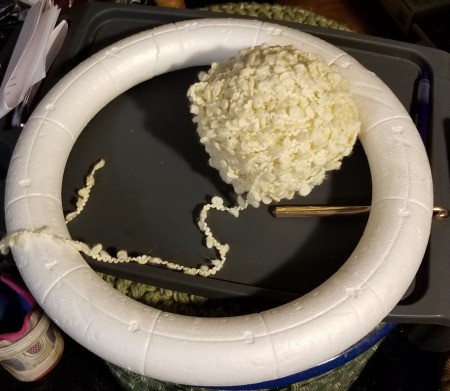 Steps:
I know the supplies photo is void of the embellishments, but I was originally going to make this into a Christmas wreath. But I just couldn't skip my favorite "pretties" in my favorite season. You will need the yarn you want and your hook.
Make a chain and keep making it till you have enough. I know that sounds simplistic, but when you wrap yarn, it's too hard to measure how much you will need. This was the easiest way to accomplish it, and when you read further, you will see the wisdom. Just have plenty of yarn, and some patience.

With your first greening pin, secure the end of your yarn to either the front or the back of the ring. Begin wrapping and wrapping, pinning it every once in a while to secure it. If you have yarn left, but it's not crocheted, make more chain and simply continue with a pin on the back, just like the first amount. No one will see it.

I took the time to place the embellishments here and there, using the greening pins. That way, nothing was permanent like with hot glue. As it turns out, I liked the first placement, so I left it as is. There is nothing about this wreath that can't be displayed and then "morphed" into another craft.
So why make a temporary craft? Have you ever been asked to decorate for a wedding, a party, school event? Well if you have this can be a very cool way to accomplish the task without all that work. When this wreath was made, I took the pins out, unrolled the yarn, used the veggies and leaves for other things, as well as the wreath form. In fact, the form is in the Spiderweb Wreath I submitted yesterday. The yarn chain will be used on another wreath, and so on. Looking at my budget, room, and supplies, the logic in this screams at me. I just wish I had thought of it sooner! Here's hoping this gives you some ideas of your own!
Add your voice! Click below to comment. ThriftyFun is powered by your wisdom!