This simply folded paper box is ideal as a gift box for flowers on special occasions.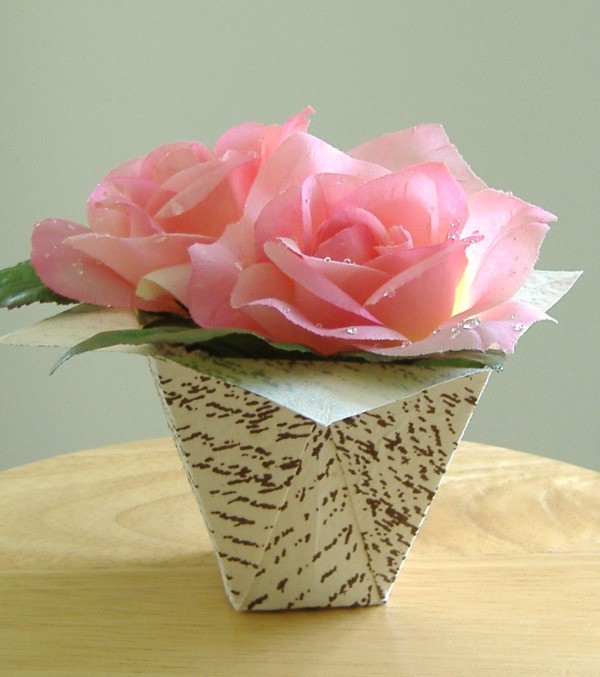 Approximate Time: 15 minutes
Supplies:
1 sheet of handmade paper, 10 x 10 inches
glue
pencil
ruler
Instructions:
Make mountain folds from corner to corner, then open out and repeat on the other diagonal. Open the paper out again and half it with valley folds top-to-bottom, and side to side.
Bring the side corners of the paper down to the bottom corner. Rotate paper so the open end is at the top.
Mark 2 inches from the upper tip and fold it forward, repeat on the other side.
Glue the flaps to both sides of box.
Flatten out the bottom of the box to give the box its final shape.
Source: handmade paper from Michael's
By HellofromMhay from Fairfax, VA
Comments
July 13, 2011
0

found this helpful
I can't tell from the picture or the directions just how large the bottom or the height of the finished box will be, but if it's large and tall enough to sit a baby food jar in, you can even use a real blossom in this nice little paper box. Something like a rose or maybe a gardenia. It's a very nice simple little origami craft, and if I can learn to make it well enough to teach my Sunday School class how to do them, it'll make a sweet little gift for teachers, moms or anyone you'd like to surprise with something thoughtful. How about making them for lunch trays at a nursing home?
Would you mind giving us the measurements of a finished box, please?
Thank you for a super nice craft Maricel.
Suziq9
July 13, 2011
0

found this helpful
Sweet! Great job!
July 13, 2011
0

found this helpful
Really cute little craft. Inexpensive too. Reminds me of the Chinese takeout boxes, and I've always loved them.
Thanks for sharing.
HokeyPoke
July 14, 2011
0

found this helpful
If you needed or wanted a bigger flower box couldn't you use a bigger piece of paper as long as it was equal on all four sides to make it square?
Read More Comments