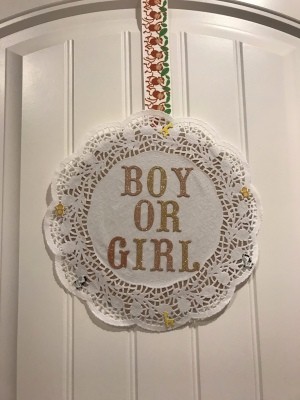 Here is an inexpensive, simple, and quick gender reveal door sign I made for my friend's party.
Reference for what I bought:
- 1.5" monkey ribbon from Michael's. The ribbon was $4.99, I used a 60% off coupon. You will be left with more ribbon, but I will show you what else I used for the party in a future post.
- Paper doilies from Dollar Tree for $1.00. They come in a pack of 32 assorted sizes, https://www.dollartree.com/multipack-round-paper-doilies-in-assorted-sizes-32ct-packs/226384 - For this project you will only need 1, so you're going to be left with 31!
- Glittery cardboard letters for $1.00 at Big Lots.
- What's great is that all the supplies bought to make this, can be used for the party or for future crafts!
Lastly, I already had the brads from home.