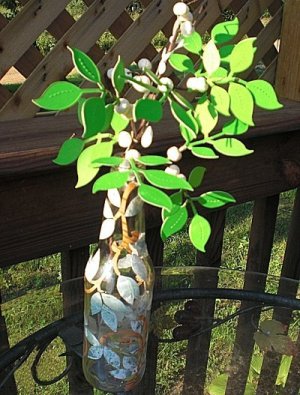 To create a beautiful vase using a pop bottle, you'll need 2 kinds of peel-n-stick shelf paper. Cut leaves and branches from the peel and stick paper and adhere to the bottle. I then made paper branches to put in the bottle. I cut paper leaves and fastened them to wire and propped it in the bottle. I used a recycled wire $1.00 flower decoration that all of the "buds" came off of when it was outside last winter. I finished removing the residue by hitting them to break it all off. I used beads to help hold the leaf stem onto the wire. The peel-n-stick paper colors I used were green marble and wood grain.
By melody_yesterday from Otterville, MO
Comments
August 18, 2010
0

found this helpful
This is absolutely adorable! A definite Thumps Up!
August 18, 2010
0

found this helpful
This type of craft is perfect for children who need to learn how to make props for school plays and musical productions. When we were in NC, we worked with a group of school children who produced plays like "The Wizard of Oz" (Plays BY children FOR children) and we taught them how to make costumes and props. It was fun for us, and a great learning experience for the kids.
Great idea for using the Glass Soda Bottles and the idea could be adapted for many uses for gardens,
tabletop decorations (as needed). Would work for glass jars as well. Many props could be made using this idea.
Thanks for sharing.
Pookarina
August 25, 2010
0

found this helpful
Wow! It looks great! How did you add the leaf detail, the lines on the leaves? With a sewing machine?
October 25, 2010
0

found this helpful
Erin813,
The leaf detail is from using the sizzix to cut out the leaves -- just a part of that die.
Thanks, Pookarina and Deeli!