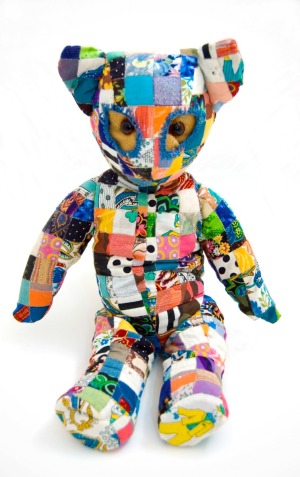 I recently heard about this idea from my niece and loved it! When you lose a loved one of your family, most clothing is usually donated. Well, if you were close to them, you usually recall them in their favorite flannel plaid shirt, hunting shirt, suit, dress, etc. Ask for that piece of clothing, this can be made into a teddy bear as a keepsake!
There are many teddy bear patterns to choose from. Don't sew? Chances are good that someone from your area sews! There are also companies online that will make the teddy bear for you, they even make them from mink coats! This would also be a heartfelt memento gift to give to a family member.
The teddy bear could also wear a jewelry pin, tie clasp, etc. from your loved one. Let's not forget a beloved pet, their favorite blanket can also be made into a keepsake teddy bear too.
By Missy from OH
Read More

Comments
I used to have a copy of a poem to attach to a home made teddy bear. One made from deceased grandparents clothing for the grandchildren. I only remember the last line, "Remember, she loved you too." I want to make two bears for my nieces and cannot find the poem. I hope someone has a copy and will forward it to me.
By Joyce Bacon from Baltimore, MD
Answers
April 27, 2009
0

found this helpful
I found this poem online. I am not sure if it is the correct one or not. Hope this helps.
Burden Teddy Bear
I'm not a very fancy bear,
I'm plain and rather small.
Even so, someone who loves you
Said I should come to call.
I brought my favorite blanket,
That I snuggle when I'm sad...
It's a present from my Granny,
Made for days when things seem bad.
My Granny always told me,
"Life's like a patchwork quilt...
Just give Jesus all the pieces,
And he'll make a pretty quilt."
Sometimes I don't see the pattern,
Sometimes he seems far away,
Then I clutch my favorite blanket
And I pray and pray and pray.
Though I don't have all the answers,
For I'm just a "Burden Bear"
I've been sent here on a mission
From someone who really cares.
When you see me, please remember...
You are in her thoughts and prayers.
May 24, 2013
0

found this helpful
Thank you for the poem that may accompany the keepsake teddybear! The poem I was recalling actually is only about 4 lines long, would still like to have that one. However I shall hang on to this one for now! Thank you so much!
September 12, 2013
0

found this helpful
Here is a poem that my Mom's cousin put on a Memory Quilt hope it is the one your looking for:
I was once warn by
Someone so dear
Who through loving memory
Will always be here
So when you hug me close
To you just remember
She loved you too
Answer

this Question
I am trying to find someone who takes either grandparents' blankets, shirts, or sweaters and has the skills to turn them into a teddy bear as a keepsake for grandchildren.
By Adele R.
Answers
September 29, 2013
0

found this helpful
I make teddy bears out of your loved ones clothing. Check out my facebook page called Forever Teddy Bears. You can email me at foreverteddybears AT gmail.com.
www.facebook.com/ForeverTeddyBears
Answer

this Question