The only thing more romantic than candlelight is candlelight softened by the faint glimmer of enameled glass. This beautiful votive candleholder started life as a yard sale cut glass goblet. A couple of coats of shimmering and glittered nail enamel transformed it into romantic fantasy in soft pearly silver and shimmering turquoise.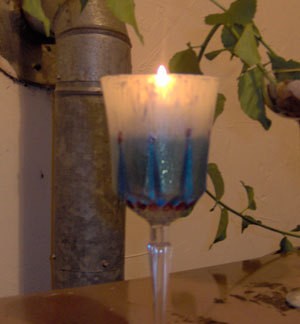 If you can paint your nails, you can duplicate this faux stained glass candle holder. I raided my daughter's nail polish collection for this project.
Nail enamels are made to cling to smooth surfaces - like your nails, or crystal. They're ideal for painting on glass. If you add a coat of nail hardener as your finish, the design will withstand washing in anything but the hottest dishwasher cycle.
To duplicate this design, you'll need:
Supplies:
cut glass stemmed goblet
Max Nail Lacquer - St. Louis Blues
Color Drops Nail Polish - Tippy Toe Angora (pale shimmery green)
Toma Mood Changing Glitter - Sheer Green
Cover Girl Nail Slicks - Electric Blue
Wet & Wild Nail Luster - Moonlight Frost
Instructions:
Wash glass with dish detergent to remove any oil or grease.
Using Electric Blue Nail Slicks, carefully paint the cut glass channels up the sides of the glass. Allow to dry completely. Add second coat. Allow to dry.
Apply three coats of glitter green to glass between channels, bringing color lightly just above tips of channels. Allow each coat to dry completely.
Apply one coat of pale green shimmer nail polish over glitter green, extending the color about an inch above darker green.
Starting at top of glass and brushing downward into pale green, apply three coats of Moonlight Frost, allowing each coat to dry completely.
Apply two coats of top coat to entire glass, allowing each to dry completely.
Allow glass to dry overnight before lighting candle inside it.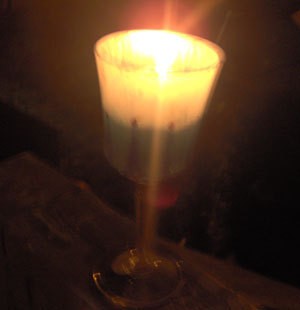 The glass is the perfect size to hold a votive candle. Other glasses that are just right for holding votives include shot glasses and rocks glasses. Painting on glass takes a little practice. At first your results will be streaky and have brushstrokes. Once you get a feel for how much enamel to use and how to flow it on rather than spreading it, you'll be able to create almost anything with nail enamels on glass. Shimmer nail slicks and glitter colors work best for candle holders. Their natural translucence softens the candlelight to a warm, romantic glow.
Once you get the hang of painting on glass, you might try your hand at delicate flowers on chunky whiskey tumblers, or butterflies decorating a champagne flute. With the variety of colors nearly endless, you can let your creativity have free reign.
By Abe
Read More

Comments