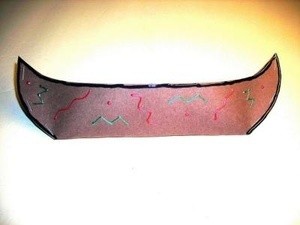 This is a simple craft, requiring very few supplies, that your kids might enjoy making to commemorate how Thanksgiving began.
Approximate Time: 20 minutes
Supplies:
brown construction paper
cardboard
pencil
scissors
"puff" paints, crayons, or markers
stapler
Instructions:
Make a cardboard canoe pattern in one of two ways - either the way shown in the photo, with two canoes connected at the bottom, or a single canoe shape.

Trace the pattern on brown paper - the double canoe is traced as it is, and the single canoe shape is traced on folded brown paper with the bottom of the canoe placed at the fold.
Decorate the canoe with "puff" paints, crayons or markers. The one in the photo I decorated with ordinary fabric paint. Make your decorations more authentic by looking up American Indian symbols at the library or on the internet.
Secure the sides of the canoe to each other with a stapler. If you made the double pattern, you will have to bring the sides up to meet each other first. The single canoe shape will already have the sides in line.
By Marie from West Dundee, IL
Read More

Comments
I am making a canoe in math class. It must float. Should I use paper mache or foam?

Alvin LI from Srircha, Thailand

Answers
By (Guest Post)
October 10, 2005
0

found this helpful
Paper mache will soak up water and disintegrate. Use foam!
By (Guest Post)
October 11, 2005
0

found this helpful
I would think styro foam would work the best.
By eve (Guest Post)
October 11, 2005
0

found this helpful
doesn't paper mache get wet like paper?
doesn't foam float?
hmmm... what do you think?

October 13, 2005
0

found this helpful
I think it would depend on if it has to hold your body weight.
Foam floats, but does not hold alot of weight. Paper mache would hold more weight, if you do it thick, and after it is compleatly dry, coat it with a poylerethene, or wax, tar, or any waterproof finish. I would coat it twice, inside and out.
You can paint it with an exterior oil base house paint also to get it waterproof (first layer), and to add color of your choice. Make the second layer out of a transparent sealer, once the paint is compleatly dry.
Good Luck! Send us a pic when your done!
Brenda Chavis

November 1, 2005
0

found this helpful
use used foam trays from fruit or pastries. Cut pattern, there should be 2 sides, with 1 seam. Hot glue the 2 sides together, bow, keel and stern . Take a small strip or two and form an upside down U and make seats. You can also cut out oars and by hot gluing two oar patterns together make them sturdy.
Answer

this Question