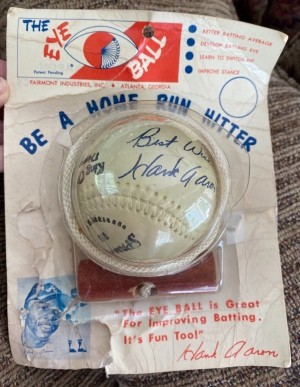 This was a baseball we found in my father-in-law's estate. He lived in Atlanta for years and his 3 sons were born there. My husband has no memory of the toy. The package looks like it was opened for the autograph. The ball, toy and autograph look absolutely new. I could not find any info on the toy. I could use some help trying to figure out value of autograph on the toy. Thank you!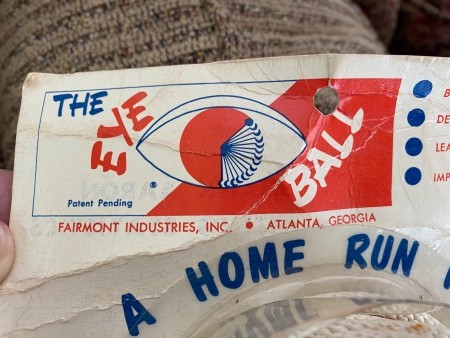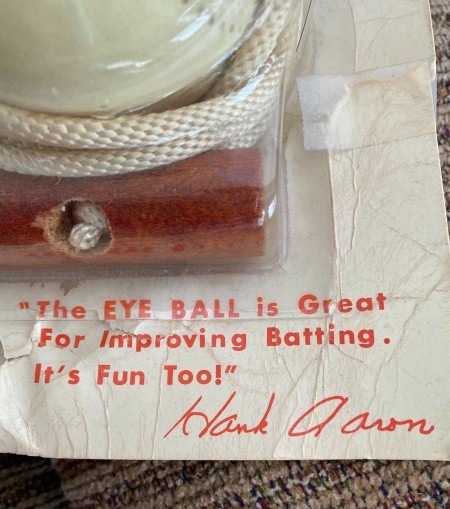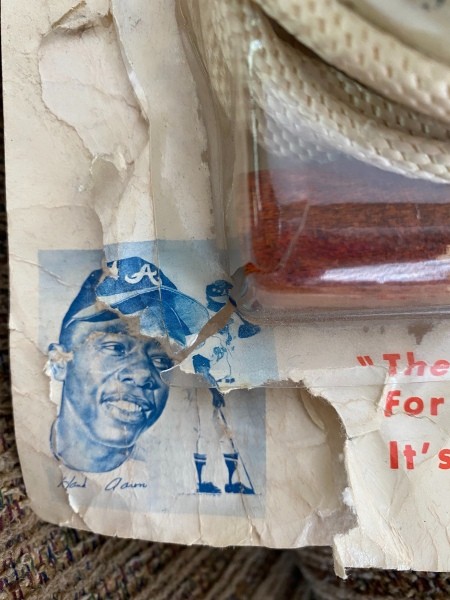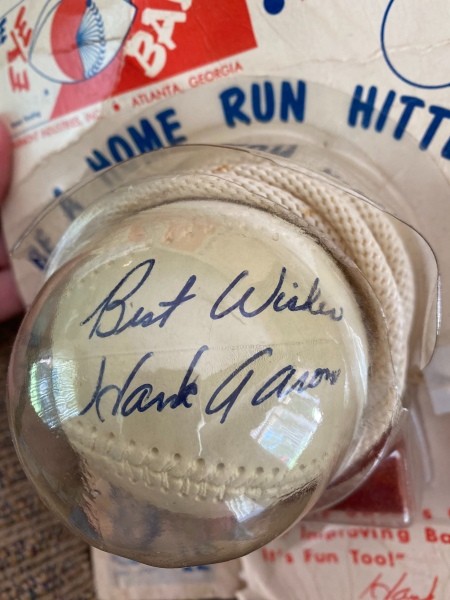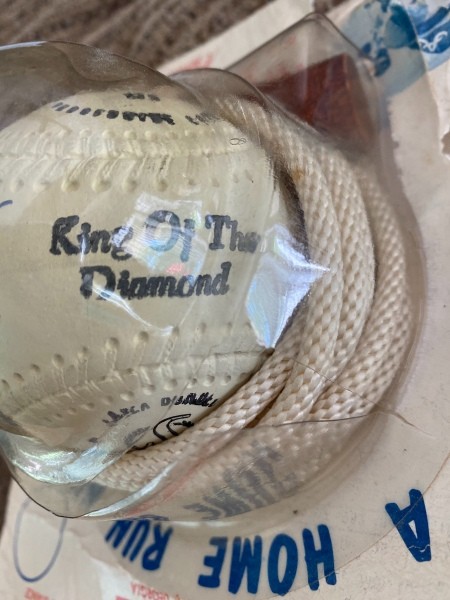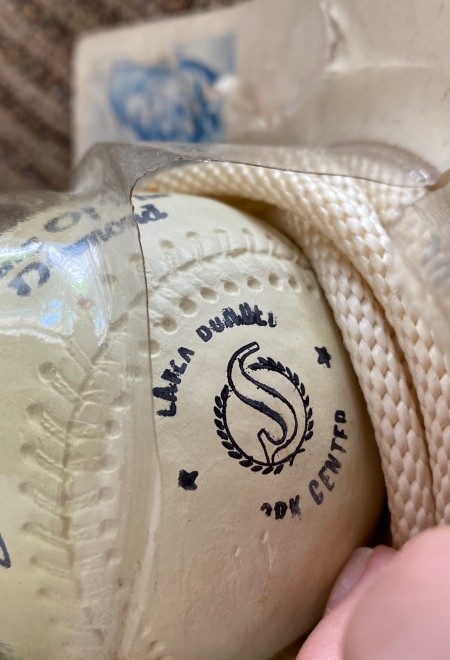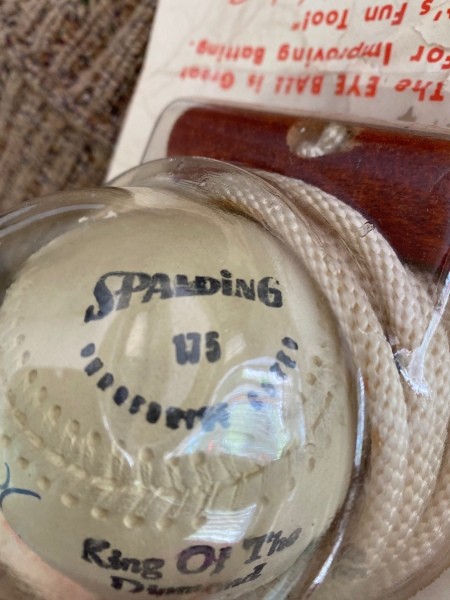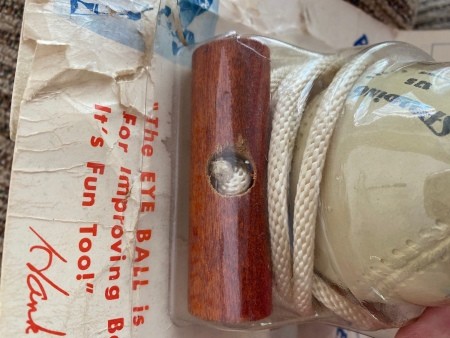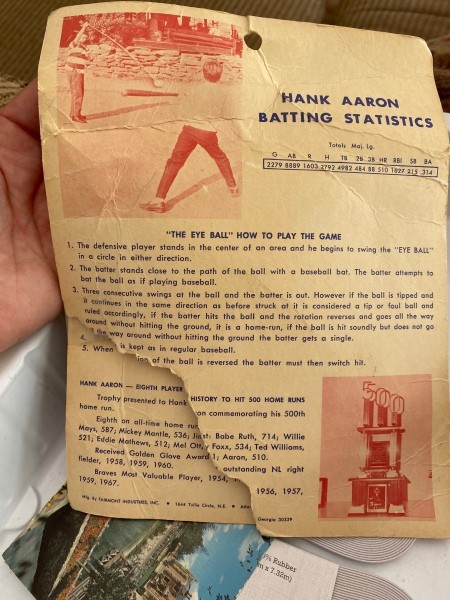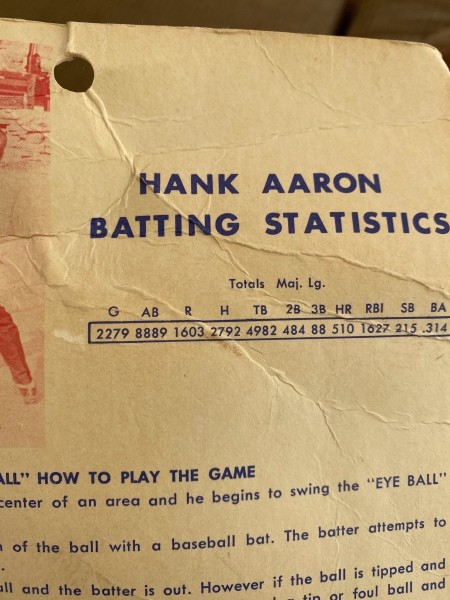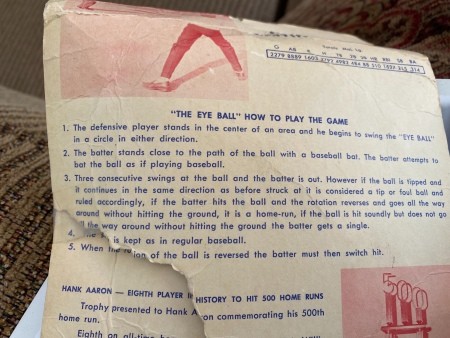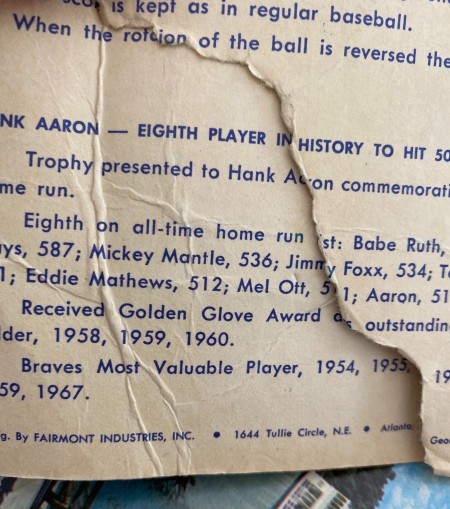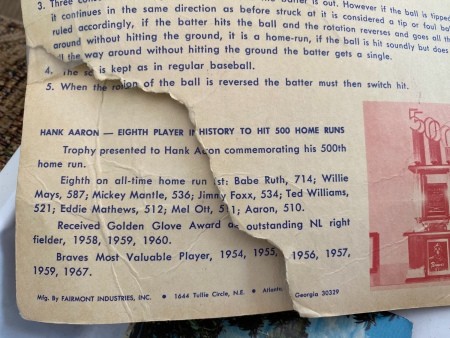 Answers

June 2, 2021
0

found this helpful
Best Answer
This looks like a very good find.
You will have to have the signature authenticated by a reputable company if you wish to know the true value.
This service will probably cost $30-$60 dollars but without it you can only try to sell your item as unauthenticated and this will lower the value considerably.
Truthfully, there is just no way for anyone to place a value on something like this unless you are an expert in this field.
But, if you get it authenticated, then you may be able to ask about value on some of the free appraisal sites.
However, be very careful when selling something like this as there are a lot of con-artist that prey on 'new/inexperienced' sellers.
If you find this is worth some big money then it may be best to try selling it at one of the bigger in person auctions.
here are a couple of reputable authentication sites:
www.beckett-authentication.com/pricing
www.psacard.com/.../autographauthentication
www.whatsellsbest.com/.../collectibles.html
Good luck.
Please post back with any information you're able to acquire.

Pghgirl40
Bronze Feedback Medal for All Time! 196 Feedbacks
June 3, 2021
1

found this helpful
Best Answer
So here is some info:
I found this picture of the toy:
artsandculture.google.com/.../VQEf_03hjKrDXQ
The company appears to be out of business. Here is some history:
www.georgiacompanyregistry.com/.../
I found a 1970 article in an Atlanta newspaper that said Hank Aaron was employed by Fairmont. He was presented with an award in this article and stated he wanted to continue on there after he retired. The article is too large (and copyrighted) so unfortunately I cannot screen shot and upload here.
Additionally I found an article (again, can't upload) that states someone named Jack Griffin at the company invented the toy. The article was in The Atlanta Constitution (Atlanta, Georgia) on
26 Jan 1969, Sunday. Apparently one of Hank's kids was a tester on the toy.
Aaron's signature was different over the years so it is critical to get it authenticated. Was there anything else in your father-in-law's estate that would help authenticate it--so a ticket from a game in that time period, or a photo with Hank?
Authenticated signed items sell all over the place from as low as $10 into the hundreds of dollars. With something this unusual, if authenticated, it could go high just because scarce items sell for more than common items (like a regular baseball or card).
I strongly (as a long time reseller) advise you do not sell it yourself online if you are not an experienced seller. Why? eBay especially is ripe with fraud on new and inexperienced sellers especially with items like autographs. I would be very concerned about fraud or someone getting the item, stating it was a fake and returning a fake, while they kept the real thing. This happens all the time.
My best guidance is to find a real auction house that has an authentication service, have them authenticate and sell it for you. Yes, you will not get the full amount, but you also will not have the risks involved for selling an item like this on your own.
Do check for other things around the estate that may help with the "story" as that could add to the value if it is authenticated as real.
Post back how it goes!! Very curious!!

DianaHM
Silver Answer Medal for All Time! 440 Answers
June 19, 2021
0

found this helpful
Best Answer
The packaging says that your toy is made by Fairmont Industries, Inc, Atlanta, Georgia. I see that Iceskater and Pghgirl40 found a similar toy made by the same company in circa 1970s, but this toy has a slightly different inscription on the baseball (University...) and a different color handle artsandculture.google.com/.../VQEf_03hjKrDXQ
I found exactly the same toy as yours, with the exact same inscription (Spalding) and the same color handle, made in the 1960s www.ebay.com/.../333750157809?hash=item4db50f41f1.... The seller thinks that it is impossible to find the same toy. As we can see, you are the lucky owner of the exact same toy.
The price of exactly the same as your toy, but sealed is $ 275. I could not find other such toys, so I think that these toys are really quite rare.
Your toy also has a legible autograph, presumably Hank Aaron. I cannot claim that this is really his signature until it is established by experts, but it really looks very much like his autograph, since he did quite often sign as well as on your toy: Best Wishes Hank Aaron. Here are baseballs with similar autographs (with Certificate of Authenticity): www.amazon.com/.../B08W1KGLTN,?tag=thrif06-20 (Affiliate Link) shop.tristarproductions.com/Hank-Aaron-Autographed-Vintage-Baseball..., www.ebay.com/.../hank-aaron-autographed-nl-feeney...
I would even say that the autograph on your toy was not made in a hurry. You need to confirm the autograph with a Certificate of Authenticity. The most recognizable authentication companies: Professional Sports Authenticator (PSA) www.psacard.com/.../autographauthentication, James Spence Authentication (JSA) www.spenceloa.com/services.
If you want a recognizable company to authenticate your autograph then contact one of these companies. You will need to send the toy and pay shipping costs, charges fees. For example, JSA charges fees is $ 20-30 for items valued under $ 200, any basic cert can be upgraded to a Letter of Authenticity for $ 25 www.spenceloa.com/fees.
But if there's a good authentication company in your area, it might be cheaper for you to work with a local company.
I think that since your toy is quite rare, with a Certificate of Authenticity it will cost more than baseballs with autographs, the price of them range from $ 250 to $ 500 www.amazon.com/.../B08W1KGLTN?tag=thrif06-20 (Affiliate Link) and up www.ebay.com/.../143669480401?hash=item21735e4bd1...
Some companies, like PSA, grade autographs on a scale (1-10, how well an autograph has withstood the test of time). The price also depends on this grade. Your toy has a very legible signature, so if it is really Hank Aaron autograph, then autograph on your toy will have a high grade, and the price of your toy, accordingly, will be quite high.

September 7, 2022
0

found this helpful
Best Answer
I know it has been awhile, but I finally got the the signature authenticated by JSA and it is REAL. Just received the certificate this week. The JSA rep indicated because it also says "Best Wishes" there is added value and that the toy is rare as well. Now I need to figure out how to sell.

Iceskater
Silver Answer Medal for All Time! 320 Answers
June 2, 2021
0

found this helpful
The Eye Ball: Be a Home Run Hitter
Creator: Fairmont Industries, Inc
Date Created: ca. 1970
Location: Atlanta, GA
If the post-sale autographs are genuine, you're looking at a lot of money!!!

Judy
Gold Post Medal for All Time! 677 Posts
June 2, 2021
0

found this helpful
His autograph is worth between $65 and $200, according to this website. www.psacard.com/.../1

Jess
Silver Post Medal for All Time! 267 Posts
September 7, 2022
0

found this helpful
Thanks so much for telling us about the outcome. I hope you get a great price for it.
Answer

this Question