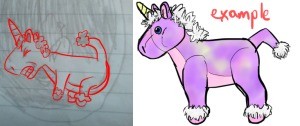 If this breaks the rules, I can take it down. I have no actual pictures of this stuffed animal, and I have been looking everywhere on the internet for this and have had no luck, and this is the only website I have found so far where I think I could ask about identification.
So I used to have this little stuffed unicorn named Sparkles. I am unsure if she had a tag with her name on it or not, but i remember using her tag to spell her name a lot. Yet I can't find any stuffed animal fitting the description.
She looks like the first image (at the bottom)- a purple unicorn with white feathering. Except she had purple, TiNY BiTS of yellowish green, and pink fur in the style of the cat plush. Little gradients, but with lavender dominating. She had pink, round hooves, a lion-style tail with a white tuft of hair on the end, and a white mane. Her horn was like a glittery pale yellow-greenish maybe fabric, with white string creating the helix going around it. She had blue eyes.
She was small, about 5.5 inches tall, and somewhat floppy, but i could still stand her up somewhat due to her polyester bead filled legs being short. The rest of her, her head and body, were stuffed with the usual cottony filling. Her tail had no filling.
I used to draw her all the time when i was little, and I have photos of some. It's not an image of the actual toy but it's close enough. Also I drew an example reference from my memory just now to give a better example of what she looked like.
I remember having her as early as around 2010, either before or after. I dont remember getting her, I just remember having her as early as then and the losing her when I stayed in a hotel with my family a number of years ago.
I hope I can find some good leads, if not examples. I just finally want to know what brand she is and if she is for sale anywhere!
Thank you so much!