My son fell in love with a stuffy that my mom had gotten me when I was pregnant with my son. When he was born I had put it in his crib and at around 6 months he began carrying her everywhere! He is now 8 and he still loves his bunny to the point where her hair, or at least what is left is completely matted and frayed.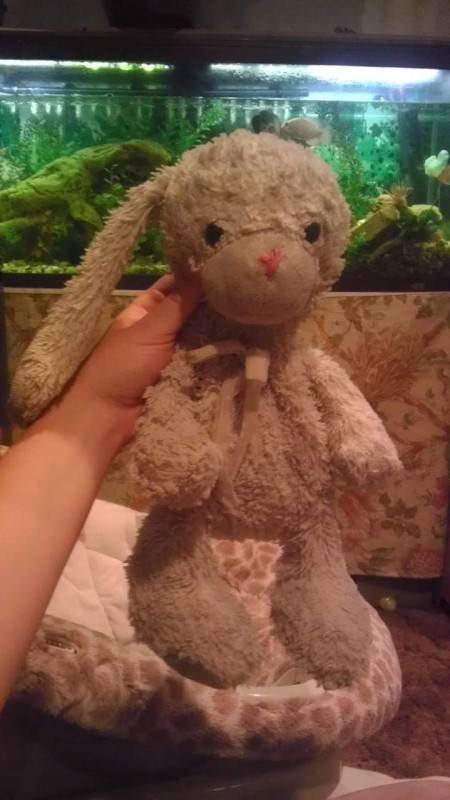 He has come to me a few times to fix her and I have had to explain that I can't make her what she used to be. It breaks my heart to see him so upset and I have scoured the internet to find another identical one to no avail. I somewhat recall it was an Applause or Aurora World Inc. item, but am not positive and of course had cut off the itchy tag way back when. Anyone know who this bunny is? Advice?
And I don't see it in the pics, but she has a carrot on her right foot.
December 12, 2019
0

found this helpful
Best Answer
I see similar plushies on eBay frequently. How tall is he?
There are a number very similar on there now using the search bunny carrot foot.
If that brings up too many, add the height. I can tell you most sellers have no clue what brand they are selling and list things so generically that it is often like finding a needle in a haystack.
Both companies you mention made tons of plushies, so it could have been them. It could have also been Anico, American Greetings, Animal Alley, Russ Berrie, or Hallmark. I would keep my search general (see above) and see what you can find.
If you don't see it on eBay, do the same search on Google images and then maybe you can find it on Etsy, or Amazon.
Best wishes!! I hope you find a match!!
December 12, 2019
0

found this helpful
Best Answer
I'm not sure you will be able to match this bunny but are you sure he will accept a 'new' bunny even if you find it?
I tend to think he will not want another bunny no matter what you find.
It's my personal opinion that you should try to get him to accept another bunny or even another plush animal.
After all, 8 years old is getting kinda time that he may be going to other types of entertainment. Is this bunny something he sleeps with?
I have seen families have success with replacing a favorite plush with another one by letting them be the one to pick out a 'brother or sister' for their favorite toy. eBay is a good site to look for a bunny together. I'm not sure about 8 years old but many times a younger child will get excited about finding a playmate for their pets.
Of course, this is just a suggestion but please think about it as I believe he needs to be a part of the 'finding' group or he may not accept anything you offer.