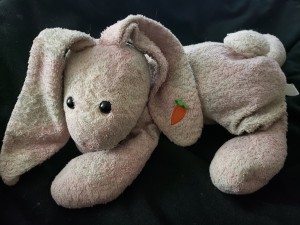 I bought this toy at a Goodwill in Orlando Florida around 18 years ago around 2003. It was already used, and the tag was already worn at that point. It's a pastel rainbow sorbet tie dye type coloration of pink/green/yellow when clean. The feet have beads in them adding weight. The head and body have stuffing.
I have taken this baby all over the country with me since I brought her home. She's been my favorite stuffed animal since I got her. I think there's something about her weight distribution that just makes her extremely comforting and comfortable! I still sleep with her every night.
These two are similar in color, but look to be from different companies.
https://i.ebayimg.com/images/g/CboAAOSwwste3VFa/s-l400.jpg
https://i.ebayimg.com/images/g/oS4AAOSw7TNf2od2/s-l300.png
Both mention Russ Berrie, but the tags on rabbit toys associated with him appear to have stitching. The tag on mine washed off.