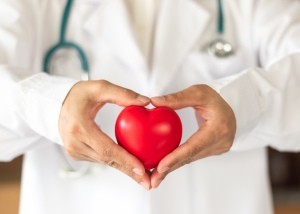 My husband recently got released from the hospital because of his heart and this is the second time this year. I really need to cook healthier for him, actually all of us could benefit from a healthier diet. He is progressing faster with his heart disease than any of us realized, including his doctor. Any recipes for juice drinks, food, home remedies, exercises etc. would be appreciated. He loves salt and he's a steak and potato kind of guy, which we all know is not good. Please help.
By "A" from Wheeling, WV
Answers

September 12, 2009
0

found this helpful
Best Answer
Yes, steak and salt are bad for your heart, but even worse is sugar. Sugar causes inflammation, and inflammation is at the root of all diseases. I would also eliminate simple carbohydrates (white bread, most packaged cereals, white rice, white potatoes, white pasta, etc.) and add more fiber such as whole grain bread, pasta and cereal, and also more vegetables. You should also serve more foods with omega 3 such as fish, and when you do serve red meat, it should only be about the size of a deck of cards (maybe a Fillet Mignon instead of a T-bone). Good luck.

September 12, 2009
0

found this helpful
Best Answer
The main reason to cut back on sugars and starches is that any excess not used as fuel by the body, is stored as fat.
I have started using brown rice, which we hate, but if I use the 'instant' type, it is not as chewy, and cooks quicker.
You can use ground turkey/chicken in place of ground beef for things like hamburgers, meatloaf, etc, just be sure to check the fat content, as some have more fat than lean ground beef.
Add oats to anything you make with a ground meat, and he will get the added benefit of the oats. Search on About.com, for 'recipes' for homemade seasonings, the Mrs Dash type. Mrs. Dash can be very costly when you have to use alot of it.
Beans are great as well, and there are several recipes that I have seen online, using mashed beans in a veggie burger.
Mushrooms are great to use as a meat replacement. Tthe large Portobello mushroom caps can be pan broiled as a replacement for a 'steak'.
I don't have any specific recipes like you are asking for, but a good google search for heart healthy recipes will lead you to many.

September 12, 2009
0

found this helpful
Best Answer
My hubby had an attack in 2003 and hasn't had one since: his diet consists of small amounts of nuts (walnuts and almonds); vegetarian meals (chili with barley, black beans and lentils along with some TVP...texturized soy protein. It is very good), whole wheat pastas with low fat cottage cheese and low fat cheeses (in reduced amounts). He's even allowed eggs now. A great web site to check out is the www.realage.com It's Dr Oz's site and is exceptional with advice on eating, exercise, having fun and how to do it all.
Both Canada and the States have their sites for a healthy heart as well. Good luck. Forget the salt, sugar, transfats, saturated fats, white foods as rice, noodles, bread. Make sure your plate is a rainbow with a red, yellow/orange and green vegetable, a little bit of low fat meat.

September 12, 2009
0

found this helpful
Use bouillon cubes in food instead of meat. The less meat we eat the better for our health, we stop eating beef when the mad cow disease came out. We eat fish at least once a week & baked chicken. I bake it in the microwave with water & vinegar.
You can cover it with water then use the water to season other dishes. Even make gravy with it or freeze it till needed. Stay away from fried foods. Hope this helps, good luck.

September 12, 2009
0

found this helpful
I don't recommend the using of bullions unless you first study the label. They contain a very very high amount of salt!
Eat lots of fresh fruits and veggies with low fat (if any) dip. Walk-start out with a small amount of walking and gradually increase it under a doctors guidence. Many hospitals offer free or low cost dietary classes. Check out to see if yours or a nearby one does.

September 17, 2009
0

found this helpful
Please ask his cardiac dr. to refer you to a certified nutritionist. He can get menu plans that are dr. approved and you can be informed as to what you need to cook for him based on his likes of meat and potatoes.
These are professionals that can help. I am not a nutritionist but have seen one and found them extremely helpful. Good luck and kudos to taking charge of his and your health!

Janet
Silver Feedback Medal for All Time! 399 Feedbacks
September 17, 2009
0

found this helpful
You could get a referral from your doctor and see a dieticien. I pay just my co-pay, & the one on one with the dieticien clears up eating problems for me.They can recommend a good diet for heart health.

September 18, 2009
0

found this helpful
Megaheart is a great newsletter and check various web sites for heart disease and low sodium.
Answer

this Question