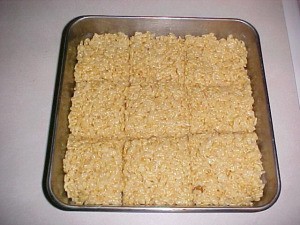 We love marshmallows at our house, so when Walmart had two pound bags of these new giant sized marshmallows on clearance for only a dollar a bag, we went a little nuts.
Figuring out how to use them in recipes was a challenge because everything is done with smaller marshmallows, so I took a little time with this to make the easiest, fastest, and least messy way to make marshmallow crispies with them. It makes a large rectangular cake pan full and a smaller square pan full, which us just about right to make about 30 treats. Sounds like a lot, right? They'll be gone in about two days even with just one husband around. They're yummy like this, but you can change it by adding 1/2 cup peanut butter, or drizzling the top with melted chocolate, etc. Get creative!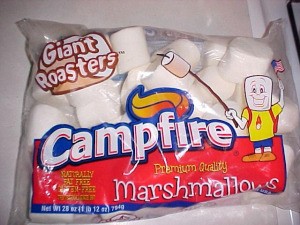 Ingredients:
1 stick (1/2 cup) of butter
15 "Giant Roasters" size marshmallows (equals 15 oz., about 1/2 a bag)
15 cups of crisped rice cereal (using the huge bulk bags, takes 1/2 bag)
Directions:
Lightly grease a large 9 x 13 cake pan and a smaller 9 inch square baking pan with butter.
In a large heavy 6 Qt. stainless steel pot, melt the stick of butter on very low heat. As it's melting, start cutting the marshmallows into fourths to speed melting if you like, and toss them in with the butter. Stir (raising the heat just a little) until all the marshmallow bits are melted. Measure in 15 cups of crisped rice cereal and stir, keeping it over the heat until you've quickly stirred all the cereal in and it looks well covered.
Pour it out into the two pans, pushing it out with a buttered spoon to get it placed fairly evenly in the pans. Butter your hands, and press the mix down somewhat firmly into the pans until it looks even.
Butter a flat-ended spatula and push it straight down into the mix to "cut" it into squares or rectangles, however you'd like. It helps to butter it again often and go over the lines twice.
You're only left with a one-pot mess that soaks out quickly, just fill with water and leave the spatula and spoon in it.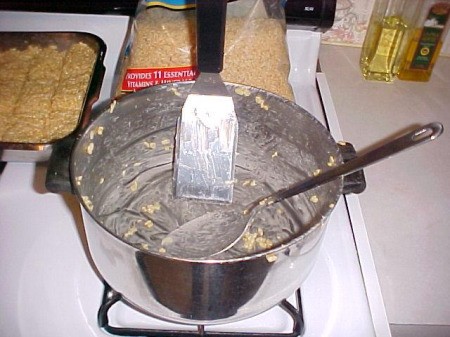 This is a fast and inexpensive treat for a crowd, but goes fast even in a small family.
By Mary LaCaze from Mountain Pine, AR

August 30, 2018
0

found this helpful
I know this is an older post, but I wanted to say a big, "Thank You" for doing taking the time to put it online, after you took the time to do the calculations!
My husband bought a bag of tutti-frutti flavor giant marshmellows for camping to take camping for he and our son, but they brought them back unopened.
I plan to make a batch to send along with our son, as he moves to start university next week.