I want to take my 2 granddaughters away for about 3 days, where they can enjoy themselves at a reasonable price. I am looking for a place near the state of Missouri. Thanks.
By Anne from Washington, MO
Answers
July 19, 2010
0

found this helpful
What kind of activities are you interested in? Tulsa can be nice. They have some nice culture there. If you like museums, the Philbrook is really lovely. You know Phillips 66? If I remember correctly, one of the brothers got out of the business before the Great Depression. The Philbrook was his family home.
There is a Western Arts or Cowboy type museum nearby. I've only visited once, because that kind of art isn't my thing. But if you're into it, I've heard it's a good museum. There also some Frank Lloyd Wright buildings in the area. Very close to the Philbrook there is Woodward Park and a lovely rose garden. If you enjoy photography, we've gotten some great shots in Woodward park!
Maybe 20 minutes away from the Philbrook is the Oklahoma Aquarium. We've visited it only once, but we enjoyed it. The aquarium is right next to a shopping center that sits on a river, there was a reggae festival when we visited, so the center was a bit crowded, but it was nice.
The only problem with Tulsa at this time of the year is the humidity. We've had some heat advisories for the entire state, but I think the Tulsa area has had heat warnings.
I'm not sure what part of Missouri you're in, but we visited Wilson's Creek National Battlefield just outside of Springfield. If you and the kids enjoy history at all, it's nice. You can stop by the visitor's center, and they'll give each kid a workbook. As you go through the park, they fill in the answers, and stop back by the visitor's center on the way out to get a badge to be a junior ranger (my daughter also got some other little goody, like a coloring book). The junior ranger program is free (I think they have this at all the national parks). We went to Springfield at the end of October, so we could photograph the fall foliage. Actually, we went two weekends in a row, because we wanted to catch the leaves at their peak. There is a National cemetery in Springfield, right next to a regular old cemetery, absolutely beautiful! And there is always Fantastic Caverns (the drive through cave). It seemed a little pricey to me, but it was fun.
In Arkansas you can go hunting for diamonds. They've found some big ones there! You get to keep whatever you find. We're thinking about going for fall break (when it's a bit cooler!).
I hope you find something good to do with your granddaughters. I love those sorts of memories . . . good times! :-)
July 22, 2010
0

found this helpful
Don't "vacate" too far, you may not find your way back.
Life has a way of doing that to one.
July 22, 2010
0

found this helpful
You don't say how old they are but since you are near St. Louis you can take them to the free zoo or free science center or both. That is if they have not already been there. The art museum is also free except for special exhibits.
If you want to go a little further, Peoria Ill. has a wildlife center that is awsome. You walk through it under a canopy of fencing and the animals are on the outside. We ate lunch several feet away from a herd of buffalo.
July 23, 2010
0

found this helpful
Thanks for feedbacks, forgot to mention one child is 5 and other 9. I decided on Branson, found a very reasonable hotel through Priceline, and 2 shows where children get in free. The hotel has indoor and outdoor pools, may even get my 12 yr old grandchild to go with us. Hunting diamonds sounds like fun, maybe when they are older, oh but that means I Will be older! Thanks again.
November 3, 2010
0

found this helpful
Since you have decided on Branson, don't forget Silver Dollar City. But only if it is summertime. Branson is highly seasonal. Everything starts in May and is done by Sept. Your hotel will have coupon books that are great. The center of it is a color coded map, and don't be afraid to explore. It is easy to navigate Branson. But be prepared for hills!
Oh, and curves.
Be sure to go down to the Landing area. It is like a big strip mall, but so pretty. They have a nice Boardwalk there, and lots of neat shopping and a cool fountain show and even concerts. Wear your walking shoes! I recommend "Shorty Smalls" for great food and decent prices. And the kids will love the "Ripley's Believe It Or Not" attraction, and Go Karts, and Waterpark.
Answer

this Question

...

After tending to the new Momma (who was pregnant and dumped about 2 months ago) and her 11 puppies, this was my view walking back to the house.
I went from thinking I should be tending to chickens instead of puppies, to "Wow! Look at that! Only God can give me a sunrise like that!" So, I ran into the house, grabbed my camera and started snapping pictures. This is my favorite and is now my screen saver.
By Brandi from Cameron, MO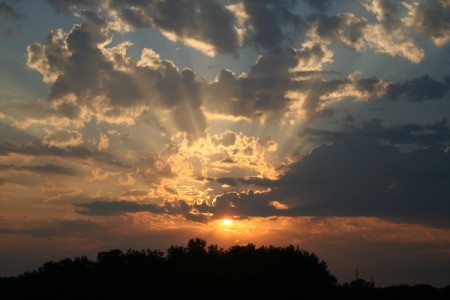 Read More Comments