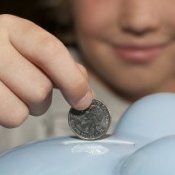 I myself was a stay-at-home mom when my children were at home. Yet I always managed to afford the same opportunities for my kids as my friends who missed those formative years with their children. I would like to share things which I did to make extra money without being gone every day.
1. Learn Cake decorating: Get a book and teach yourself. I never took a class. I have done many, many cakes over the last 25-30 years. In times when I most needed money a cake job came through. When you learn the skills, let your friends and acquaintances know. I never advertised although I may have made more, but word of mouth got me "lots" of cake decorating jobs.
2. Use your cleaning skills: I have friends for years that called on me for regular cleaning jobs. You set your own schedule and work when the children are at school or it's convenient with hubby. Don't take on really messy houses. You have the option of saying "no". There are plenty of jobs that are a pleasure to keep up. They help you, and you help them.
3. Babysitting: If you have children and are patient enough to babysit get a "good" child. Again you have the option of saying "no"! But another child can be real company for yours so you have the best of both worlds - you get to stay at home and a you get a play pal for your children.
4. Get into crafts: Explore different options. There's money to be made selling crafts and I found the best time to work on crafts or cakes was when the children were in bed. This was my time to wind down.
5. Yard Sales: This is the best thing since bubble gum! Clean out those closets and cabinets (which needs to be done anyway) and throw a yard sale. Two times when I needed extra money the most (my kids' senior trips) I made the extra I needed getting rid of things that I didn't need anyway!
6. Do tasks for others: Elderly and busy friends need help occasionally with shopping. I have a friend with a house and 10 ft. Christmas tree which I decorate inside and out during the holidays. Most of my extra money for holiday spending is made with this weeks worth of work. She's happy and so am I.
7. Secret Shoppers: One area that I have never tried but always wanted to was Secret Shoppers. They claim you get paid to shop and evaluate services. You do this anyway, so why not try it? Hubby wouldn't mind babysitting for shopping if it makes money.
I hope these money making tips have been helpful, as I said before they are "tried and true" methods of making money without working 9-5. Your kids will be happy and you'll have a sense of helping out the family financially as well.
By Sharon, KY
May 9, 2011
2

found this helpful
I am a SAHM with two kids under 2. I was getting disability checks for 1,000 dollars and they have just been turned off. That's 1,000 dollars each month that we won't have and we are barely making it as it is.
I need some advice as to what I can do. I can't afford daycare and I live in a very small town with not much more than a dollar store and a grocery store. I also don't have friends or family to watch the kids for me.
I was thinking of working 6-midnight at the local gas station, but even if they are hiring I'm not sure I can handle that and caring for two babies all day? What are some solutions to caring for the kids, but still making up that extra 1,000 a month?
By Margaret
Answers
May 9, 2011
0

found this helpful
You have to be able to sleep sometime. Do you have anybody living with you that could care for the kids in the day time while you worked daytime hours. If you got off work at midnight and went directly home, you would be able to sleep until 7-8AM before the kids would be getting up. Just make sure the person that cares for the kids while you work doesn't put them to bed so early that they would get up early.
I used to work a midnight shift with a young mother who claimed when she got home a little after 7AM she would doze on the couch and still keep an eye on her two kids. I always questioned that, because they were so small they would need help going potty and getting something to eat.
May 10, 2011
0

found this helpful
One option would be to babysit another child or two. My sitter was getting $10/hour for my preschooler. Let's say you get $15/hour for 2 kids. Even if you only have them 20 hours, you'd be earning $300/week. Or if my figures are off for your area, plan to have them as long as it takes you to earn $250/week at whatever you charge. Make yourself stand out by planned trips to the park, nutritious snacks, and so forth. Don't drag them around on your errands, and don't spend the time on your cell phone. Make them the priority while they are with you. Read lots of books. Take them to free story hour at the library. If you can provide a really high level of quality care, the right people will pay what you ask. Good luck!
May 10, 2011
0

found this helpful
This is not a suggestion but hearing your story upsets me. This country and some politicians want to throw under the bus the elderly, those who are disabled, mentally handicapped and those who become homeless due to no fault of there own while the rich take and steal from the rest of us.
I'm healthy of mind and body and thank God but some members of my family are not and I feel for those less fortunate. Just had to speak my mind.
May 10, 2011
0

found this helpful
Not sure about the job front, but have you considered teaming up with another mom in a similar situation? For example, while she is at work, you could watch her children. While you work, she could watch your children. Just an idea, but I don't know if it would work for you.
May 10, 2011
0

found this helpful
You can always look at www.WomenForHire.com for help and resources.
Plus call companies you would like to work for and ask about telecommuting positions. To read up on companies look at www.Jigsaw.com and www.RipOffReport.com
Best wishes to you!
Christie
May 11, 2011
0

found this helpful
First if you are getting any money for disability you better not work. If you do and they catch you they can make you repay everything and then you get nothing. If you are not getting any money then how about keeping another child. Where I live they get $100 and up each week. Depends on age of child. But I have to wonder why are they cutting out your disability check?
May 11, 2011
0

found this helpful
You could make a little bit more income by selling on ebay. You have 2 children and children outgrow their clothes fast. You can sell their outgrown clothes. You can also sell other people's items on a commission basis. Check your attic or basement, closets and other rooms for items that you might want to sell. When all your items are sold, sell your neighbor's stuff on a commission basis.
Because you have a family, I assume that you can cook. Look for people in your neighborhood that want some make ahead meals. You can cook the meals right in your own home, and deliver them later. You can either take your children with you to deliver the food or have someone babysit them for a few hours. People that look for this service are the elderly and people that work 2 or more jobs because they are usually hungry but too exhausted to cook.
Babysitting can bring you in some extra income plus also provide playmates for your own children.
Good luck to you.
Read More Answers
Does anyone know of some free colleges or somewhere to get some job skills for a stay at home mom? I really need to go back to school. I can't find a job here in California. Thanks.
By tammy from S CA
Answers
May 24, 2010
0

found this helpful
Some states have what is referred to as career learning centers, they are called different things in different states. Call your state job service or department of labor, whatever it is called in California. There are jobs that you can get with a high school diploma----they might not be what you want, but it is income.
May 24, 2010
0

found this helpful
I should also add that if you qualify, income wise, the government has grants for people to go to school, and there is also school loans. I know when I went back to school when I was in my 40s I used a combination of grants, loans, and there was also something called displaced homemaker scholarships. The young girls in the class were a little upset because their parents had too much income to qualify for grants and being they weren't displaced homemakers they couldn't get those scholarships.
May 24, 2010
0

found this helpful
I live in Houston, TX USA and local libraries teach computer software classes for free. Hope this helps. and God bless you with the job of your dreams.
May 26, 2010
0

found this helpful
Thanks everyone for the info.!
May 26, 2010
0

found this helpful
You might try the Community Colleges in your area aslo, and talk with them about grants, scholarships and financially aid
Read More Answers