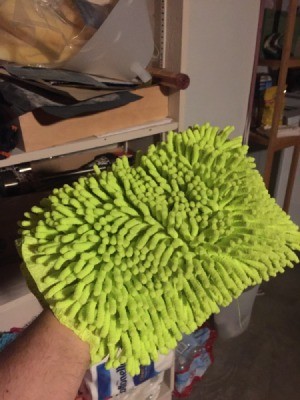 Living in Southern California during the worst drought the U.S. has ever seen is no walk in the park. You have to get creative about how to save water - something I almost never had to worry about growing up in the rain-drenched North East.
Well, I have stopped going to car washes, but have found a faster, cheaper, and totally environmental friendly way to wash your car. The dew wash!
So here's the drill:
- make sure you have two or three of those micro fiber mitts (see above)
- get up between sunrise and before the dew has evaporated from your car's surface
- use the mitts to remove the dew and collected dirt/dust/detritus from your car.
For this third step, I do it in two stages: 1) I use one mitt (you'll need two if you have a van or a truck) to get off the majority of the dew and dirt, and then 2) I use another mitt to get off the last bits of dirt and to fully dry the vehicle.
It takes only 5-7 minutes to wash your car from top to bottom, you didn't have to fill up a bucket of suds, drag out your hose, schlep to a car wash, pay a damn dime, save for the mitts, which will last you like forever!
The only downside is that it looks like you went to the car wash a half a week ago. Well, isn't that better, anyway? Instead of dropping a whole load of cash getting your car sparkling clean, only having the consternation of seeing your car all dingy less than a week later, you get your car quite presentable even if it's not sparkling in no time at all! Plus, if you get a decal from LA Waterkeepers saying you are going dirty for the drought, you have a badge of honor that will ensure that "no one" will look askance at your less than perfect shine! A win-win-win-win!