We will be traveling to the Badlands SD, Mount Rushmore and then on to Yellowstone National Park this summer. Anyone been to these places and have any suggestions for area, things we MUST SEE, Things we MUST DO? Cheap or free would be best but not necessary.
Also any other hints suggestions and things to avoid would be greatly appreciated. We will be traveling with our 13yo son and no other children, keep that in mind. Thanks in advance for your help!
Denise from Ohio
Answers

Marjorie
Silver Feedback Medal for All Time! 290 Feedbacks
February 28, 2008
0

found this helpful
Do you belong to AAA? They have the nicest tour guides just for the asking if you are a member.
Also contact the states department of tourism and they will send you all kinds of maps, etc.

February 28, 2008
0

found this helpful
Each National Park charges you to get it. Several years ago, as we hit Yellowstone (our 3rd national park on the trip) I complained. I was then told if I could produce receipts from the others, I could trade them in for a year pass that covers ALL national parks. I did that and even got some money refunded back to me.
Generally, the further away you are from the park, the cheaper the lodging, both camping and hotels.
Yellowstone does not allow tent camping or the use of campers or popups that contain canvess (due to bears). Take a cooler into the park with you for your snacks, meals and such. It is very very expensive. I even found the gas station on Yellowstone to be higher. Film and batteries are outrageous once you are in the park. Stock up before hand, or do what we did. I was using a digital camera, so I uploaded twice at a drugstore and at a public library onto a disc to free up my camera space.
You have to see old faithful, and climb the path above it--take a water bottle with you!! You can also learn about it before hand by getting on their website and watching old faithful from the webcam that yellowstone has set up.
The national parks all have "ranger classes" for kids that are free. But, we had to buy the ranger patches for about $3 each--but it was worth it. They also get a newspaper full of ranger news--2 or 3 levels depending on the age of your kids. We took several classes--one was on identifing animals by their scant (poop), one on the marks animals make on trees, one on tracking, one on geology-it covered rocks and geysers in the area.....
I did buy the videos at both yellowstone and the grand canyon. The pictures were far better than the ones I took with my camcorder, plus I didn't have to lug it around.
There is a lot of hiking, so take a backpack and/or fanny pack. I took and carried and used: bandaids, bottle of water, extra socks (one kid got a blister from wearing sandels-wear good walking shoes) and those 88 cent rain poncho's from walmart, granola bars, gum, sunglasses, sunscreen, camera, bug wipes (lighter to carry than the bug spray) and kleenex.
They do have bus tours--we didn't do it, but my cousin did and said it was worth the money because they could actually look at more scenery and less at the road.
Always keep your car FULL of fuel. There is a lot of remote area where you can drive for miles and never see another car, even though you are still in the park. Also, when we went there was road construction and we had to sit for over an hour in the heat waiting on traffic from the other direction to end so we could go-several cars ran out of gas.
Oh-if you go during bike week, be prepared for slow traffic.
We did see people who got arrested for taking plants and rocks out of the park at Yellowstone. And the roads that have signs that say no campers or trailers--beleive them--you have no where to turn around, they are rough and there are huge dropoffs--we saw a trailer that had gone over a ledge because they were trying to back out of a road they should not have gone down. Also, don't park where is says tour bus only parking. The bus drivers call and get you towed-its a huge fine plus a impound fee to get your car back. We heard a couple warn another couple about it-they said 2 years ago they got towed and it was almost $300 by the time they got their car back.
By Bonnie (Guest Post)
February 29, 2008
0

found this helpful
Great suggestions above.
When you go through the South Dakota, don't forget to stop at the longest drugstore called "Wall Drug" they have a lot of interesting sites in there too. The forts and the caverns are very cool. The Crazy Horse museum is nice too. When you go Mt Rushmore, make sure you don't go at night where the fog comes in.
They WILL NOT turn the lights on and you are stuck. We had to visit twice due to the fog. Also, prepare yourselves with jackets too. It snowed in May the last time we were there. Have fun and there are tons to see and do there.

February 29, 2008
0

found this helpful
I recommend you check out tripadvisor.com You can ask questions about specific areas on their forums, check out recommendations for restaurants, hotels, etc. I have belonged (free) for several years and I always get great tips on the areas I am traveling too.

Louise B.
Silver Feedback Medal for All Time! 337 Feedbacks
February 29, 2008
0

found this helpful
HI -- I have been to S. Dakota a couple of times, and it is a great place to take kids. 13 is a perfect age. Stop off at Wall Drugs, in Wall, on the way into the Black Hills. Also spend a day driving through the badlands on the way to the Black Hills, and visit the heritage homestead in the Badlands and see the prairie dogs. Rapid City makes a good base. Close to there you can see private caves, the Reptile world, a petrified forest, the city museum, a Maze, and the Cosmos. I think it is in Keystone that you can take a train ride and see a ghost town. There is the Crazy Horse Monument and museums to see there. Custer makes a good base to see the sites in the south, like Crazy Horse. When we were there years ago, there was a great country show every night, but I don't know if it is still there.
At Hot Springs, you must see the Mammoth Site and go for a swim in the natural hot springs pools and water slides. There are State Park caves that are excellent too; better than the private ones, but be sure to see at least one kind of cave. There are also things like bumper boats and go-carts in several places if you are interested in that. There was an excellent campsite at Custer, if you are traveling in a trailer.
In Deadwood, you should go to the wax museum, go to the play in the evening, go on a city tour, and see the graveyard and hear all the stories about the old cowboys. There are costumed actors on the street acting out scenes periodically throughout the day. There is gambling, but you can avoid that if you are not interested in it. Up at Spearfish, you can see the Passion Play. You can easily spend a week in the Black Hills alone. It is a terrific place for a family.
On the way to Yellowstone, stop at Cody to see the Trail Town site and spend at least a day at the Buffalo Bill Museum. There are 5 museums there -- Buffalo Bill, guns, western art, natural history, and First Nations culture. There is also a rodeo every night, but we didn't go to that.
In Yellowstone stop at a Ranger station to find out what geysers are erupting when, and then plan your trip. We saw a lot of geysers in one day, as well as elk, bison, and some other wildlife. Be sure to do the walk around Old Faithful and see the other springs. We only spent one day, but you could certainly spend longer than that.
Those are the highlights from my trips to this area. Have fun.

February 29, 2008
0

found this helpful
Near Mt. Rushmore is Wind Cave National Park and Jewel Cave National Monument. Both are beautiful caves and our 12 year old grandson loved them. There is also Rushmore cave which is also lovely. Also in the area is Hill City and the Black Hills Institute which is a must see for dinosaurs. Great displays for free and inexpensive bones for sale.
Now to Yellowstone, our favorite place, have been there six times from central California. You need at minimum 4 days, 5 to 7 are best. Go to www.nps.gov and get a lot of info about what to see in 6 or 7 different areas. Remember it's the size of Rhode Island and Conn. combined. The first place you can, buy a park map it will really help. If you are in an RV you'll want to stay at different campgrounds each night. There are: Grant Village or Madison (closest to Old Faithful area), Lake Village, Canyon Village and Mammoth, but you have to make reservations. It's worth the money to spend one night in the Old Faithful Inn and wether you stay there or not it's a must see. Call 800-436-7275 they are the only ones who take reservations for Yellowstone and a couple others. Call soon because it fills up fast. So check the nps site, figure how long to spend then call. It's worth it because it's magical.
PS: Even if you get a season pass, it will still cost you for the camping, but it's cheap (I think it was $9 or $10 last year). Elizabeth

February 29, 2008
0

found this helpful
Fogot to tell you check out your local library for videos and books with photos on Yellowstone. We did that on our first trip there in 1992. Elizabeth

February 29, 2008
0

found this helpful
Not too far east from Mt Rushmore in Wyoming is a Place Called Devil's Tower. It was a lets just go check it out on our vacation and it ended up being one of the favorite places we saw. On the way to Devil's Tower we saw a advertisement for a Buffalo run that had reciently been discovered. If you had the energy you could hike all the way down see the layers of buffalo bones. IT was really neat. I think they were supposed to be getting funding on on making it kind of like a museum. This was around 2001 so don't know what has happened to it since.

March 3, 2008
0

found this helpful
My very favorite was Devil's tower. Walk around the base of it..Blows the idea behind Close Encounters of the Third kind, but it's a lovely walk.
There's the Crazy horse museum and Wall Drug, but I see others have already told you.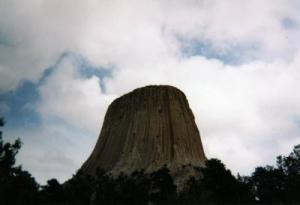 March 3, 2008
0

found this helpful
Add my 2¢ worth for Devils Tower, the bad lands, and Wall Drug. Also, take drive around the Wild Life Loop, and sign up for the Chuck Wagon Dinner. It's a little pricey, but well worth it!

March 4, 2008
0

found this helpful
Hi Denise,
I'm from the Black Hills (Rapid City), so I was excited to see your post. All the suggestions everyone has posted are great ideas. Here are a few more I'd suggest depending on how much time you have and what your interests are:
1). Rapid City: You pretty much have to pass through Rapid City on your way to Mt Rushmore. A good website to scroll through is www.visitrapidcity.com/ You can send for information, if you want.
A free attraction in RC that I loved visiting as a kid is called Dinosaur Hill. Kids loving climibing on the dinos and you get an awesome view of Rapid City and the surrounding Black Hills. Here's the info:
Hours: Dinosaur Park is open year-round from 6 a.m. to 10 p.m.
Admission: Free.
Directions: The simplest way to reach the park is from the citys historic West Boulevard residential district, just southwest of downtown. From West Boulevard, turn west on Quincy Street. As the road ascends the hill it will turn into Skyline Drive. The park is located at the top of the hill. The route is well-marked with signage.
Parking: A large parking lot is located off Skyline Drive at the base of the park. The stairs to the park begin at the west end; a gift shop and refreshment stand, open in summer, is located at the east end.
2).On the way to Mt Rushmore . Once you leave RC you will probably get to Rushmore by Hwy 16. There are a ton of attractions along this road. Two of my favorites are Reptile Gardens and Bear Country (Google them both to get their website). I used to work at Reptile Gardens in high school and it's a cool place for anyone who likes snakes, alligators, etc. Bear Country is right up the road and it's a drive-thru wildlife park. They have Bison, Elk, Mt Goats, Wolves, and Bears. Fun place! Neither are free...but both are memorable.
Another place on the way to Mt Rushmore, although I've never been, is called the Cosmos. It's a place I bet a 13yr old would like -- it's kind of an optical illusion, "defy the laws of nature" place where water runs uphill. I've never been, but I hear it's kind of a unique place.
3). Custer State Park. The Black Hills are just loaded with scenic drives and opportunities to hike. Custer State Park is a cool one because it's beautiful and often there are herds of buffalo near the road and several times I've seen donkeys that come up to cars to be fed potato chips. The town of Custer is right outside of the Park and on your way to Custer you'll pass Crazy Horse Monument. You have to pay admission to get into the monument, but you can easily see it from the road. Also in Custer is an attraction called Flintstone Park (as in, Fred Flintstone). I was only there once as a kid, but I had fun. Not sure if it's too juvenile for a 13 yr old boy, though. I'm sure they have a website, as well.
4). Deadwood When you are leaving SD and on your way to Yellowstone, there are also a lot of things in the Northern Hills to visit. Deadwood is a great place to stop. It's loaded with casinos, but even walking down Historic Main Street is cool. It's a neat place to walk around and try to get a feel for the history. A free attraction (at least last time I went there) in Deadwood is Mt Moriah Cemetary. It's within walking distance of downtown and it's where Wild Bill Hickock is buried.
5). Other things to consider: If you go to the Badlands National Park on your way into the Hills and you are going to Yellowstone, they have a pass you can purchase that will get you into all the National Parks, without having to buy a pass at each park. The NPS website has more info (www.nps.gov).
Mount Rushmore has an awesome lighting ceremony at night. The warm part of the summer (June-Aug) is the best time to see this. Someone else posted that it was foggy at Mt Rushmore when they went. Certain times of the year are worse than others (like early spring). I've been there dozens and dozens of times and I've been lucky each time.
Also, no matter what time of the year you visit our wonderful Black Hills, make sure you bring sweatshirts and have pants available. Even in the dead of summer it is not unheard of to have really strange weather (I'm talking like 40 degrees and drizzle at Mt Rushmore and sun and 80's in RC only 30 miles away). That's not the norm, but SD is known for it's rapidly changing weather.
Well, I could just keep going on and on. There are literally hundreds of things to do in Western South Dakota and I hope you enjoy your time. I absolutely love being from this place. If you have any more specific questions, you can sure email me through the thrifty fun website. I'd be happy to give you more info.
Happy Travels! Kathy

September 5, 2009
0

found this helpful
Denise - We are planning this exact trip for next summer, any tips you could pass on would be great.
Thanks, Kate from NH
Answer

this Question