Mary first posted this request on Novermber 8, 2005:

I have a 7 year old Boston Terrier, for the past two months her spine has been sticking up and so are her hip bones. Today she looked a little bloated. She is somewhat active and eats her meals fine. Does anyone have any idea on what her problem could be? My vet said that it is normal, but I don't think it is, he also said you have to remember that she's a senior now. Please help. Thanks
Mary from Michigan

She has offered this sad update to her request:

I wrote a while ago about my dog's spine sticking up, I want to thank everyone that responded. The result was she had a tumor and she passed away on Tuesday. Please, if anything doesn't look or seem right with you pet, request further tests to be done. If she would of had more tests done when I first took her to the vet I'm sure she would still be with us today. Don't hesitate to ask for further testing to be done.

Mary from MI

Answers:
My Dog's Spine is Sticking Up
It's not out of the question that she has some intestinal parasite or something else. I'd take her in to actually see the vet, and if that one does nothing I'd get a 2nd opinion to make double sure she's OK. We see our dogs everyday, and most owners who are crazy about their dogs are very attuned to changes in appearance or habit. Trust your instincts! (11/08/2005)
By
My Dog's Spine is Sticking Up
As dogs get older their muscles lose their tone and their spine and sometimes hips protrude to some extent. I take my older dogs for a walk, starting with about 10 minutes and at their speed, increasing over time and after about 3 months, we are walking 1 mile. It improves the tone of their muscles and is great exercise for us both.
JoanDogs (11/08/2005)

By Joan
My Dog's Spine is Sticking Up
Is your dog getting enough to eat sounds like she could be too thin and not getting enough from her food. The dogfood today has very little fat and some dogs need a bit more to stay healthy. Might ask a vet if something to help he add a little weight. Too little not any better than too much food. (11/08/2005)

By dog owner
My Dog's Spine is Sticking Up
I think your dog has arthritis. You may want to try the dog food that has glucosamine and chondroitin in it, but as you know there is no cure for arthritis. If you think it is not osteoarthritis, you can get a 2nd opinion from another veterinarian. Best wishes! (11/09/2005)
By Carol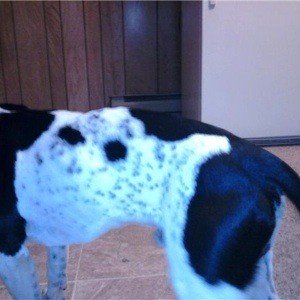 My pit bull puppy who just turn 1 looks like his lower spine is curved. It sticks up and doesn't look healthy. He eats well and plays and is very energetic. He shows no pains in his lower back and I have had him since his 8th week and now I'm starting to notice it more. Any idea what this could be?
By Fanny from Corning, IA
Answers

Sherri
Bronze Feedback Medal for All Time! 180 Feedbacks
June 4, 2010
0

found this helpful
Hello,
Please take him to his Veterinarian for an exam!

June 22, 2010
0

found this helpful
Are you sure your dog is a full pit bull? it could be a mix of American Ridgeback, which is a dog that has a ridge on its back.

December 22, 2017
0

found this helpful
my dogs pitbull mix and looks the same!!!! ever find out?

November 12, 2019
0

found this helpful
My pug has the same problem im not sure what it is.thats wrong

April 16, 2021
2

found this helpful
Thats not the same thing. Ridge backs do not have curved spines! They have a line of hair on their backs right over the spine that grows in the opposite direction of the rest of the hair.

November 25, 2021
0

found this helpful
Your totally way of course ..Not very sharp on your behalf ..

December 26, 2021
0

found this helpful
Did you find out what it is? I have a dog with the same symptoms.
Answer

this Question