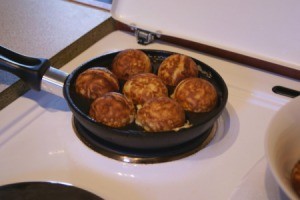 I recently received an Aebleskiver pan and for the life of me I can't get them to come out. I've followed all the directions to the letter but no luck. I can't manage to turn them over with the sticks provided. And even though I've sprayed the pan as directed, they always stick.
I thought maybe the pan needed to be seasoned and did that, but still no luck. Can somebody tell me what I may be doing wrong? Any help will be greatly appreciated.
Answers
October 16, 2008
0

found this helpful
Best Answer
Hi Bev. What we do here in Dane country is melt butter flavored Crisco and fill the well maybe 1/3 full of the grease. You really need to have a heavy pan with a lip on it. How did you hear of abelskivers? Are you Danish? Also, the ladies used to use hat pins to turn them, but a thin knitting needle works great.
October 16, 2008
0

found this helpful
Best Answer
Did you use non-stick spray? When baking stuff sticks I have better luck using shortening or even oil. This page has some tips on Aebleskiver:
www.aebleskiver.com/gettingstarted.htm
Apparently the pans exist in versions for gas and ones for electrical stoves (has a plain bottom). Sometimes just trying a different recipe helps.
Can't remember if I read it on that page or another but it said to let the batter rest for 10-15 minutes, like you would for cornbread. I have always wanted to try aebleskiver but it is still on the list.
October 17, 2008
0

found this helpful
Best Answer
Thank you for all the feedback. I really appreciate all your comments. I had no idea you needed to use so much oil/shortening in each well. I've gone onto the recommended web sites and have received a lot of information as well as some wonderful sounding recipes. I'm going to try making them again hopefully this weekend. Right after I re-season my pan following the directions on web site. I'm of German descent but had a landlady who was Norwegian. She made a lot of things like these. They were wonderful. Unfortunately, I never watched her make any. She has passed away since then.
Thank you again. I'll let you know how they work out this time.
October 20, 2008
0

found this helpful
Best Answer
I have my aebleskiver pan for 6 months now, I use generic spray pam ever time before placing the batter into the pan. I also find that the pan needs to be at least medium to high heat for the entire time of cooking them. My kids love it, we make plain pancake puffs, wheat puffs, and corn muffin puffs. I serve on the side homemade raspberry spread, maple syrup, powered sugar and cinnamon all on the side and we 'dip' to our choice.
For clean up I wash in hot water and lightly coat pan and place on papertowel so it's ready for the next time.
Read More

Answers