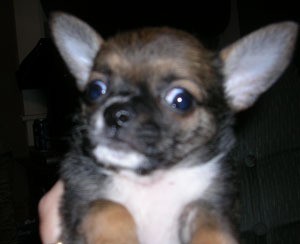 My 4 month old chihuahua just got the Parvo/Distemper shot and is now sick, do you think she has Parvo? She isn't throwing up, but she has stopped eating and has yellow diarrhea. We are on day 3 now from the shot, day 2 of diarrhea and day 2 of no eating. I'm able to keep fluids in her and I'm forcing pedialyte down her. Should I try the bleach mixture trick I'm reading about? She isn't wanting to move now and it's scaring me. She is my baby and I love her so much. She seems so tired and depressed. I have needles and saline in case I have to start injecting her. But as long as she isn't throwing up, she is absorbing. Right?

Shannon from Orland, CA

Editor's Note: Please call the vet that administered the shots.
Answers:
Symptoms After Parvo/Distemper Shot
Call your vet right away! I have never heard of a dog having a reaction to those boosters, but your vet should know how to help. (06/01/2007)

By Robin
Symptoms After Parvo/Distemper Shot
I totally agree! Unless you want to lose her, get on the phone and call the vet! Don't wait! Your furbaby is so small and her symptoms could be life-threatening if they go on too long. Call today- before the weekend when the vet's not available. Let us know how she's doing. (06/01/2007)

By robin48
Symptoms After Parvo/Distemper Shot
I agree with everyone - you need to take her to the vet immediately - don't call - take her there. Her condition is extremely serious. You've heard the saying you snooze you lose. Please let us know how she's doing. I'll pray for your little puppy. (06/01/2007)

By mizpikky
Symptoms After Parvo/Distemper Shot
Go to Vet now! (06/01/2007)

By Jennifer
Symptoms After Parvo/Distemper Shot
Thanks everyone for all your advice and feedback. I did, however, run down to the store and get the acidophilos milk and fed that to her along with some of that Activa yogurt and Gatorade. The vet said it must just be a reaction to the shot. As of today, she is eating again! Yay! She is up and playing and seems to be returning to herself again. She hasnt had any diarrhea today or vomiting so I'll just keep up with the fluids tho, not going to stop until I'm sure she is out of the woods. She only weighs about a pound so she doesn't have much water to spare, if you know what I mean. Now I'm afraid to do the other boosters on her. That was some scary stuff. We got her the shot on Monday and she just got over it today...5 days of being sick...that was awful! (06/01/2007)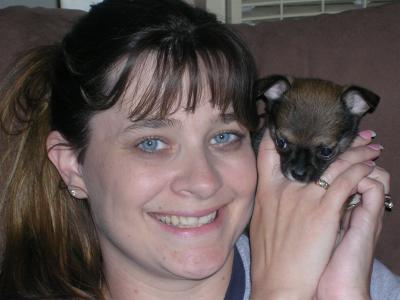 Symptoms After Parvo/Distemper Shot
Yeah! I'm so happy your sweet baby is better! You both can enjoy your weekend now. (06/01/2007)

By Sarah
Symptoms After Parvo/Distemper Shot
Wonderful that puppy is better! (06/01/2007)

Symptoms After Parvo/Distemper Shot
Thanks!! Thanks to all that said prayers for my baby!! She is so much better! Even tonight she is bouncing around everywhere and biting and kissing my chin. She is back to her old little rambunctious self! I am so relieved to have her back! I cried when she ate her first piece of food 2day because I was so happy 2 see that her appetite had returned. It's the little things we take for granted sometimes. She is my baby and she is going to be OK and I thank the Good Lord and all of you for that! Thanks for being there for me through all of this! You all are wonderful people and great friends! (06/01/2007)

Symptoms After Parvo/Distemper Shot
I was so happy to read that your little baby puppy is doing so much better - it brought tears to my eyes. My little chihuahua/Jack Russell mix baby puppy named Meka will be 4 mos old on 6/9 and she's due for her 3rd shot on Wed 6/6. Now I'm debating about that next shot. So far she's doing great. How many shots did your little puppy have before she got sick? I will definitely keep the symptoms your puppy had and the treatment you gave her in mind for my Meka. Again I'm elated about your baby and have given thanks to Jehovah God for helping her (one of his beloved little creations) make a full recovery. Thank you for the picture - it's beautiful - the smile on your face says it all. (06/02/2007)

By mizpikky
Symptoms After Parvo/Distemper Shot
Will you please end the suspense and tell us what the vet said? so that every other pup out there with yellow diarrhea (common when they are getting milk) and not eating (first thing when something's bothering) will not have a freaking-out owner any more than usual? Did you call the vet at all? I hope you had some good help from the vet! (06/02/2007)

By Kim Ch
Symptoms After Parvo/Distemper Shot
I'm so glad that my experience can help others. I have definitely learned a lot as a result of this myself and now I know what to expect with the 2nd shot and when I have anymore pups and get them vaccinated. I'll know what can happen as a result of the shot. Don't ever let anyone tell you that nothing can happen because every dog is different as you and I are different. And our immune systems and body's are not built the same. So always stay at home with your pet the day they receive the shot and really monitor them. I'm so glad I did. If I had left her and gone to work, she would not be with me today! Just a bit of advice for all you Pet Lovers! (06/06/2007)

By Shannon.
Symptoms After Parvo/Distemper Shot
Hello, yes, I'm glad your dog is getting better. Please do more homework on what the ingredients are of these questionable vaccines/shots. Someone is making a lot of money on selling millions of them. Are they safe? lots of homework, I mean. Good luck. fellowdog luvr. (06/25/2007)

By Kate
Symptoms After Parvo/Distemper Shot
So glad to hear the good news!

Vaccinations ARE a big deal. Even among humans there are a lot of parents who wont let their kids get immunized because of the questionable ingredients not to mention effectiveness of them. Some people think that this is irresponsible and even trained imunobiologists will tell you so.

Again, educate yourself on both sides of the issue and make your own choices.

Dogs have died from immunizations. I worry about my babies every time they get shots and wouldn't get them at all except that I can't get flea medicine without regular shots.

Parvo is of course very serious. And I have to wonder, if vaccinations are so effective why are we still seeing it? We don't see black plague any more. The scientists say we vaccinated it out of existence....hmm

Take some time to watch your dog after a vaccination, possibly as close to the weekend as possible or when someone can be home in case there is a problem.
(07/10/2007)

By Shera
Symptoms After Parvo/Distemper Shot
The vomit Ive always seen with Parvo is white and foamy. Its usually clearlike, watery, but very foamy. No diarrhea is a great sign! I hope your pup is still doing great! (09/08/2007)

By Shannon
Symptoms After Parvo/Distemper Shot
Depression is normal but if he isn't eating or drinking you need to do something. Give him fluids by dropper. I recommend Gatorade or Pedialite. It works great for dehydration and you want to prevent that because they will get dehydrated very quickly. It should only last for a couple days but if it continues longer you need to call the Dr right away. I also gave my puppy yogurt in a dropper. She loved it and it was soft on her tummy. Just some ideas for you to try. (09/26/2007)

By Shannon.
Symptoms After Parvo/Distemper Shot
No. She is probably going into heat. Has she had her first heat yet? Is she fixed? I have a chihuahua that loses hair every time she goes into heat, the vet says its absolutely normal. But, if she is fixed then you might want to take her to the vet and make sure she doesn't have a skin disorder. (10/24/2007)

By Shannon.
Symptoms After Parvo/Distemper Shot
Update! As for my little precious girl, she passed away October 12th 2007. She started losing weight and not being able to eat. She started showing signs of brain dysfunction. Pacing, walking in circles, bumping into walls and her little eyes were starting to roll down and all you could see were the whites of her eyes mostly. Then, in the last week or so, a bump formed on the top of her little head. I knew in my heart it was her brain swelling. It just broke my heart. I spent hours searching online for anything and everything pointed to HYDROCEPHALUS. Its common in the Chihuahua breed but is also a complication of Parvo.
So, I have no idea at this point which caused it, but that Friday, Oct. 12th, when I drove her to the vet, I knew it was our last trip together. When the Vet saw her he took her straight to the back, examined her and told me the harsh news. I broke down and didn't stop crying for 3 days! I had to make the terrible decision to put my little angel. The baby that I had desperately tried so hard to save, I had to finally give up and put her tired little body to sleep.
It was one of the hardest decisions I ever had to make. Not only for her but because I didn't want to give up! I love her so very much and still do! I cry everyday for her and I hope I did the right thing for her. I hope she knows that I didn't want to give up on her. I just couldn't fix her. I was feeding her Lambs milk through a syringe at that point to keep her alive.
And now...I miss it. I smell her blankets cuz they still smell like her and her spilled milk. It's so hard....I put so much into trying to save that babys life and now I have nothing! Nothing but heartache! All of you have been so wonderful and so I just wanted to let you know that her battle ended and that I tried my hardest. Please don't ever give up on your Parvo pets because they can survive. Not all end up like this. I do have one dog who is a complete success! Just pray for her in heaven for me. I had her cremated and she will be coming home to me soon. I couldn't bear to part with her. I love her! (10/24/2007)

By Shannon.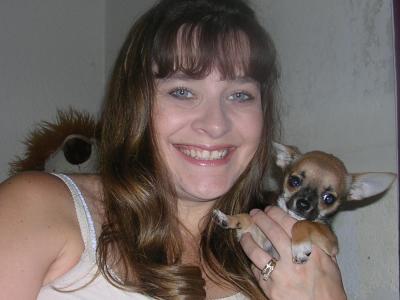 Symptoms After Parvo/Distemper Shot
Wow that's a hard call to make. They do a simple test on the dogs stool to find out if they have Parvo or not. I would just make sure you keep your dog well hydrated and warm. That's the 2 key things in keeping a dog alive through Parvo. I sure hope your doggie is OK after going through so much! Keep me updated. (01/31/2008)

By Shannon
Symptoms After Parvo/Distemper Shot
Just took my pit/boxer mix to have a parvo booster and is now not eating and seems depressed. Not very active, tired and lazy. usually running around hyper actively. No vomit or diarrhea but not eating or drinking. We just lost a dog to parvo and don't want to lose another. Duece has no swelling and looks normal, besides getting skinny. Any help would be appreciated. Thanks, Steve (02/02/2008)

By Steve
Symptoms After Parvo/Distemper Shot
It can be very normal for them to have those symptoms after a shot of the Parvo/Distemper Mix. But if your dog starts vomiting or has diarrhea I would rush him to the vet immediately! (02/04/2008)

By Shannon
Symptoms After Parvo/Distemper Shot
We have a 3 year old Airedale Terrier. He had his Parvo-Distemper shot Friday night and he had a terrible reaction on Saturday. He did not have any vomiting or diarrhea but he was totally lethargic and depressed. His whole body below his neck was sore and he yelped if you touched him. He is now 3 days out and is about 80% better. We will never give him this shot again! (02/18/2008)

By Sam
Symptoms After Parvo/Distemper Shot
Also if she is lethargic, give Caro or something sugary for low blood sugar. (03/10/2008)

By lisa
Symptoms After Parvo/Distemper Shot
I'm a Dachshund breeder in Pennsylvania, been raising my dogs and their babies for quite awhile. I have never had
Parvo in my home and do not let my puppies go outside either
until they go to the Vet for shots. In all the pups I have had through the years I have never had a reaction with my
puppies. If they do get a reaction, it's usually not from the Parvo Virus vaccine in the shot it's from the Distemper and also young puppies should never get Leptosirosis in the DHLPP vaccine until they get older, as Lepto can cause a very serious reaction.

My 7 month old Dachshund, Sugar had a reaction to the Rabies Vaccine though, first she started to itch and with my experience I new it was time to break out to Children's liquid Benedryl and give it to her right away, within 1 hour she was back to normal. You give 1cc of Children's Benedryl to 3 lbs. of body weight, in dogs. I highly recommend dogs get yearly DHLPP vaccines because sometimes you have to hurt them to help them.

If you know your dog reacts wait that extra hour in the parking lot and watch for signs. Most Vets won't even charge you extra for a reaction. Bleach is the only way to kill Parvo Virus, It can even be brought in on your shoes or clothes. It comes from infected birds. It can kill a dog rapidly and is a terrible way to die. I am practically a Vet tech, please take my advice. (03/16/2008)

By Marilynn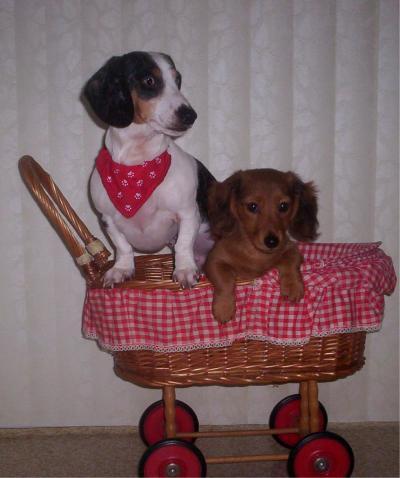 Symptoms After Parvo/Distemper Shot
Some dogs/puppies DO have reactions to the Parvo/Distemper shot! I don't care what anybody says! I have seen it first hand. Not once, but many times! Just keep your puppy well hydrated. That is the most important thing! I also fed my puppies some acidophiles milk and Activia yogurt for their tummies. Seems to really help when they have the diarrhea. You can give them Gatorade and Pedialyte for the dehydration. And if he gets lethargic in any way...give him some maple syrup...he needs the sugar. His glucose level may be low and if that gets to low he will have seizures and things will get ugly real fast. I hope this info helps. Sorry I didn't get back to you sooner! Hope puppy is OK! (04/20/2008)

By Shannon
Symptoms After Parvo/Distemper Shot
We got a puppy from the animal shelter. The shelter was closed 3 weeks later for Distemper.
Our Puppy died last night from distemper. It was horrible. When he got his booster shot it seemed to accelerate the disease. He was already getting sick. I think it was just this age. Love them when you have them, care for them with all your heart and when they take their last breath let them go with love.
God bless you all that survived and may those that lost have wonderful memories of better days.
Editor's Note: So sorry for your loss Anita.
(05/24/2008)

By Anita M. Georgia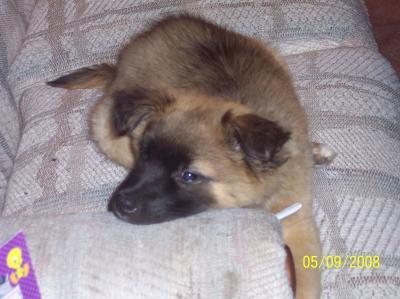 Symptoms After Parvo/Distemper Shot
So sorry for your loss! Its so hard to watch these precious babies die of these terrible diseases! You are so right when you say to Love them while you have them because you just don't know when they will be taken from you! I still mourn the loss of my Sasha! God Bless all of you and your precious babies that have suffered and lost their fight! (06/05/2008)

By Shannon
Symptoms After Parvo/Distemper Shot
My 10 year old llasa/shitzu mix went in for her PD shot on Wednesday, became very lethargic and acted like she was in pain to move. Thursday more of the same. Both nights I was told to give her a regular aspirin for pain, which I did disguised in some cheese. Thursday evening really no difference in her. I also gave her 3 snack size Nutter Butter cookies for the sugar (no syrup or chocolate). Friday AM she seems to be back to her old self - almost. I guess my advice is to not panic - as they say an ounce of prevention. (08/22/2008)

By Robin - Michigan
Symptoms After Parvo/Distemper Shot
We have 4 mini dachshunds. Ages 16 months, 2 years, 5 years and 7 years. This past Sunday I took the 16 month old and the 7 year old in for shots. They both had Distemper/Parvo and Bortadella shots. We left and within 2 hours, the 16 month old, he is a longhair doxie, started acting like he was licking the air. I called my vet and they said to bring him right back in. We are 10 miles away and believe me, my husband and I were scared to death. His tongue was swelling up. He was breathing, but he was getting panicky and so were we. They gave him an IV injection that took care of the problem and then gave me prednisone to take home to give him for the next couple of days. The other doxie who is 7...he is a smooth coat, was fine. He has never, ever had any reactions, nor have the other 2. But, about an hour and a half after we were home, the little guys face started swelling up. So, I called the vet & they had me give him one of the prednisone pills, along with a Benadryl tablet, plus they said to first give him a Pepcid AC to coat his stomach.
My vet called me back later to see how he was doing. She said that they also put an alert on the file for a vaccine reaction and said they would give him a shot of something, I forgot what she said, before he has shots again & then we are to give him Benadryl before we bring him in. It is now 2 days later & he seems to be back to his funny, perky crazy self. This happened when he had his first round of shots as a puppy. His face just swelled up. I know that that time he had distemper and rabies shots. It is so, so scary. I am already nervous about taking any of them in for more shots, but I know it has to be done. Just be aware & be prepared the best you can & talk with your vet about your concerns before the vaccinations. Maybe that will help to eliminate some of the possibilities of an awful tragedy. (09/16/2008)

By Nancy
Symptoms After Parvo/Distemper Shot
Our dog had Distemper after the shot, we took her to the Vet he wanted to put her to sleep said 90% she will die anyways. We took her back home, put milk into her mouth and injected water and saline into her neck (not into bloodstream). One year later she is fine. We had to stay up all night a few days. Keep them hydrated, don't let the Vet put them to sleep. (11/18/2008)

By Brian
Symptoms After Parvo/Distemper Shot
Our dog had Distemper after the shot, we took her to the Vet he wanted to put her to sleep said 90% she will die anyways. We took her back home, put milk into her mouth and injected water and saline into her neck (not into bloodstream). One year later she is fine. We had to stay up all night a few days. Keep them hydrated, don't let the Vet put them to sleep. (11/18/2008)

By Brian
Symptoms After Parvo/Distemper Shot
My 4 month old chihuahua got a distemper shot and wormed by my husband and he has been very sick for 2 days diareah and vomiting i have been force feeding him rice baby cereal pepto bismo and cottage cheese what do we do (02/22/2009)
Symptoms After Parvo/Distemper Shot
Distemper shot is not required by law only rabies shot is and most of them last a couple of years so you don't have to don't it yearly if it makes her sick.
(07/27/2009)

By M
Symptoms After Parvo/Distemper Shot
I'm afraid your dog might have distemper. My poor puppy had the very same symptoms. If it becomes serious, you need to take her to the vet immediately. (10/02/2010)

By hi