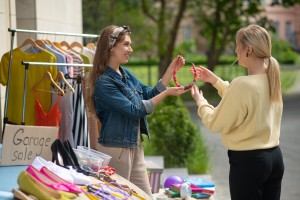 My house is filled with large and small surprises throughout, treasures that I have collected over the years at garage sales. Treasures from around the world.
Furnishing a home can be quite expensive and once it is done, after time the newness wears off and it sort of just melts into the wall becoming invisible. I have found a remedy to saving cost on furnishings and keeping the excitement of a new living space by venturing to weekend garage sales. Garage sales are a great way in which to protect and take care of our environment, because instead of dumping in landfills we are reusing otherwise disposable goods.
My approach for garage sale hunting is to review the "Penny Saver" weekly and skim the page for the garage sale heading. I search for anything that looks interesting and circle. I am an early riser, therefore on Saturday mornings I am up with the birds and ready to begin "the hunt". I have a list of things that I would like to find, which I take with me. I do deviate from this list if I find something very interesting that I know I would enjoy having in my house. I also don't rely completely on the "Penny Saver", although it does save on gas if you know where you are going, but I do tend to stay in one area.
I have found in general that bargaining is welcomed, therefore I will negotiate the price down, but always to a reasonable amount. I never offer a unreasonable amount, never wanting to insult the seller. Remembering always that this was once their beloved treasure. So in honoring that I am considerate of that in my bargaining and 9 times out of 10 they will agree to my price offer. Always, set a budget for yourself, based on what is affordable to you.
It is always a good idea to get an early start, as the treasures go fast. Although sometimes waiting later can get you a better price. Small or large, whatever I find adds character to my home and a pleasure to my eyes at a small cost. Enjoy the hunt!
By Cathy Heller from CA
Do you have a frugal story to share with the ThriftyFun community? Submit your essay here: http://www.thriftyfun.com/post_myfrugallife.ldml
Comments
Read More

Comments