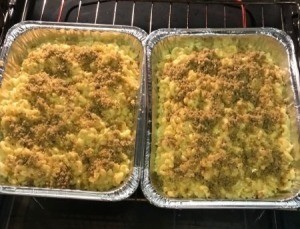 I'm not complaining at all here! One thing I want to focus on is my attitude. That is, my attitude now. Oh, I was not very happy with all of this in the beginning! Oh no!
Then it hit me! Well to begin with, I have been quarantined 3 weeks before they ever started quarantining anyone because I have a serious Immune Deficiency! I have been disabled for 21 years due to this illness! No one at all can come in my home and I can not leave my home. If I were to get this virus, I do not have the antibodies to fight this.
When I finally got it in my head, and told myself "Well, what are you going to do?" I had a choice to make; either be miserable or put myself in a good place where I can help others while I have nothing to do and have to occupy my time or I will go nuts!
So, I love to cook, as ThriftyFun knows! So, I started hearing that some of my neighbors had lost their jobs and they have children at home. I began cooking for four families daily. I was in my glory! I have been doing this now for six weeks! I stretch my budget very thin. I make a lot of pasta and rice dishes with chicken and vegetables, some meatless.
I make everything from scratch. Meals that go a long way!
I text them in the morning, tell them what I am making and what time I will have it ready! Then, I text them when I have it in a bag outside my door with their name on it. They come and pick it up! I get wonderful drawings and cards taped to my door from the little ones! That's all I need! That makes my day! It puts a big smile on my face! I am a church going person and I read the Bible. God said; When the children were hungry, I fed them. It's just God's work! I am healthy enough to be able cook and feed! I have been feeding my family all their life and now I am feeding God's family in this much needed time! I hope everyone can help just a little bit more today, it will make such a great difference! People are struggling! Thank you for reading this! I'm just spreading good news! Please stay safe and healthy and help with what you can!