Hand sanitizer is an effective way to wash your hands when you don't have access to soap and water. The following recipe lets you make your own hand sanitizer at home.
Beyond the coronavirus hand sanitizer is a must have for parents to have in the car or stroller. Frequently washing your hands cuts down on the risk of the flu and food poisoning.
Note that this recipe is based on the recommendations of the World Health Organization (WHO), converted to U.S. ingredients.
Many online recipes seem to focus more on how the sanitizer smells than on its effectiveness. Authorities are recommending sanitizer with 60% alcohol content. Our recipe here should meet that recommendation.
Total Time: 5 Minutes
Yield: 4 Cups
Source: World Health Organization
Link: WHO Recommended Handrub Formulations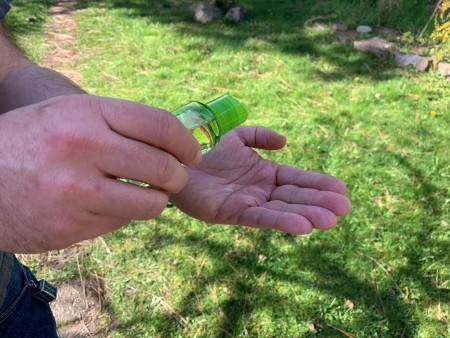 Supplies:
4 cups Isopropyl Alcohol (70%)
3 Tbsp Hydrogen Peroxide (3%)
1 - 2 Tbsp Glycerine
Mixing Container
Individual Bottles for Dispensing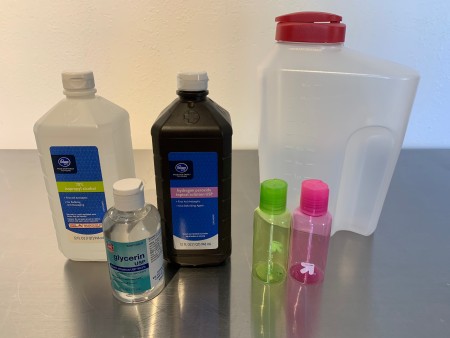 Steps:
Pour the isopropyl alcohol into a clean container. It's easiest to mix the sanitizer directly in the bottle in which you'll store it.


Add 3 tablespoons of hydrogen peroxide (H202 3%).

Add 1 - 2 tablespoons of glycerine. Make sure you get all the glycerine out of the spoon since it flows slowly. WHO only recommends one tablespoon but two makes the sanitizer a little easier to rub on.

Gently mix the ingredients together either by stirring or sealing and gently shaking the bottle.

Dispense the sanitizer into smaller individual bottles. This is a great way to refill sanitizer bottles which have run out.
These supplies cost us about $6 ($2 isopropyl alcohol, $1 hydrogen peroxide, glycerin $3) but the hydrogen peroxide and glycerin can be used for many batches. During an outbreak hand sanitizer refills often sell out.
We are using 70% isopropyl alcohol which is known in the U.S. as rubbing alcohol. If you are using 98% alcohol measure out 3 cups and then add a cup of distilled water to make 4 full cups of sanitizer. If you are using 91% isopropyl alcohol, measure out 3 and 1/3 cups and then add 2/3 cups of water to make 4 full cups of sanitizer.
You can also use drinking alcohol in place of the rubbing alcohol but it is difficult to get a high enough proof. The equivalent of 70% rubbing alcohol would be 140 proof vodka. See the WHO link for additional information.