What is the best natural way of cleaning a silver tray?

Sheila from Ontario

Answers:
Natural Cleaner For Silver
Make a paste of baking soda to use in cleaning your silver. This idea is by the Queen of Clean on BBC.
Best of luck. (04/16/2008)

By Carol in PA
Natural Cleaner For Silver
I have heard toothpaste works wonders!
It really works. Use a little and then buff with a soft cloth.

Good luck.
(04/17/2008)

By Monique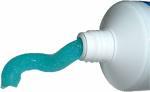 Natural Cleaner For Silver
I found the toothpaste idea worked great. Thank you to Monique. I tried the baking soda, it did take off a bit of tarnish, but the toothpaste worked better.
(04/20/2008)

By Sheila
Natural Cleaner For Silver
I'm new to this site and wanted to respond. Get a large container that will hold the tray. Use your sink if the tray is too large. Put 1 sheet of aluminum foil, 1 Tbsp salt, and 1 Tbsp baking soda into the container. Fill with warm water and then add your tray. Wait an hour and then wipe the tray with a soft cloth.
Only use glass or plastic bowls to do this. The tarnish can adhere to a metal bowl. If you smell rotten eggs, ventilate the room. If the foil gets dark, replace it with new foil. (04/21/2008)

By Deanna
Natural Cleaner For Silver
Use baking soda, salt, and aluminum foil or an aluminum container. Find an aluminum dishpan or container to hold the silver pieces. (Alternately, place a square of aluminum foil in the bottom of the container.) Place silver to be cleaned in a the container and cover with water.
For each quart of water used, add approx. 1 TBSP of baking soda and 1 TBSP salt.
Allow silver to soak. (Silver will brighten and aluminum will darken.)
(04/22/2008)

Natural Cleaner For Silver
Try a cleaner called Universal Stone from Germany. The stuff works fantastically! It's non-toxic and made from all food-grade ingredients. It works on brass and copper, too. I bought it online. (10/05/2008)
By KSE