Does anyone have any tips for dog allergies? Specifically dermatitis. We've eliminated food allergies and changed his shampoo/conditioner to vet specified ones to help him out. He was also given two different kinds of allergy medications, but the results weren't good. Considering he's a 10lb Chi/Pug, we'd rather find some kind of homeopathic or natural remedy to keep his feet out of his mouth and to keep him from biting at himself all day long. Any suggestions?
Gail from Vancouver, BC
Answers:
Natural Remedies for Dog's Dermatitis
Try a raw diet with supplements and vitamins. Talk to a homeopathic vet. They need the right supplements along with raw food. (03/12/2009)

By anne
Natural Remedies for Dog's Dermatitis
He is a handsome young man! How is the humidity in your home? During fall and winter, our humidity is usually somewhere around 20 to 29%. I use a humidifier all of the time, and have also kept water simmering on the stove top to increase the humidity in our home. (03/13/2009)
Natural Remedies for Dog's Dermatitis
My dog also has allergies. I found a website that helped me, it is: nzymes.com. I found out he had a yeast problem also. Hope this helps. Denise (03/13/2009)

By denise ray
Natural Remedies for Dog's Dermatitis
I don't know if this will work for a dog, but for myself I had a terrible case of Seborrhea and I had heard that adding ground flax seed to my diet would help. After 2 months of adding it to my diet daily I was totally free of this skin condition. (03/13/2009)

By Wanda
Natural Remedies for Dog's Dermatitis
I have a 4 year old pekingese that was absolutely miserable with skin allergies. She scratched 24/7. My vet determined she had a yeast infection on top of the allergies, and treated her with antibiotics for 3 weeks. He put her on a supplement called TheraCoat and recommended Pyoben shampoo as well. He also said that she more than likely was allergic to fleas, and put her on Comfortis. That is wonderful! I've had dogs all my life and never found anything else that completely eradicates those dratted fleas. It's a tablet that I crush with a spoon and put on her food once a month, and that's it, not a flea in sight. She's feeling so much better, I hate that it took me so long to find a remedy.
(03/14/2009)
By Pam Winkle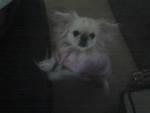 Natural Remedies for Dog's Dermatitis
Hi, I have a Chi/Rat(Chihuahua-Rat Terrier Mix). She had terribly itchy skin and got hot spots constantly. The vet gave us sprays and meds and it would sometimes. I found out from research that supplements with Omega-3's in them would help. We already take cod-liver oil that has the EPA & DHA's in it. We started giving it to her and she doesn't scratch nor does she have hot spots. It has made a huge difference. It's the Spring Valley brand and it says Norwegian Cod Liver Oil. We put it in a small container and she will lap it right up. It's about $8 at Walmart. Hope it helps! Tinker says it's helped her a bunch! (03/14/2009)
By Jan