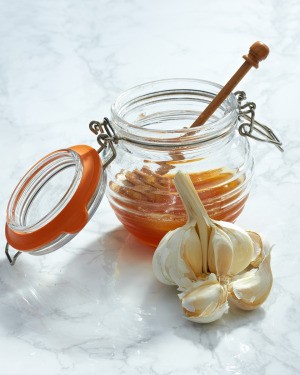 My son has coughed for a month. He's been to the doctor twice, on antibiotics twice. He has no other symptoms other than a cough so bad that he either throws up or has bronchial spasms and can't breath air in or out.
His doctor gave him codeine cough medicine which I hate to give him. It doesn't work at all and makes him groggy. His doctor said it just has to run its course. Well, in the meantime, he's missing (a week so far) school. Anyone know of a strong natural cough medicine or anything to stop the spasms when he coughs? Since I know it isn't bronchitus or pneumonia or asthma, I just need a good natural cough medicine or homemade remedy. Thanks!

Alica from Missouri

Answers:
Honey
Try a teaspoon of honey for your son's cough. Hope it helps.
(11/15/2004)

By irene
Peppermint Candy Cough Remedy
I take 8 peppermints (round red-white stripe) put in half cup of water. Heat in microwave until dissolved. Add third cup pure lemon juice. Add sugar to taste. Serve warm and sip it. Do this at night and will sleep good. After a few doses (every six hours) you will notice the difference. (11/15/2004)
by Shirley
Oil of Eucalyptus
To Alica from Missouri looking for a natural cough remedy: Our family uses "Kelly's" Australian Oil of Eucalyptus as an aid for coughing. Just spray a couple of times on the chest and rub in at bedtime. The vapors calm the coughing for us every time! It can be used during the day too if you don't mind the strong smell (I actually like the smell, but some don't). I ordered it from a company in Branson and they shipped it to me. (11/15/2004)

By Lori from Missouri
Clove Oil
I too was going to suggest the honey, it works great! Also, if you need to numb the lining for a bit, mix in some clove oil. It helps on the nerve receptors. (11/15/2004)

By EC
Hot Lemonade
What works for me is hot lemonade. I buy the Minutemaid Lemon Juice and keep it in the refrigerator (in the freezer section of the grocery store where they have juices. it is a bottle in a box.) I put a few squirts of that along with two tablespoons of honey and add boiling water. It is a nice drink, the honey and lemon both help clear congestion and is soothing. You can always use fresh lemon juice also if you have lemons but I usually keep the minute maid around for colds. (11/15/2004)
Looking For A Natural Cough Medicine
We try to keep this on hand all the time:
In an Amber jar with lid (preferably glass) place 1 large onion that you section so it will fit. Cover with a bottle of honey and top with lemon juice.

Let this ferment as long as you can (make it in the summer, so by fall it's really good). The onion will blacken a little from the sugars in the honey and lemon but don't remove it - it's ok.

Take this straight from a teaspoon (heat it a few moments over the pilot light on your gas stove) or use a few Tbsp to make a tea. (11/15/2004)

Whooping Cough
That cough sounds like whooping cough to me. My adult daughter got it when she lived in a foreign country. She had whooping cough shots when she was a little girl, but evidently they wear off in adulthood. She was seeing doctors and taking bottles of cough medicine before she was diagnosed. She would cough till she threw up and not be able to breathe. They told her it was called the 100 day cough because it takes that long to get over it. (11/15/2004)
By Martha
Second Opinion
I had a bad cough with no other symptoms. My Dr. ordered a chest X-ray. I had a diaphragmatic hernia. I had to have surgery immediately. I am an adult, my Dr. said this usually happens to babies or young children. If his cough continues, I would ask for a X-ray to be safe. (11/15/2004)

By June
Cough and Sore Throat Remedy
Whenever I feel a sore throat coming on, I start drinking lemon water, about 2 TBS to a cup of water, either cold or warm, either sugared or not, depending on how you like it. This works great for coughing, too. My husband refuses to drink it and still has his cough - I got rid of mine weeks ago! I drink this about 5 times over the course of a day and keep a cup by my nightstand to to calm the coughing. Works well. (11/15/2004)
By Carolyn
Garlic Cloves
Take one clove of garlic - as big a piece as you can comfortably swallow as a pill -every 3-6 hours, in addition to any of the above remedies. It's antiseptic and antibiotic.

If accompanied by a sore throat, my teen-aged son chews the clove (VERY spicy!) then swallows, but it works within hours every time! (11/16/2004)

By Fran Marie
Whooping Cough
Thank you all for your remedies for my son's cough. I found out today that whooping cough is going around at his school. His best friend was the first diagnosed case at the health department! In fact, I started doing some research on it, knowing it was not a "normal" cough after one of the ThriftyFun.com readers posted that her adult daughter had it. He is now heading toward a speedy recovery! My whole family had to be treated. Thank you again! (11/16/2004)
By Alica
Homemade Cough Remedy
For a cough that's not serious, but is annoying I always use the following:
1/4 tsp cayenne pepper
1/2 tsp ginger
1/4 tsp cloves
2 T. honey (or to taste)
2 T. water
1 T. apple cider vinegar
Take 3 tsp. when needed. (11/18/2004)

Apple Cider Vinegar
Earlier this cold season I heard about unfiltered organic apple cider vinegar. I had been sick for about a week and started taking shots of this before each meal. The very next day I was fine. Since then I drink a glass of water with about 2 tablespoons of the vinegar (with a bunch of honey to mask the terrible taste) every morning. I have not been sick for about 1 1/2 months. I'm 22 years old and normally I maintain a head cold from late October to late February every year. I'm sold. (01/03/2005)

By Adam
Get Rid of Dust
Hi Alicia,
Glad you were able to pinpont the cause of your son's cough and get relief.
Any one with a chronic cough (or sneeze) should be sure to keep the blades of the ceiling fans clean and dust free. Also, pull your bed out from the wall and clean out all that dust behind your headboard regularly.

Also, clean out the heater/AC vents in the floor of your home. In your vehicle, turn the vents away from blowing in your face and keep the dashboard dusted. Getting to the source of the coughing/sneezing is much more effective than any 'remedy.' Even if your cough is caused by some other reason, dust will aggravate it. (03/14/2005)

By Darween
Honey and Vinegar
1/2 honey and 1/2 apple cider vinegar. This is also so an insomnia remedy. You take two teaspoons and in thirty minutes if you are still coughing or awake take one teaspoon every thirty minutes. Sometimes, you may take a second dose but rarely a third for me. (03/15/2007)

By Glenda
Bronchial Soothe
My daughter suffers from a terrible cough after a cold and this really works well when a lot of other things would not. It's called Bronchial Soothe (Affiliate Link), it is ivy leaf syrup. It naturally supports clear bronchial passage. I found it at my health food store. (12/18/2007)

Honey and Malasses
If the cough is from a "tickle" in his throat, try mixing equal parts honey and molasses, wamed slightly. A spoonful of this as needed will coat his throat and ease the cough a little.

This is an old-time remedy, used to be kept on the back of kitchen wood stoves so it was handy when needed! (03/30/2008)

By Stepfordmom
Eucalyptus
I live in Australia, the true home of eucalyptus and tea tree oils. I used to have "Death's Door"-type colds every Winter, without fail, and be laid low. It was horrible.

Now all I do is put a 1/3 of a capful (not cupful!) of eucalyptus oil in the base of the shower as I'm finishing off my shower everyday, and I don't have problems.

When I stopped doing it recently, I got sick with the dreaded lurgii that was going around (my daughter was very generous and shared it with me!).

I went back on to the treatment, except more intensive, putting a few drops into my vanity basin, which had some hot tap water in it. Leaned over, closed eyes (be careful you don't come into contact suddenly with the faucet!) and I breathed deeply.

Very quickly rid of the horrors. Far faster than my dd who refused to do it.

Also, with the menthol salve, over here, the doctors in the know have found out that if you rub it on the soles of your feet before you go to sleep, it will help you breathe and clean out your sinuses. Go figure! (07/31/2008)

By Leonie Edge
Whiskey and Peppermint
We have had great success with whiskey and peppermint. We would melt peppermint in a very small amount of hot water and add it to some whiskey. Use 10 crushed mints in 1/4 cup of water over heat til melted, let cool enough to touch, and add to 1/4 pint of whiskey (we used Old Charter, but any will do). Measurements don't have to be exact. Give 1 tbsp as needed, and 2 tbsp at night just before bed. Good luck! (07/31/2008)

By Kay W.
Zarbee's Cough Syrup
Try ZarBee's honey cough syrup (Affiliate Link) . I bought it for my kids but I am 40 yrs. old and it works for me too. It was formulated by a pediatrician. Easier to take than commercial honey. There is clinical trials showing honey works better than DMX by Penn State. (12/15/2008)

By Kent