I am moving and the home has old dog urine stains (yellowish) on beige carpet. I need a remedy to clean these spots, the odor seems in control, but stains look awful. I need to save carpet for time being. Appreciate a solution!
Thanks,
Pamela from Mt. Morris
Answers:
Old Dog Urine Stains on Carpet
I absolutely love "Spot Shot". You can find it at most grocery stores, Target, and Wal-Mart. I have used it for years on everything from paint to pet stains on carpet and it has not failed yet. Good Luck!! (04/06/2007)

By Marnita
Old Dog Urine Stains on Carpet
OXIClean works great. It removed stains that were years old. (04/12/2007)

By Big D
Old Dog Urine Stains on Carpet
I would suggest you hire a professional to clean your carpets. When you use those cleaning products from the store they leave a lot of soap residue behind and attract a lot of dirt. you need a truck mounted van to extract the cleaning solution. (05/14/2007)

By Mark
Old Dog Urine Stains on Carpet
I had the same problem with the odor of old dog urine on my brand new carpet. One of the two that I have used my new carpet as the bathroom and I didn't know it until it started to smell. I tried many of the things I read about here on-line and then bought several kinds, like Urine Be Gone, Spot Out, etc.
Then I went to good ole Wal-Mart and found this stuff simply called "Out", I was amazed at how well it works, it has been a week now and the smell has not returned! I went back and bought a second bottle to have on hand. I hope this helps readers like myself who are looking for answers on the terrible odor of old dog urine. (08/06/2007)

By DLF312
Old Dog Urine Stains on Carpet
Let me guess you clean the urine up and it keeps coming back. That's because the spot is all the way down to the padding and after the top of your carpet dries it wicks back to the top of your carpet fiber. There are two ways to take care of this:
Clean over and over again.
The easiest way. Clean the spot up once so it appears gone. Then apply a professional carpet cleaner called A.R.A. onto the spot and let dry.
It will not come back. It's a colorless cleaner that fills the top of the carpet that would normally wick back too. You can probably get it on the internet, but I know for sure you can get it from Great Lakes Steamway where I get most of my steam cleaning supplies. Its a little pricey but its works excellently. (02/22/2008)

By Ken
Old Dog Urine Stains on Carpet
Nature's Miracle does not work. (06/14/2008)

By Jessica
Old Dog Urine Stains on Carpet
Seriously, I read all these things and I've tried a ton of remedies for removing the old pet stains, but nothing worked for me. So today after reading the posts I thought I had some OxiClean but it turned out I had Quick'n Brite (mind you, my father had bought this from a door to door salesman years ago). He moved 3 yrs ago and gave it to me. I just now used it and it still has it's strength obviously, it's a good product. I read the instructions on how to remove pet stains:
PET STAINS: Apply QB paste or liquid full strength to area and let sit a few minutes. Rinse thoroughly. Repeat process until odor is eliminated.
URINE STAINS: First apply equal parts white vinegar and water to neutralize odor. Then apply QB paste or liquid full strength and let sit a few minutes. Rinse thoroughly. Repeat process until odor is eliminated.
It worked great. I was so excited that it worked, I went back and cleaned the entire carpet with it because the stained area was now brighter then the other areas I didn't treat. This is now my miracle stain remover. (I know I should be on an infomercial.)
STEAM CLEANERS OR SHAMPOO MACHINES: For carpets and upholstery mix 1 cup QB liquid to 5 gallons of water in self contained units, or 2/3 cup to 1 gallon for units that attach to the faucet. Do not add a defoamer or spot remover. For bad stains, apply QB paste full strength or spray heavy solution on stains and let sit for a few minutes allowing QB to go deep down into the stain. Then begin your steam cleaning or shampoo process following machine instructions. When cleaning carpets, follow manufacturer's specifications. Spot check for color-fast, first.
Below is the guilty one who was so kind to leave the spot for his mama to clean! (06/21/2008)

By Kathyrn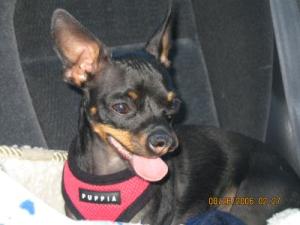 Old Dog Urine Stains on Carpet
This is an old post but still one of the first to pop up in a google search. So, I thought I'd explain the reasons for the different results and different methods. I showed and bred Great Danes "studs mark everything", and Afghan Hounds, "who are notoriously miserable to housebreak". So I really am the "Pee Expert".

PEE BASICS:
What you see on the surface is not the full problem, it soaks a much larger area of the carpet pad underneath. If it goes below the pad to cement or wood, you can't clean it!
Pee contains bacteria that cause the odor. Rewetting the spot reactivates the bacteria and odor.
If you've already tried cleaning a spot you might stop some of the below methods from working!
Don't use ammonia to clean if you still have a pet, this can encourage them to pee there again.
REMOVING DRY URINE FROM CARPET:

Method One: Enzymes- (The best method IF done 1st and properly! They do take time to work though!)
Wear rubber gloves.
Dilute as directed on bottle with DISTILLED Water *water activates the enzymes which eat the bacteria.
Soak carpet and pad. (temp must stay between 70-90F)
Dampen thick towel with distilled water, cover with flat board and add weight.
Leave 10-24 hours.
Use wet dry vac or dry white towels to blot out moisture. Cover area w/dry towel/board/weight, for 5-10 minutes until no more moisture comes out.
When FULLY dry check for odor/stain with blacklight.
If still there repeat (may need to be done 2-4 times). If gone deodorize with anything, I use baking soda and vacuum.
METHOD TWO:
Mix 1/2 tsp of liquid bleach (not oxy-clean!) and 1 quart of DISTILLED water.
Saturate area.
Cover with white thick towel/board/weight.
Wait 30 minutes. Repeat and let dry fully.
Check for stains w/blacklight.
METHOD 3:
Mix 50% White Vinegar 50% Distilled Water.
Soak carpet and pad.
Blot w/thick white towels or wet/dry vac.
Cover w/dry thick white towel/board/weight.
Wait 10 minutes remove towel and let fully dry.
Sprinkle Baking Soda on the dry carpet.
Mix 1/2 Cup Hydrogen Peroxide (or 1 scoop Oxy-Clean which turns into Hydrogen Peroxide) w/ tsp of detergent and 1/2 cup of Distilled Water. Pour over baking soda and mix in until all baking soda is dissolved.
Pour 50% Vinegar 50% Distilled Water over the area..
Blot or use wet vac till damp.
Cover w/towel, board and wait for 10 minutes and repeat.
Let dry and check with black light for pee.
WET PEE

Needed: Rubber Gloves, Several Thick Cotton Towels, Distilled Water (room temp), White Vinegar, Board, Weights (~10lbs)

Process:
Wear Gloves.
Blot, never rub! w/towel.
Fold towel to stain size.
Place on wet area.
Cover w/board and weigh down, no peeking, or you stop the process.
Remove after ~10-15 minutes.
Repeat till towel stays white.
Pour gallon of 50% Vinegar and 50% Distilled Water over area, wait 10 minutes.
Blot or wet vac till just "damp".
Put dry thick towels over area cover w/boards and evenly distributed weight.
Leave alone for 24 Hours.
Let dry it should be done!
Disclaimer: always test on small area first. For wool, silk, or exotic carpets call a professional!
(06/26/2008)

By Pee Expert
Old Dog Urine Stains on Carpet
We had old dog urine stains in our bedroom and cleaned it many times with our Kirby. Still the smell kept coming back. As fed up with the situation as I was, I got down on my hand and knees and scrubbed with Arm and Hammer laundry soap. It took the yellow stains out and I noticed the smell fading each time I cleaned the infected area. Give it a try. It may take more then a couple times but you should see a less noticeable odor. (07/15/2008)

By Stacy
Old Dog Urine Stains on Carpet
Saturate the area with hot water and 2-3 small drops of bleach, then wet vac the area. This will rid the carpet of odor and leach into the backing and padding to remove more of the smell and stain, vac it up quickly. (09/19/2008)

By Bobbie
Old Dog Urine Stains on Carpet
If you're looking for an easy fix and can afford $5-10 dollars for the proper chemicals go to your local carpet cleaning company i.e., Servpro, CarpetMaster, StainMaster, or Servicemaster and ask them for a small amount of pet urine odor and stain remover. It's not the least bit toxic. Uses natural enzymes that break down the stain and the odor. Works great! (10/14/2008)
Old Dog Urine Stains on Carpet
Go to Pros Choice website. They have something called USR (urine stain remover) that works well and stain removers for just about anything. (11/07/2008)

By Bob
Old Dog Urine Stains on Carpet
Try Faygo Club Soda - do not dilute. Blot with paper towels. (01/14/2009)

By James
Old Dog Urine Stains on Carpet
I had the same problem with cat pee on my carpet. I tried white vinegar and baking soda with some limited success (but a lot, lot of hassle). I then found a product called Urine-off and it works miracles! It totally got rid of all smells and they have specialist products to do large areas, too.

It absorbs into fibers just as deep as the cat pee does and eliminates all odours and stains and even stops my cat returning as often as it removes the pheromones (pheromone blocker). They do special products for Cat pee, one for Dog pee and one for small animals (different varieties of pee absorb differently so should be treated differently).

This company is commissioned to clean all the phone boxes to get rid of Human urine in London, UK. (02/11/2009)

By Urine-off!